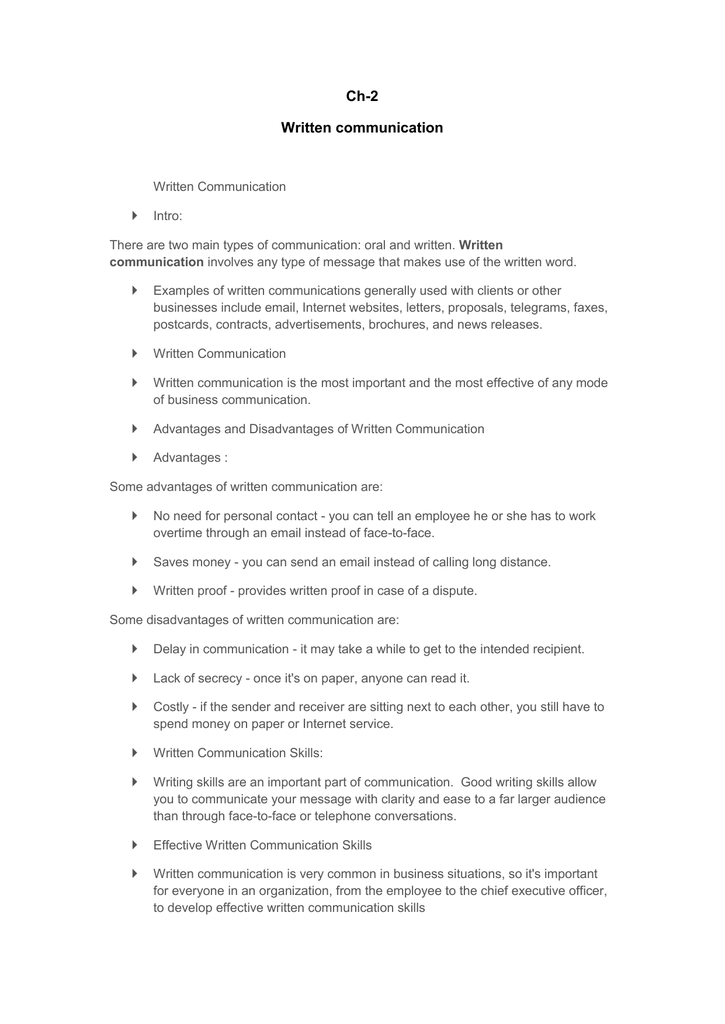 Ch-2
Written communication
Written Communication

Intro:
There are two main types of communication: oral and written. Written
communication involves any type of message that makes use of the written word.

Examples of written communications generally used with clients or other
businesses include email, Internet websites, letters, proposals, telegrams, faxes,
postcards, contracts, advertisements, brochures, and news releases.

Written Communication

Written communication is the most important and the most effective of any mode
of business communication.

Advantages and Disadvantages of Written Communication

Advantages :
Some advantages of written communication are:

No need for personal contact - you can tell an employee he or she has to work
overtime through an email instead of face-to-face.

Saves money - you can send an email instead of calling long distance.

Written proof - provides written proof in case of a dispute.
Some disadvantages of written communication are:

Delay in communication - it may take a while to get to the intended recipient.

Lack of secrecy - once it's on paper, anyone can read it.

Costly - if the sender and receiver are sitting next to each other, you still have to
spend money on paper or Internet service.

Written Communication Skills:

Writing skills are an important part of communication. Good writing skills allow
you to communicate your message with clarity and ease to a far larger audience
than through face-to-face or telephone conversations.

Effective Written Communication Skills

Written communication is very common in business situations, so it's important
for everyone in an organization, from the employee to the chief executive officer,
to develop effective written communication skills

What are eight basic technical of business written ?
1. Accuracy
2. Clarity
3. Completeness
4. Conciseness
5. Consideration
6. Courtesy
7.Logical organization
8. Positiveness
1- accuracy
Accuracy is essential in business communication . the writer must have high
qualitative standards . message must be checked and at time rechecked for
accuracy ,correct grammar , punctuation , and spelling are very important.
Why accuracy is essential in business communication?
Because writing errors can be costly.
2- clarity
Clearness or understandability of message . avoid abstract , ambiguous words
,exaggerated language is difficult to understand .
What are concrete words ?
Concrete words are that relate to tangible, real thing e.g 70 percent replied .
What are abstract words ?
abstract words are words that are vague and difficult to understand e.g. many .
Use appropriate words
Use visual aids
Avoid jargon .
Avoid unintentional connotation
In business word short word with clear meaning are generally preferred
3- completeness
Business communication should be complete and give all the necessary
information .
Enclosure remainder always add an enclosure remainder at the bottom of letter.
4 – conciseness :

1- avoid rambling discourses: long –winded

2- include a summary

3- avoid trite expressions

4- avoid redundancies

5- avoid long sentences and paragraphs

6- numbering paragraphs
5- consideration:

Avoid I ll remarks > I ll- tempered remarks often generate hostile replies .

"You " attitude :

Avoid using "I" ,"We", "My" . >>> you
6 – courtesy

Creating and sustaining " good will "

Use courteous language / "please "," thanks"

Avoid sexism

Replay promptly

Be tactful
7- Positiveness :

Be positive : business communication should convey a feeling of
confidence and positive attitude .avoid negative expressions .