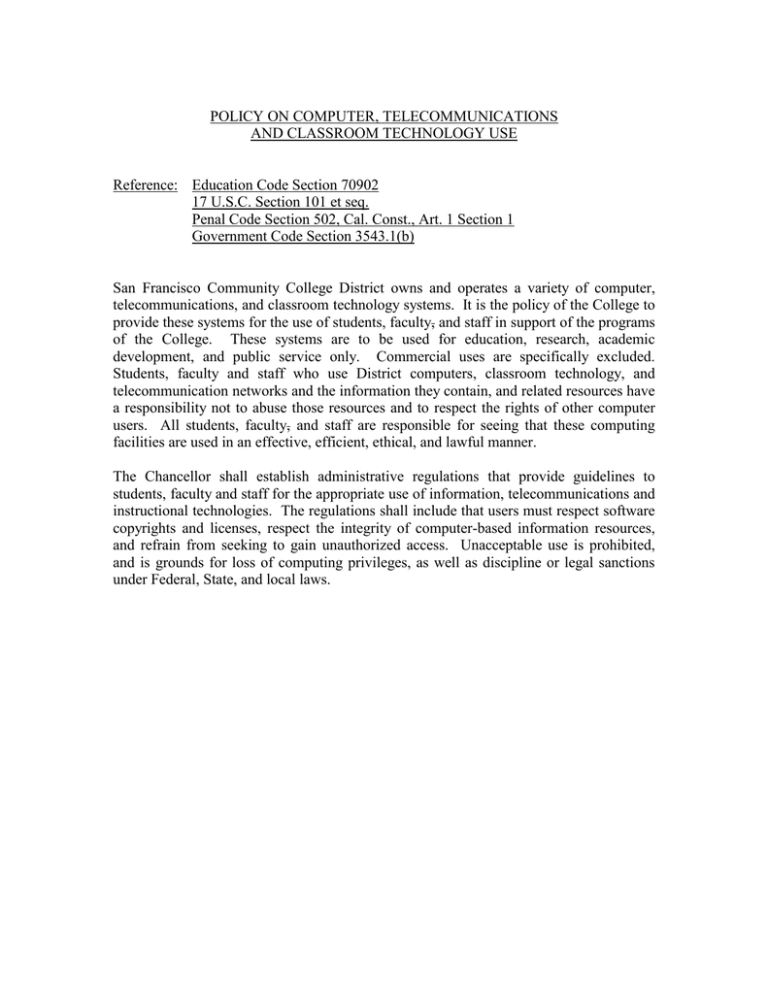 POLICY ON COMPUTER, TELECOMMUNICATIONS
AND CLASSROOM TECHNOLOGY USE
Reference: Education Code Section 70902
17 U.S.C. Section 101 et seq.
Penal Code Section 502, Cal. Const., Art. 1 Section 1
Government Code Section 3543.1(b)
San Francisco Community College District owns and operates a variety of computer,
telecommunications, and classroom technology systems. It is the policy of the College to
provide these systems for the use of students, faculty, and staff in support of the programs
of the College. These systems are to be used for education, research, academic
development, and public service only. Commercial uses are specifically excluded.
Students, faculty and staff who use District computers, classroom technology, and
telecommunication networks and the information they contain, and related resources have
a responsibility not to abuse those resources and to respect the rights of other computer
users. All students, faculty, and staff are responsible for seeing that these computing
facilities are used in an effective, efficient, ethical, and lawful manner.
The Chancellor shall establish administrative regulations that provide guidelines to
students, faculty and staff for the appropriate use of information, telecommunications and
instructional technologies. The regulations shall include that users must respect software
copyrights and licenses, respect the integrity of computer-based information resources,
and refrain from seeking to gain unauthorized access. Unacceptable use is prohibited,
and is grounds for loss of computing privileges, as well as discipline or legal sanctions
under Federal, State, and local laws.