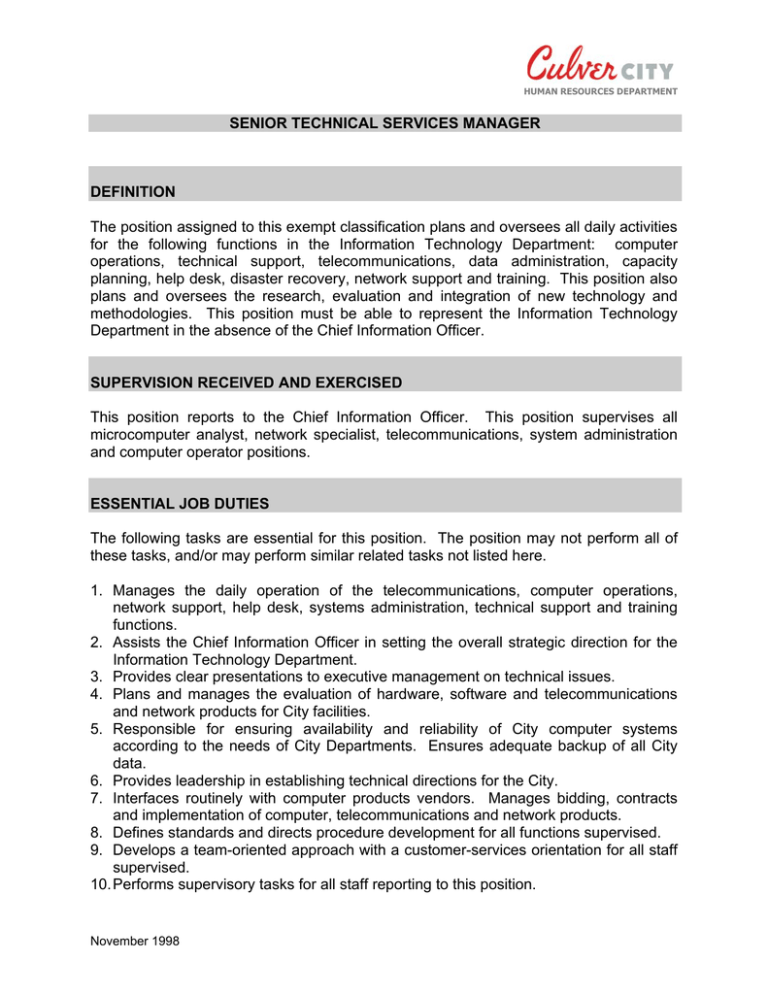 HUMAN RESOURCES DEPARTMENT
SENIOR TECHNICAL SERVICES MANAGER
DEFINITION
The position assigned to this exempt classification plans and oversees all daily activities
for the following functions in the Information Technology Department: computer
operations, technical support, telecommunications, data administration, capacity
planning, help desk, disaster recovery, network support and training. This position also
plans and oversees the research, evaluation and integration of new technology and
methodologies. This position must be able to represent the Information Technology
Department in the absence of the Chief Information Officer.
SUPERVISION RECEIVED AND EXERCISED
This position reports to the Chief Information Officer. This position supervises all
microcomputer analyst, network specialist, telecommunications, system administration
and computer operator positions.
ESSENTIAL JOB DUTIES
The following tasks are essential for this position. The position may not perform all of
these tasks, and/or may perform similar related tasks not listed here.
1. Manages the daily operation of the telecommunications, computer operations,
network support, help desk, systems administration, technical support and training
functions.
2. Assists the Chief Information Officer in setting the overall strategic direction for the
Information Technology Department.
3. Provides clear presentations to executive management on technical issues.
4. Plans and manages the evaluation of hardware, software and telecommunications
and network products for City facilities.
5. Responsible for ensuring availability and reliability of City computer systems
according to the needs of City Departments. Ensures adequate backup of all City
data.
6. Provides leadership in establishing technical directions for the City.
7. Interfaces routinely with computer products vendors. Manages bidding, contracts
and implementation of computer, telecommunications and network products.
8. Defines standards and directs procedure development for all functions supervised.
9. Develops a team-oriented approach with a customer-services orientation for all staff
supervised.
10. Performs supervisory tasks for all staff reporting to this position.
November 1998
SENIOR TECHNICAL SERVICES MANAGER
Page 2
11. Develops a disaster recovery approach for critical City systems.
12. Interfaces with every level of City staff, including executive management.
13. Performs other duties as assigned.
MINIMUM KNOWLEDGE, SKILLS AND ABILITY
Knowledge of:
• Current industry hardware, software, networking, and telecommunications products.
• Operational procedures and techniques.
• Capacity planning.
• Voice and data communications approaches.
• Help desk operations.
• Vendor contracting and purchasing procedures.
• Enterprise architecture and design practices, training approaches.
Skill and Ability to:
• Plan and direct all computer operations, telecommunications, networking, training
capacity planning, help desk and systems administration functions.
• Analyze costs and options for the purchase of technology products.
• Analyze problems, propose solutions and ensure implementation of solutions for the
technical services area.
• Analyze and set priorities for technical services activities.
• Provide availability and reliability of computer and telecommunications products to
meet City needs.
• Establish and maintain effective working relationship with City staff and computer
vendors.
• Evaluate technology and architectural approaches.
• Manage vendor contracts.
• Interface with City executive management.
• Present technical problems in layman's terms
• Understand the role of the Information Technology Department in the overall context
of City strategic goals.
TRAINING AND EXPERIENCE
Bachelor's degree plus ten years experience in the computer information systems field.
At least three years experience in a manager position in an information technology
department; preferably in technical services. Experience in the supervision of at least
several of the following functions: networks, technical support, computer operations and
systems administration, help desk support, capacity planning, disaster recovery,
enterprise-wide architectural planning and voice and data telecommunications.
SENIOR TECHNICAL SERVICES MANAGER
Page 3
PHYSICAL REQUIREMENTS AND WORKING CONDITIONS
•
•
•
•
•
•
Require vision (which may be corrected) to read small print.
Require the mobility to stand, stoop, reach and bend. Require mobility of arms to
reach and dexterity of hands to grasp and manipulate small objects.
Require the ability to stand for long periods.
Require the ability to walk long distances.
Perform work which involves the frequent lifting, pushing and/or pulling of objects
which may approximate 50 pounds and may occasionally weigh up to 100 pounds.
Is subject to office environmental conditions.