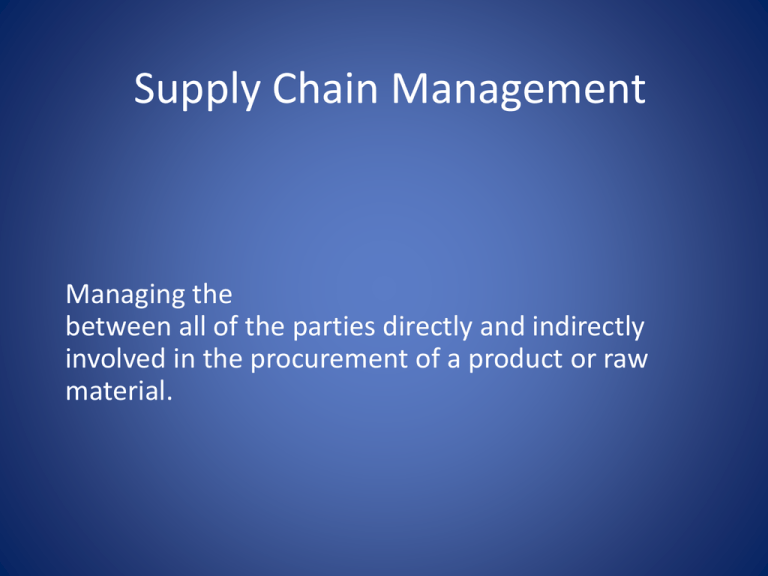 Supply Chain Management
Managing the
between all of the parties directly and indirectly
involved in the procurement of a product or raw
material.
Players
in a
Supply
Chain
1. Materials flow from suppliers and their "upstream" suppliers at
all levels down to you
2. Transformation of materials into semi-finished and finished
products through the organization's own production process
3. Distribution of products to customers and their "downstream"
customers at all levels
4. A
, from the
order being made until its delivery to the customer
Basic Supply Chain
Management
Components
• Plan for
that go
toward meeting
customer demand for products and services.
• S
• T
products
• Logistics: the
• Plan for the
to deliver goods and services needed.
into semi-finished and finished
ITs role in
supply
chain
• Visibility and
the
• Modeling, simulation and various forecasting tools to combine
information from various sources to figure out what is needed (or
might be needed) when.
• E
faster at a lower cost
– Communication and
successful supply chain
allows everyone to react
for a
• Key Element:
quickly flowing from one entity
or stage to another one (both upstream and downstream)
Global Inventory Management Systems
• Let you locate and track items moving through
your supply chain.
– Lets you know
Radio Frequency Identification (RFID)
Uses a
in a tag or label to
back and forth between
an object and a receiving device.
http://www.youtube.com/watch?v=oAvQcYcvyaw
http://www.youtube.com/watch?v=eob532iEpqk
http://www.youtube.com/watch?v=4Zj7txoDxbE
Radio Frequency Identification (RFID)
– Can be used to
inventory,
inventory
and
product
.
– Pay at toll road plazas.
– Purchase products without standing in line (just walk
past a scanner with the product).
– Pr
– Manufacturing
–B
tracking and
– KSU uses RFID in the parking garage to track customers
and customer types (
customers,
to areas,
, including length of stay)
– US passports now have RFID chips
containing information about the passport holder.
RFID
RFID
Architecture
Information Technology and Supply
Chain Management
• Advances in information technology have made it
possible to bring to life the idea of a truly integrated
the supply chain.
– The key is to have as close to
throughout the entire supply chain as possible.
• I can see
and you can see
– Real-time flow of accurate information with minimal time
lags (communication is key)
• An organization needs to select its SC strategy and then
IT can be used to implement and enhance that strategy.
• RFID is one of the technologies used in supply chain
management.