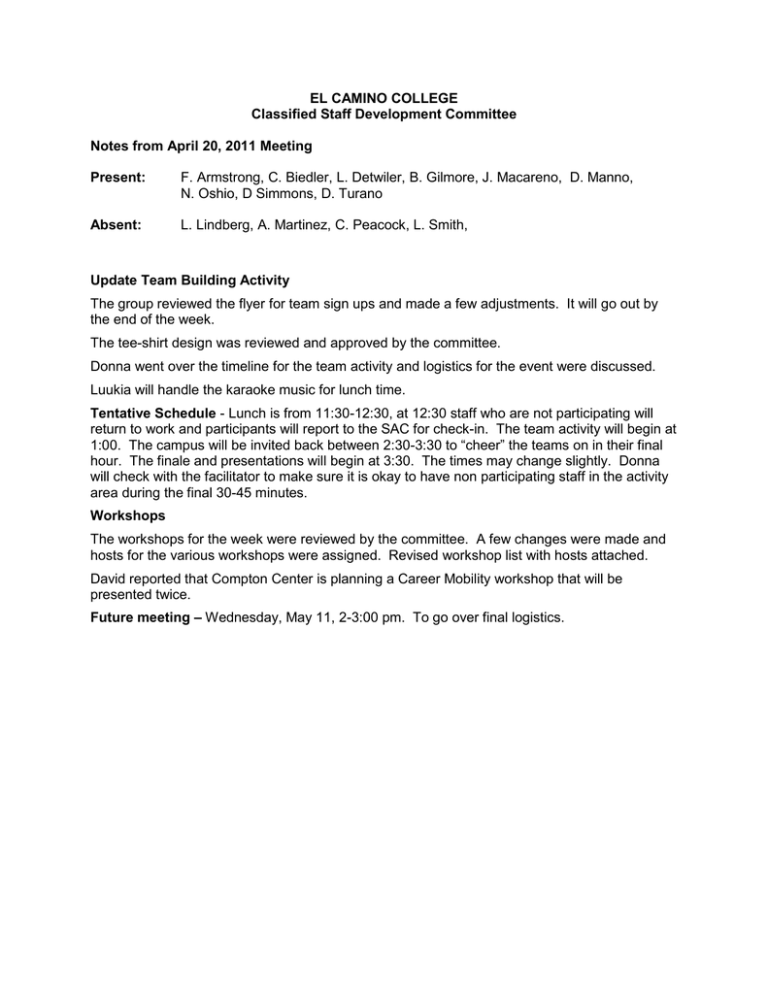 EL CAMINO COLLEGE
Classified Staff Development Committee
Notes from April 20, 2011 Meeting
Present:
F. Armstrong, C. Biedler, L. Detwiler, B. Gilmore, J. Macareno, D. Manno,
N. Oshio, D Simmons, D. Turano
Absent:
L. Lindberg, A. Martinez, C. Peacock, L. Smith,
Update Team Building Activity
The group reviewed the flyer for team sign ups and made a few adjustments. It will go out by
the end of the week.
The tee-shirt design was reviewed and approved by the committee.
Donna went over the timeline for the team activity and logistics for the event were discussed.
Luukia will handle the karaoke music for lunch time.
Tentative Schedule - Lunch is from 11:30-12:30, at 12:30 staff who are not participating will
return to work and participants will report to the SAC for check-in. The team activity will begin at
1:00. The campus will be invited back between 2:30-3:30 to "cheer" the teams on in their final
hour. The finale and presentations will begin at 3:30. The times may change slightly. Donna
will check with the facilitator to make sure it is okay to have non participating staff in the activity
area during the final 30-45 minutes.
Workshops
The workshops for the week were reviewed by the committee. A few changes were made and
hosts for the various workshops were assigned. Revised workshop list with hosts attached.
David reported that Compton Center is planning a Career Mobility workshop that will be
presented twice.
Future meeting – Wednesday, May 11, 2-3:00 pm. To go over final logistics.