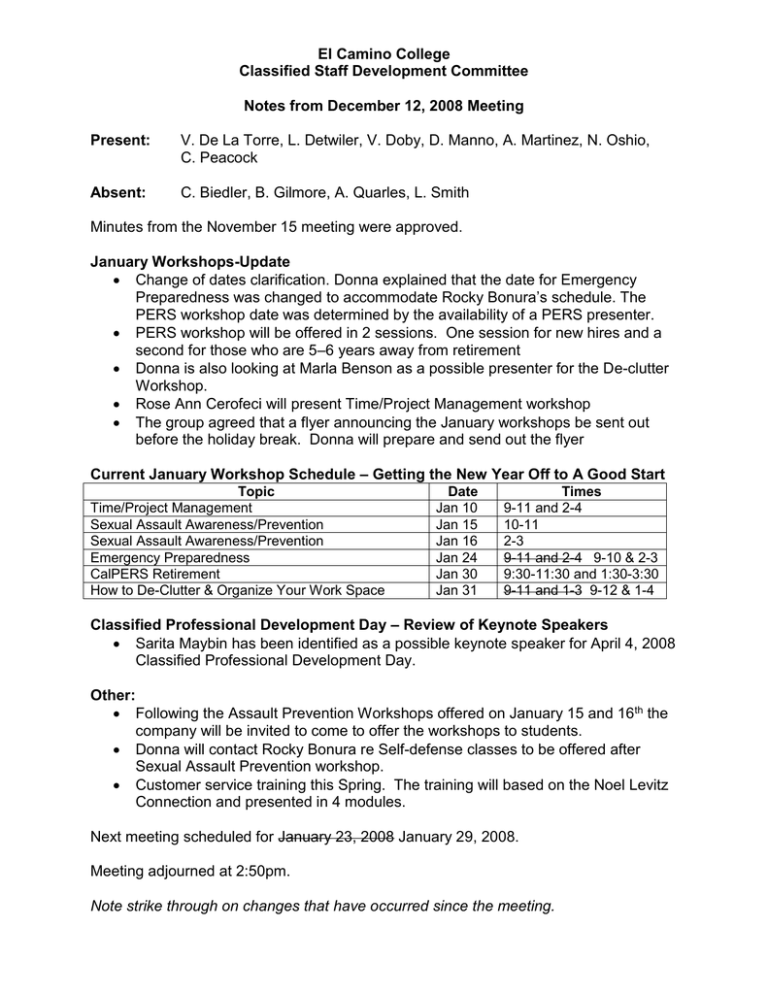 El Camino College
Classified Staff Development Committee
Notes from December 12, 2008 Meeting
Present:
V. De La Torre, L. Detwiler, V. Doby, D. Manno, A. Martinez, N. Oshio,
C. Peacock
Absent:
C. Biedler, B. Gilmore, A. Quarles, L. Smith
Minutes from the November 15 meeting were approved.
January Workshops-Update
 Change of dates clarification. Donna explained that the date for Emergency
Preparedness was changed to accommodate Rocky Bonura's schedule. The
PERS workshop date was determined by the availability of a PERS presenter.
 PERS workshop will be offered in 2 sessions. One session for new hires and a
second for those who are 5–6 years away from retirement
 Donna is also looking at Marla Benson as a possible presenter for the De-clutter
Workshop.
 Rose Ann Cerofeci will present Time/Project Management workshop
 The group agreed that a flyer announcing the January workshops be sent out
before the holiday break. Donna will prepare and send out the flyer
Current January Workshop Schedule – Getting the New Year Off to A Good Start
Topic
Time/Project Management
Sexual Assault Awareness/Prevention
Sexual Assault Awareness/Prevention
Emergency Preparedness
CalPERS Retirement
How to De-Clutter & Organize Your Work Space
Date
Jan 10
Jan 15
Jan 16
Jan 24
Jan 30
Jan 31
Times
9-11 and 2-4
10-11
2-3
9-11 and 2-4 9-10 & 2-3
9:30-11:30 and 1:30-3:30
9-11 and 1-3 9-12 & 1-4
Classified Professional Development Day – Review of Keynote Speakers
 Sarita Maybin has been identified as a possible keynote speaker for April 4, 2008
Classified Professional Development Day.
Other:
 Following the Assault Prevention Workshops offered on January 15 and 16th the
company will be invited to come to offer the workshops to students.
 Donna will contact Rocky Bonura re Self-defense classes to be offered after
Sexual Assault Prevention workshop.
 Customer service training this Spring. The training will based on the Noel Levitz
Connection and presented in 4 modules.
Next meeting scheduled for January 23, 2008 January 29, 2008.
Meeting adjourned at 2:50pm.
Note strike through on changes that have occurred since the meeting.