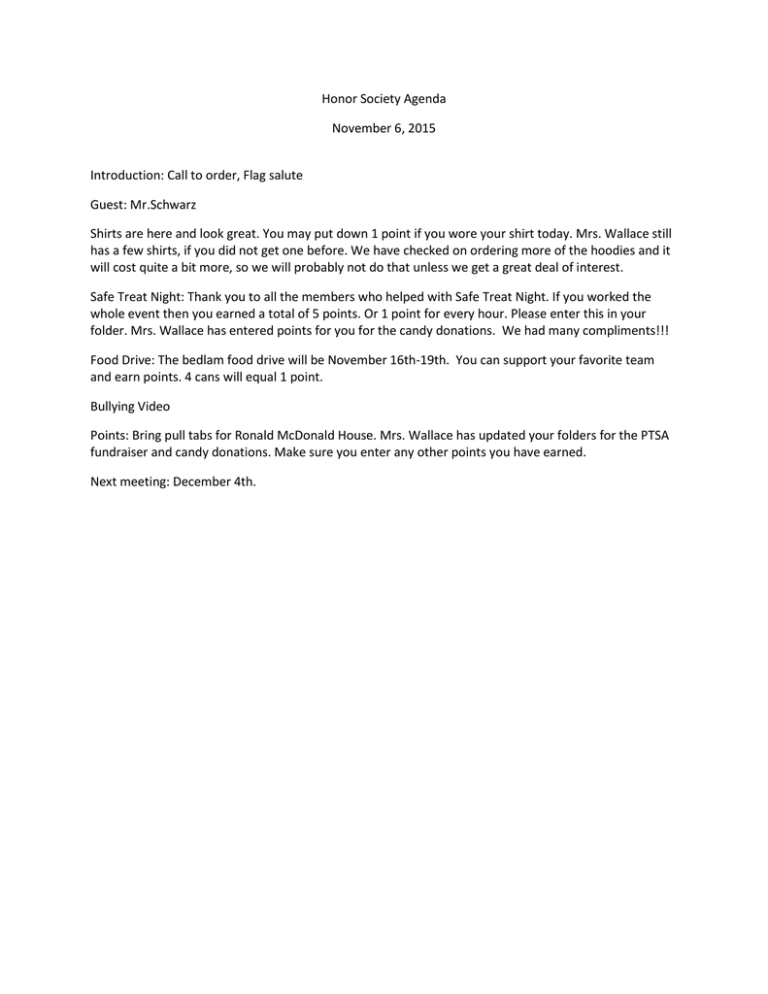 Honor Society Agenda
November 6, 2015
Introduction: Call to order, Flag salute
Guest: Mr.Schwarz
Shirts are here and look great. You may put down 1 point if you wore your shirt today. Mrs. Wallace still
has a few shirts, if you did not get one before. We have checked on ordering more of the hoodies and it
will cost quite a bit more, so we will probably not do that unless we get a great deal of interest.
Safe Treat Night: Thank you to all the members who helped with Safe Treat Night. If you worked the
whole event then you earned a total of 5 points. Or 1 point for every hour. Please enter this in your
folder. Mrs. Wallace has entered points for you for the candy donations. We had many compliments!!!
Food Drive: The bedlam food drive will be November 16th-19th. You can support your favorite team
and earn points. 4 cans will equal 1 point.
Bullying Video
Points: Bring pull tabs for Ronald McDonald House. Mrs. Wallace has updated your folders for the PTSA
fundraiser and candy donations. Make sure you enter any other points you have earned.
Next meeting: December 4th.