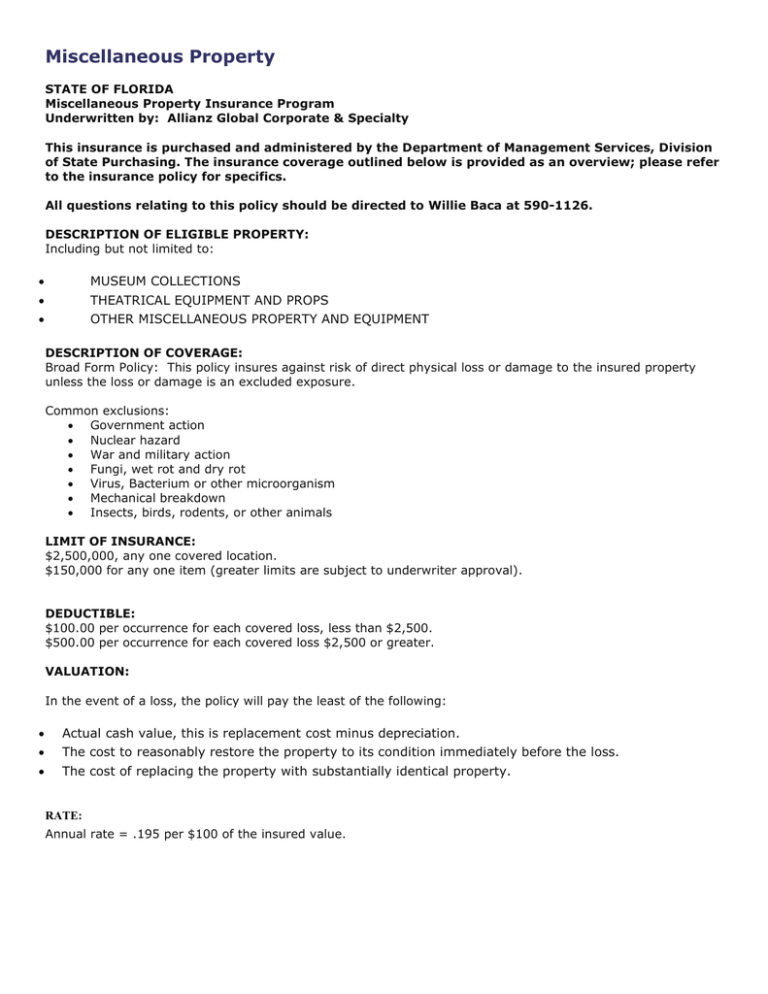 Miscellaneous Property
STATE OF FLORIDA
Miscellaneous Property Insurance Program
Underwritten by: Allianz Global Corporate & Specialty
This insurance is purchased and administered by the Department of Management Services, Division
of State Purchasing. The insurance coverage outlined below is provided as an overview; please refer
to the insurance policy for specifics.
All questions relating to this policy should be directed to Willie Baca at 590-1126.
DESCRIPTION OF ELIGIBLE PROPERTY:
Including but not limited to:

MUSEUM COLLECTIONS

THEATRICAL EQUIPMENT AND PROPS

OTHER MISCELLANEOUS PROPERTY AND EQUIPMENT
DESCRIPTION OF COVERAGE:
Broad Form Policy: This policy insures against risk of direct physical loss or damage to the insured property
unless the loss or damage is an excluded exposure.
Common exclusions:
 Government action
 Nuclear hazard
 War and military action
 Fungi, wet rot and dry rot
 Virus, Bacterium or other microorganism
 Mechanical breakdown
 Insects, birds, rodents, or other animals
LIMIT OF INSURANCE:
$2,500,000, any one covered location.
$150,000 for any one item (greater limits are subject to underwriter approval).
DEDUCTIBLE:
$100.00 per occurrence for each covered loss, less than $2,500.
$500.00 per occurrence for each covered loss $2,500 or greater.
VALUATION:
In the event of a loss, the policy will pay the least of the following:

Actual cash value, this is replacement cost minus depreciation.

The cost to reasonably restore the property to its condition immediately before the loss.

The cost of replacing the property with substantially identical property.
RATE:
Annual rate = .195 per $100 of the insured value.