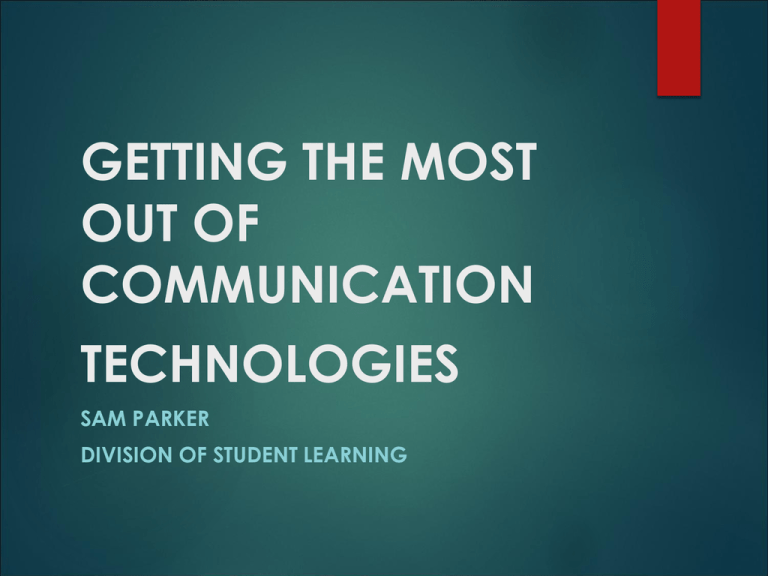 GETTING THE MOST
OUT OF
COMMUNICATION
TECHNOLOGIES
SAM PARKER
DIVISION OF STUDENT LEARNING
Tools to be covered

Microsoft Office Communicator

Interaction Client

Twitter

Yammer

Bridgit

Group email accounts

NORFOLK for Admin
Microsoft Office Communicator
Key Benefits

Quickly message colleagues without email.

Share your screen with anyone connected with
communicator

Lookup status of any staff member using
communicator and when they are due out of
their meeting.
Accessed by
install software on your desktop
Microsoft Office Communicator
Advanced features

Send large files quickly via simply drag and
drop.

Check someones email address,
phone number and username.

Convene quick discussions for a decision

You can save conversations in outlook options.

Remote control of a computer after sharing is
established.
Microsoft Office Communicator
Advanced features

Communicator can be accessed from anywhere
by going to this address.
https://cwa.csu.edu.au

You can reply to an email through
communicator. The title of the email will be the
title of the communicator.
Interaction Client
Key Benefits

Allows for setting status of your phone i.e on
holiday, without using phone menus i.e. Is quicker

Allows you to dial from your computer.

Allows for the searching of whether someone is on
the phone
Accessed by
install software on your desktop
if your department has purchase a licence.
Interaction Client
Advanced features

You can be notified when someone is off the
phone by right clicking on their name in a search
and "camping"

You can see who is in a conference call without
doing a rollcall. Just open conference in a
conference call.
Bridgit
Key Benefits

Can be used with anyone outside CSU such as
students and staff

Allows remote control of a computer if setup.

Can be used on Mac and Windows and ipad

Chat can occur through the tool
Accessed by
http://bridgit.csu.edu.au
Twitter
Key Benefits

Connect with colleagues from other institutions in
your area of work.

Easily communicate on a certain topic using
hashtags.

Quickly review new trends in your areas of
interest.

Great to document conferences by those that
attend (just share hashtag at the opening) some
subjects use it to track discussions. i.e.
#adminfocus
Accessed by
https://twitter.com/signup
Yammer
Key Benefits

A private social network for the university

Ability to quickly form groups and ask questions

Gauge responses through polls.
Accessed by
Yammer.com
Yammer
Advanced features

The various apps for yammer are a good way to
connect in different ways. i.e. ipad and
smartphone apps

Yammer has a range of additional features to
explore under app directory in right hand of
yammer

If you have connected a twitter account you can
post to yammer by including the hashtag #yam
Interact 2
Key Benefits

Organisations can provide a platform similar to
interact1 project sites but with many more tools
and freedom of setup.

Allows for complex discussion threads, file sharing
and tools such as wikis.
Accessed by
Interact2.csu.edu.au
Group email accounts
Key Benefits

Email accounts can help pool requests and allow
for coverage key functional areas by any staff
present.

One place for all correspondence.

Easy to tell if someone has read request instead of
just a CC'ed email

Folders can help manage certain job types
Accessed by
DIT Request just include all staff that require access.
Group email accounts
Advanced features

You can set rules on an email account such as
out of office and auto forwarding. Especially
useful for accounts that aren't regularly emailed.
This is available from the mail program in windows
just create a new account for the email account
required.

You can access an email account through the
web via https://weboutlook.csu.edu.au
Other Nifty Tricks

Meetings that are completely optional and to
many, many people are best sent via an ics file
attachment.

Simply open a meeting and the top left button
and save as ics. Then attach ics file to email.

Respondents then open attachment and click
accept. You are then informed and they have
the meeting enter their calendar.

If you publish email addresses on a website use a
mailto link to set your desired subject. So you can
then filter and know they have used your link.

Mailto links are easily created with NORFOLK for
Admin under email templates.
NORFOLK Admin

A tool to allow you to store any reusable content
in word and share this with colleagues.

Insert the stored content into any open
document.

Content can be anything possible in word. A
form, some text or an image for example.

Email templates that allow you to get much more
features than with a traditional mail merge.
Questions?