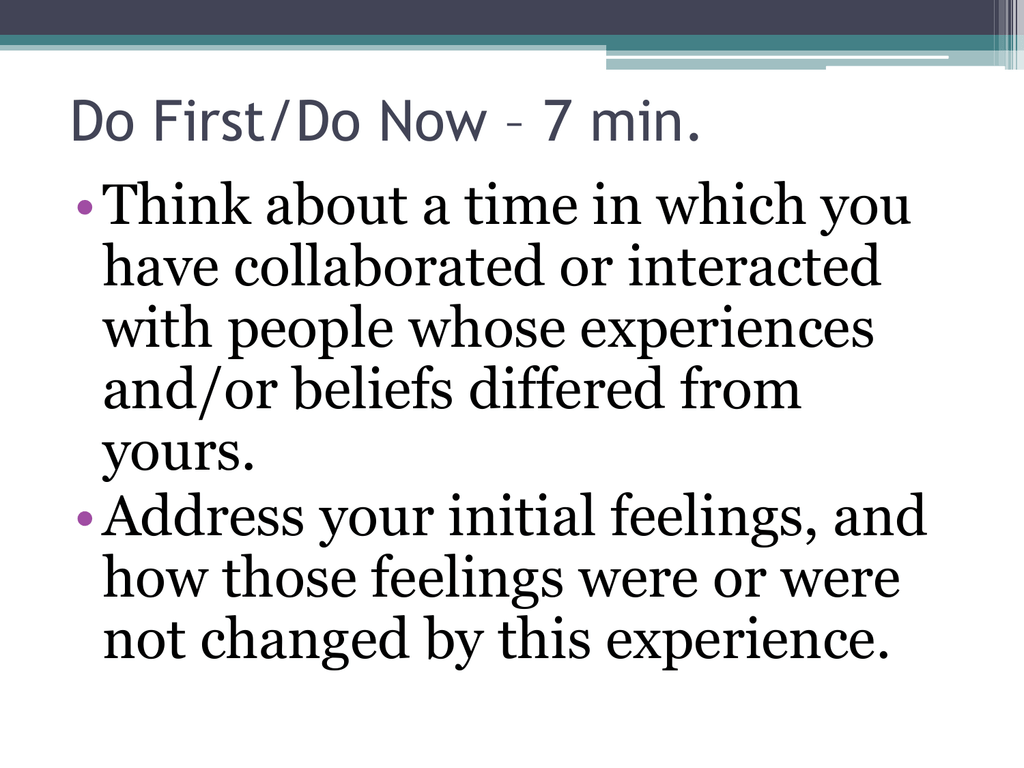 Do First/Do Now – 7 min.
• Think about a time in which you
have collaborated or interacted
with people whose experiences
and/or beliefs differed from
yours.
• Address your initial feelings, and
how those feelings were or were
not changed by this experience.
Class Reminders
• Beowulf soundtrack due today by
11:59 pm
• Vocabulary quiz #4 on Friday
• If you are not applying for a
university within the state of Texas,
please locate any writing prompts you
may have to address for your
application.
Daily Objectives: SWBAT
•Explain historical events
that helped to shape the
Middle Ages/Mid-evil time
period.
Activities
1. Do First/Do Now
2.Grade Beowulf exam
3.Work in collaborative
groups
Group Number
Group Assignment
1
Black Death
2
Feudalism
3
The Church
4
Chivalry
5
Geoffrey Chaucer
6
Thomas A Becket
7
Canterbury (Cathedral)
8
Frame Story
9
The Venerable Bede
10
Societal Elements (Occupation/
Hardship/Concerns, etc.)
What do you do? Answer the following
questions in-depth PG.139 and the internet
1. Explain who or what it is.
2. Explain the time in which it
happened.
3. Explain where it happened.
4. Explained why/how it
happened.
5. Explain what happened that
made this event or person
important.