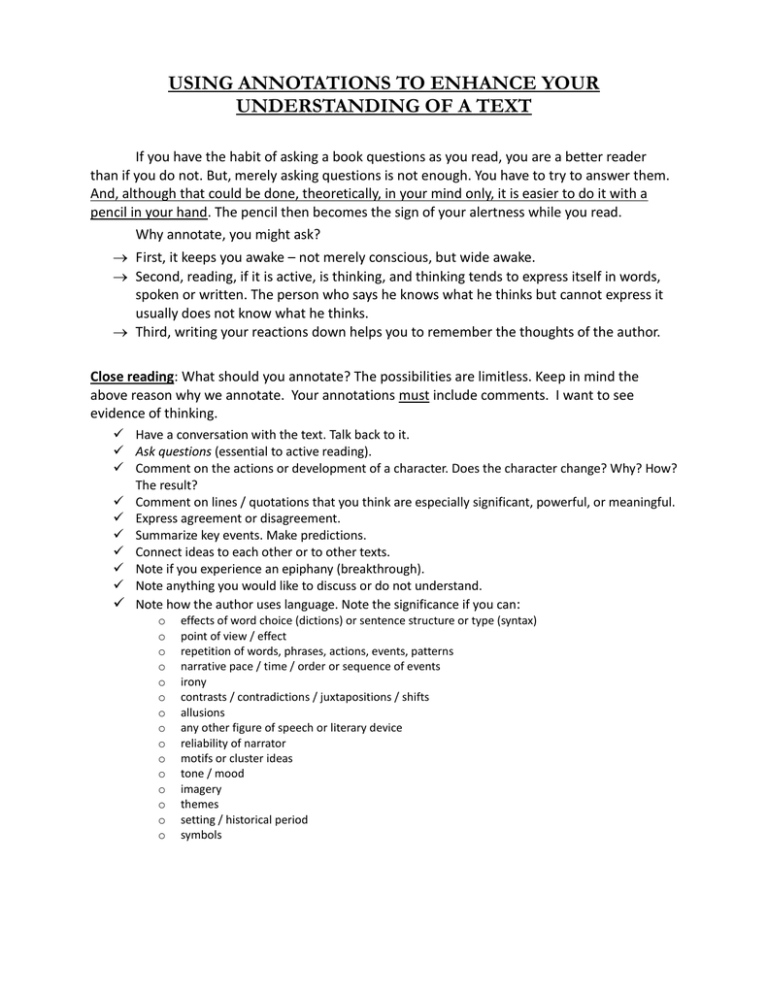 USING ANNOTATIONS TO ENHANCE YOUR
UNDERSTANDING OF A TEXT
If you have the habit of asking a book questions as you read, you are a better reader
than if you do not. But, merely asking questions is not enough. You have to try to answer them.
And, although that could be done, theoretically, in your mind only, it is easier to do it with a
pencil in your hand. The pencil then becomes the sign of your alertness while you read.
Why annotate, you might ask?
 First, it keeps you awake – not merely conscious, but wide awake.
 Second, reading, if it is active, is thinking, and thinking tends to express itself in words,
spoken or written. The person who says he knows what he thinks but cannot express it
usually does not know what he thinks.
 Third, writing your reactions down helps you to remember the thoughts of the author.
Close reading: What should you annotate? The possibilities are limitless. Keep in mind the
above reason why we annotate. Your annotations must include comments. I want to see
evidence of thinking.
 Have a conversation with the text. Talk back to it.
 Ask questions (essential to active reading).
 Comment on the actions or development of a character. Does the character change? Why? How?
The result?
 Comment on lines / quotations that you think are especially significant, powerful, or meaningful.
 Express agreement or disagreement.
 Summarize key events. Make predictions.
 Connect ideas to each other or to other texts.
 Note if you experience an epiphany (breakthrough).
 Note anything you would like to discuss or do not understand.
 Note how the author uses language. Note the significance if you can:
o
o
o
o
o
o
o
o
o
o
o
o
o
o
o
effects of word choice (dictions) or sentence structure or type (syntax)
point of view / effect
repetition of words, phrases, actions, events, patterns
narrative pace / time / order or sequence of events
irony
contrasts / contradictions / juxtapositions / shifts
allusions
any other figure of speech or literary device
reliability of narrator
motifs or cluster ideas
tone / mood
imagery
themes
setting / historical period
symbols
The most common complaint about annotating is that it slows down your reading. Yes, it does.
That's the point. If annotating as you read annoys you, read a chapter, then go back and
annotate. Reading a text a second time is preferable anyway.