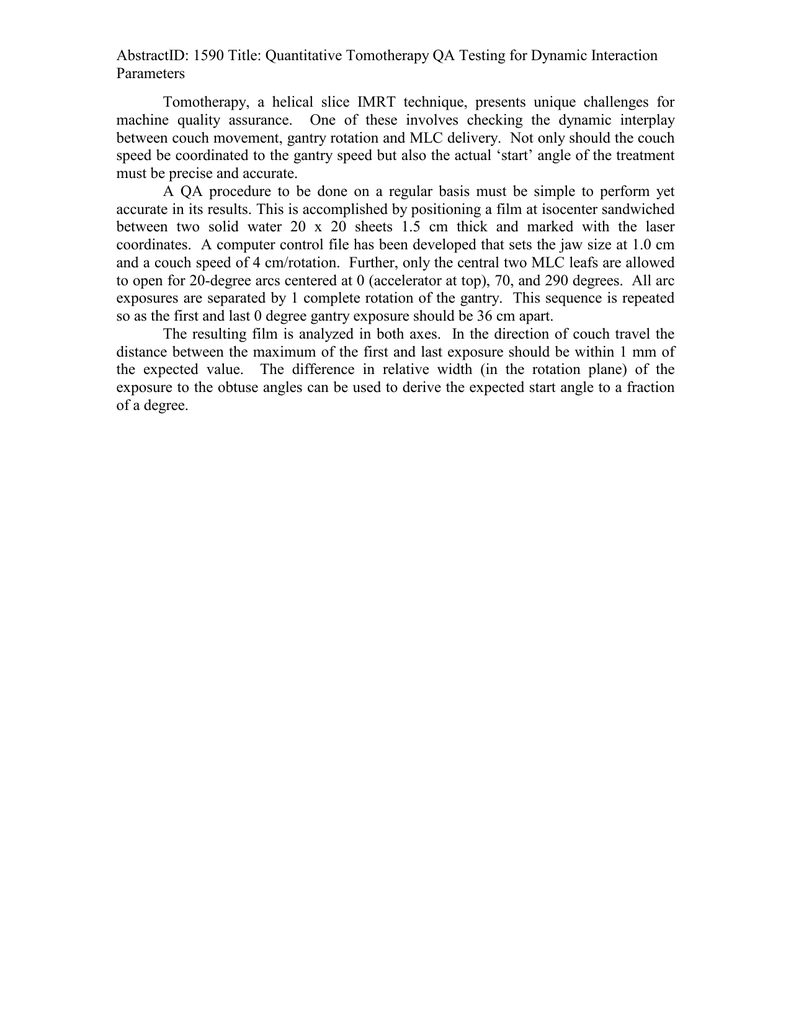 AbstractID: 1590 Title: Quantitative Tomotherapy QA Testing for Dynamic Interaction
Parameters
Tomotherapy, a helical slice IMRT technique, presents unique challenges for
machine quality assurance. One of these involves checking the dynamic interplay
between couch movement, gantry rotation and MLC delivery. Not only should the couch
speed be coordinated to the gantry speed but also the actual 'start' angle of the treatment
must be precise and accurate.
A QA procedure to be done on a regular basis must be simple to perform yet
accurate in its results. This is accomplished by positioning a film at isocenter sandwiched
between two solid water 20 x 20 sheets 1.5 cm thick and marked with the laser
coordinates. A computer control file has been developed that sets the jaw size at 1.0 cm
and a couch speed of 4 cm/rotation. Further, only the central two MLC leafs are allowed
to open for 20-degree arcs centered at 0 (accelerator at top), 70, and 290 degrees. All arc
exposures are separated by 1 complete rotation of the gantry. This sequence is repeated
so as the first and last 0 degree gantry exposure should be 36 cm apart.
The resulting film is analyzed in both axes. In the direction of couch travel the
distance between the maximum of the first and last exposure should be within 1 mm of
the expected value. The difference in relative width (in the rotation plane) of the
exposure to the obtuse angles can be used to derive the expected start angle to a fraction
of a degree.