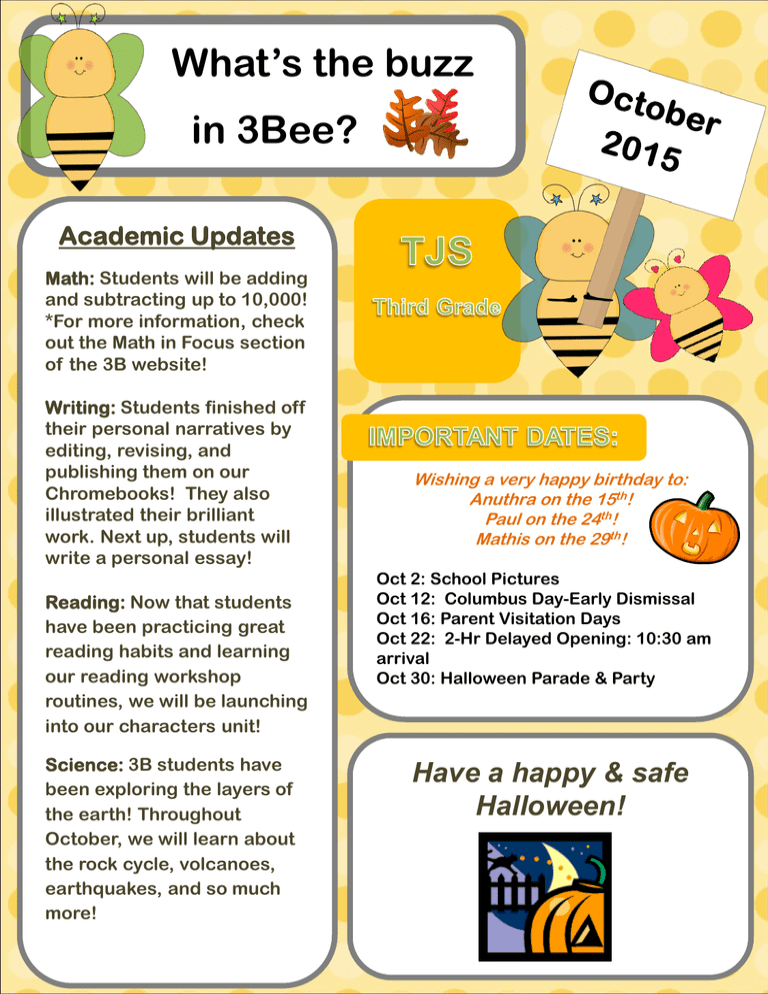 What's the buzz
in 3Bee?
Academic Updates
Math: Students will be adding
and subtracting up to 10,000!
*For more information, check
out the Math in Focus section
of the 3B website!
Writing: Students finished off
their personal narratives by
editing, revising, and
publishing them on our
Chromebooks! They also
illustrated their brilliant
work. Next up, students will
write a personal essay!
Reading: Now that students
have been practicing great
reading habits and learning
our reading workshop
routines, we will be launching
into our characters unit!
Science: 3B students have
been exploring the layers of
the earth! Throughout
October, we will learn about
the rock cycle, volcanoes,
earthquakes, and so much
more!
Wishing a very happy birthday to:
Anuthra on the 15th!
Paul on the 24th!
Mathis on the 29th!
Oct 2: School Pictures
Oct 12: Columbus Day-Early Dismissal
Oct 16: Parent Visitation Days
Oct 22: 2-Hr Delayed Opening: 10:30 am
arrival
Oct 30: Halloween Parade & Party
Have a happy & safe
Halloween!