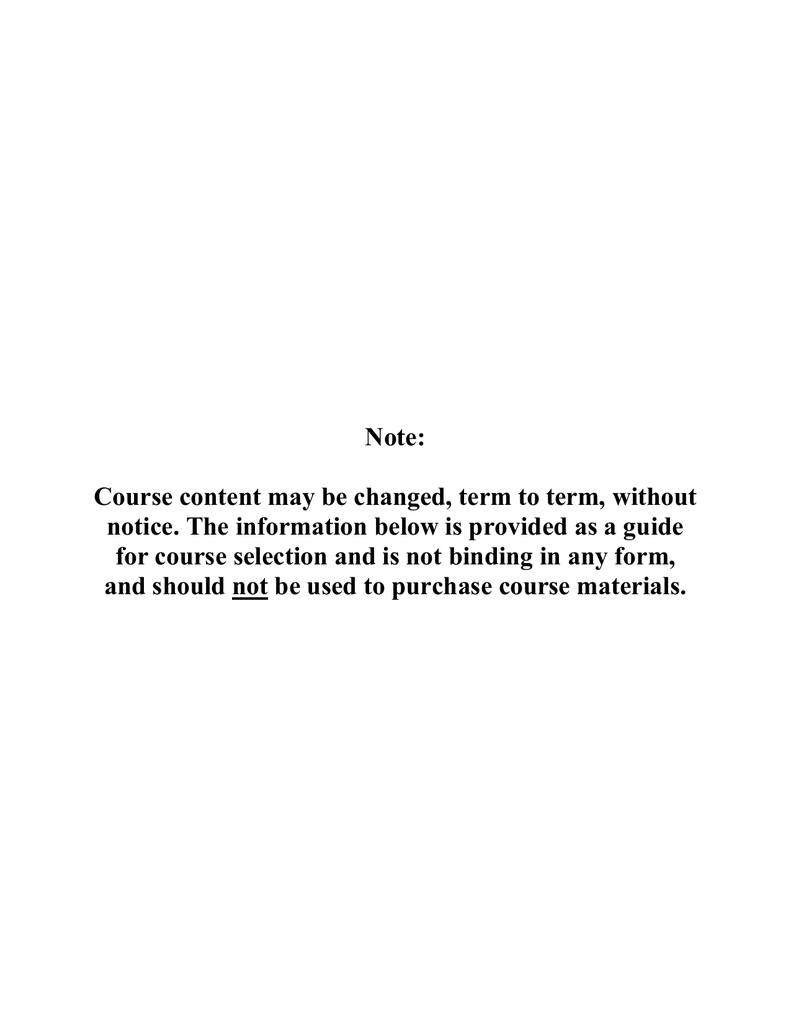 Note:
Course content may be changed, term to term, without
notice. The information below is provided as a guide
for course selection and is not binding in any form,
and should not be used to purchase course materials.
NURS 520 Syllabus
COURSE SYLLABUS
NURS 520
PAIN MANAGEMENT
COURSE DESCRIPTION
This course emphasizes the development of the nurse as an advocate pertaining to pain
management. Areas of study include societal bias, ethnic and gender biases related to pain
management, ethical and legal considerations, and the nurse's role in the development of a
therapeutic culture for pain management. This course will establish a sound foundation for
nurses to take a leadership role in pain management. (Elective course)
RATIONALE
As compared to other health care professionals, professional nurses spend the most time with
patients. The pain science literature reveals that nursing graduates are not competent in dealing
with patients' pain upon the completion of their basic nursing programs. Nurses need to have the
opportunity to explore pain science in more depth and build skills in developing a culture of
effective pain management across the health care spectrum.
I.
II.
PREREQUISITES
For information regarding prerequisites for this course, please refer to the Academic
Course Catalog.
REQUIRED RESOURCE PURCHASES
Click on the following link to view the required resource(s) for the term in which you are
registered: http://bookstore.mbsdirect.net/liberty.htm
III.
IV.
ADDITIONAL MATERIALS FOR LEARNING
A.
Computer with basic audio/video output equipment
B.
Internet access (broadband recommended)
C.
Microsoft Word
(Microsoft Office is available at a special discount to Liberty University students.)
D.
Access to Printer/Scanner
MEASURABLE LEARNING OUTCOMES
Upon successful completion of this course, the student will be able to:
A.
Discuss misconceptions about pain that hinder effective management.
B.
Examine various assessment and pain measurement tools.
C.
Differentiate among addiction, tolerance, and physical dependence.
Page 1 of 3
NURS 520 Syllabus
V.
D.
Distinguish strengths and limitations of pain management delivery systems.
E.
Determine the effects of poor pain management on systems of the human body.
F.
Debate ethical and legal considerations surrounding pain management.
G.
Develop a planned approach to managing pain for a specific population.
H.
Integrate the biblical worldview into pain management.
COURSE REQUIREMENTS AND ASSIGNMENTS
A.
Textbook readings and lecture presentations
B.
Course Requirements Checklist
After reading the Syllabus and Student Expectations, the student will complete the
related checklist found in Module/Week 1.
C.
Discussion Board Forums (3)
The Discussion Board Forums are designed to promote discussion among class
participants and provide an environment to exchange ideas and comments based on
the readings, assignments, and personal/professional experiences. The student will
post a thread of at least 500 words and 2 replies of at least 250 words each to other
students' threads. Each thread and reply require 2–3 citations formatted according
to current APA style.
D.
Procedural Pain Management Exercise
The student will use the template provided to review and discuss situations related
to procedural pain issues. This assignment must be submitted via SafeAssign.
E.
Systems Paper Outline
The student will develop a content outline as well as a reference list using current
APA format. In addition to the required text, 8–10 scholarly references are
required.
F.
Systems Paper
The student will compose a research paper formatted according to current APA
guidelines on the negative effects of ineffective pain management in each body
system, emphasizing the changes to the body that can be a threat to overall health
and well-being of the patient.
G.
PowerPoint Annotated Bibliography
The student will provide an Annotated Bibliography of 8–10 sources formatted to
current APA guidelines. Each source summary must be a minimum of 75 words.
H.
PowerPoint Presentation
The student will develop a 15–20-slide PowerPoint presentation on a select topic
of interest related to pain management.
VI.
COURSE GRADING AND POLICIES
Page 2 of 3
NURS 520 Syllabus
A.
Points
Course Requirements Checklist
Discussion Board Forums (3)
Discussion Board Forum 1
Discussion Board Forum (2 at 125 pts ea)
Procedural Pain Management Exercise
Systems Paper Outline
Systems Paper
PowerPoint Annotated Bibliography
PowerPoint Presentation
10
Total
B.
100
250
150
50
200
75
175
1010
Scale
A = 940–1010 A- = 920–939 B+ = 900–919 B = 860–899 B- = 840–859
C+ = 820–839 C = 780–819 C- = 760–779 D+ = 740–759 D = 700–739
D- = 680–699 F = 679 and below
C.
Late Assignment Policy
If the student is unable to complete an assignment on time, then he or she must
contact the instructor immediately by email.
Assignments that are submitted after the due date without prior approval from the
instructor will receive the following deductions:
1.
Late assignments submitted within one week of the due date will
receive a 10% deduction.
2.
Assignments submitted more than one week late will receive a 20%
deduction.
3.
Assignments submitted two weeks late or after the final date of the
class will not be accepted.
4.
Late Discussion Board threads or replies will not be accepted.
Special circumstances (e.g. death in the family, personal health issues) will be
reviewed by the instructor on a case-by-case basis.
D.
Disability Assistance
Students with a documented disability may contact Liberty University Online's
Office of Disability Academic Support (ODAS) at [email protected] to
make arrangements for academic accommodations. Further information can be
found at www.liberty.edu/disabilitysupport.
Page 3 of 3
COUR ### Course Schedule
COURSE SCHEDULE
NURS 520
Textbooks: Pasero & McCaffery, Pain Assessment and Pharmacologic Management (2011).
MODULE/
WEEK
READING & STUDY
1
Pasero & McCaffery:
chs. 1–2, 14, 16
1 presentation
1 website
Course Requirements Checklist
Class Introductions
DB Forum 1
10
0
100
2
Pasero & McCaffery:
chs. 3–4, 11
2 presentations
DB Forum 2
125
3
Pasero & McCaffery: ch. 28
1 presentation
Procedural Pain Management Exercise
150
4
Pasero & McCaffery: chs. 7–8
1 presentation
Systems Paper Outline
50
5
Pasero & McCaffery:
chs. 16, 18–20
1 presentation
Systems Paper
200
6
1 presentation
1 website
DB Forum 3
125
7
Review Text Readings
1 presentation
1 website
PPT Annotated Bibliography
75
8
Self-Selected Bible Readings
1 presentation
1 website
PPT Presentation
175
TOTAL
1010
ASSIGNMENTS
POINTS
DB = Discussion Board
PPT= PowerPoint
NOTE: Each course week begins on Monday morning at 12:00 a.m. (ET) and ends on Sunday
night at 11:59 p.m. (ET). The final week ends at 11:59 p.m. (ET) on Friday.