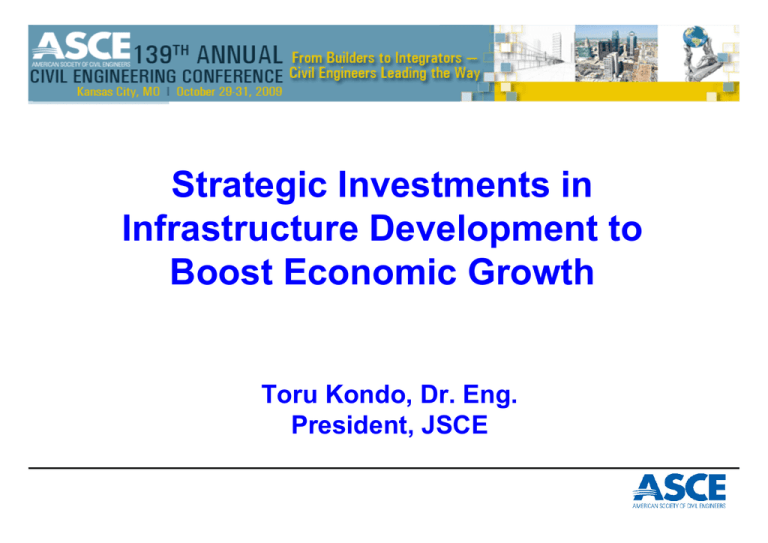 Strategic Investments in
Infrastructure Development to
Boost Economic Growth
Toru Kondo, Dr. Eng.
President, JSCE
Contents
1. Public Investment in Japanese Economic Crisis in 90s
1-1. Trends in Public Investment
1-2. Effective Public Investment in the '90s
1-3. Mounting Public Debt Outstanding
1-4. Mounting Criticism of Public Investments
2. Public Investment- Response to the Global Economic Crisis
2-1. Economic Stimulus Measures
- FY 2009 Supplementary Budget
2-2. MLIT's Budget for Public Works Projects
2-3. Investments and Possible Effects
2-4. New Evaluation of Projects
3. Conclusion
1. Public Investment in Japan
1-1. Trends in Public Investment in the ex-bubble economy
Effects of public investment:
¥
(兆円)
Trillion
a. Direct impact: increases in the
consumption of construction materials
and public works-related jobs
b. Indirect impact: improvement of
<National
Public Investment>
公共事業予算の増加
16
14
補正
Supplementary
当初
12
10
8
6
4
FY1992
FY2000
(備考)財務省「財政統計」、財務省HP資料より作成
2008
2006
2004
2002
2000
1998
1996
1994
1992
1990
1988
0
1986
= improvement of distribution systems
1984
2
Initial
1982
*Expansion of transportation network
1980
economic activities
FY2009
(年度)
1-2. Effective Public Investment in the '90s
During a deflationary period, <Employment measures = Creation of new jobs>
investment = 3 times as
Additional
investments
effective as tax reduction Ten Thousand
For 8 yrs from '92 to 99,
additional public investments
of
¥56 trillion in total created
1.17 million jobs.
17,000 jobs per ¥ 1 trillion
public investment
*an estimation of the Cabinet Office
Jobs created
1-3. Mounting Public Debt Outstanding
Pumping money into the money market
mounting debts: gov. bonds + loans
< Trends in Bonds Issued, Outstanding Bonds and Tax revenues>
¥Trillion
¥Trillion
Special temporary bonds
Special deficit-financing bonds
Construction bonds
Tax revenues
Outstanding balance of bonds
Outstanding balance of special deficitfinancing bonds
Outstanding balance of construction
bonds
year
Ref. Ministry of Finance
1-4. Mounting Criticism of Pubic Investment
More criticism because…
1. Urban residents fail to see the contribution of high-speed transport network to the
country's international competitiveness and social infrastructure needs in rural and
remote areas.
Public investment has two functions: stimulating economic growth and making social
infrastructure stocks fulfill their expected services.
2. The effect of public investments on economic growth is getting weaker
→ a social climate that neglects the services of social infrastructure stock.
3. People doubt the necessity of investments in the development of disaster mitigation
measures, saying that natural disasters occur once in a while.
Accordingly…
Only the economic impact of public works project is concerned.
→ Infrastructure investment programs has been the focal point.
Delayed Transportation Infrastructure
① Development of loop roads
Beijing
Tokyo
■ loop roads ■ highways ■ Sections to be built
Seoul
■ public roads
Beijing
Seoul
Paris
Plan: 313km
Completed: 262km
Completion: 84%
Berlin
Plan: 223km
Completed: 217km
Plan: 520km
Completed: 200km
Completion: 40%
② Extension of
container ship
quay walls
2008
Plan: 433km
Plan: 168km
Completed: 398km
Completed: 168km
Completion: 92%
2007
Completion: 100% 2000
Completion: 97%
London
Plan: 188km
Completed: 188km
Completion: 100%
Delayed River & Sewerage Systems
<Flood Mitigation Measures>
Holland:TakaseP
roject
100%
UK: Thames
■Population served by Advanced Wastewater
Treatment
100%
USA: Mississippi
79%
France: Seine
Japan
■Population served;
<Sewerage
Systems>
100%
58%
Every
30-40yrs
100yrs 500yrs 1000yrs
Japan Sweden Finland Germany Canada USA
UK
2003
1997
1998
1999
1998
10000yrs
Japan
$1.936
<Total costs of natural disasters
between'77 to '06>
World
$14.889
1996
1996
Increase in Infrastructure Stock and Maintenance Work
<Estimated investment in infrastructure development by
types of work>
After '01, 2% decrease from the previous year and remain steady after '25
¥Trillion
Financial
Insufficiency
Renewal
New Construction
Repair and
Maintenance
Post-Disaster
Reconstruction
2. Public Investment - Response to the Global Economic Crisis
2-1. Economic Stimulus Measures
– FY2009 Supplementary Budget
・The biggest-ever supplementary budget, which was pledged.
・Compiled with FY2009 Budget and will be executed.
¥13.92 trillion for financial crisis measures
"Public Opinions"
"Expert Discussions" on economic recovery
*Set up within the Cabinet Office: 5 meetings
*Total 84 experts from industry, academia and gov.
2-2. MLIT's Budget for Public Works Projects
FY'09 Initial
FY2008-09 Budgets for Public Works Projects
Total ¥10.1 trillion
(9.4 trillion)
¥Trillion
2.3 trillion
FY2009
Supplementary
FY'09 Initial
Initial
¥7.4 trillion
(6.7 trillion)
7.1 trillion
(6.4trillion)
0.2 trillion
0.5 trillion
FY2008
"Four-stage" rocket of
economic countermeasures
FY2009+Supplementaries
FY2008 1st &
2nd
Supplementary
Additional spending to FY2009 Supplementary Budget:
¥ 2.3321 trillion
(as of April 2009)
1. Realizing the potential of the economy and developing
infrastructures to address the challenges of the 21st century
(e.g. Haneda Airport, Shinkansen network): ¥438.7 billion
2. Revitalizing regions: ¥132.1 billion
3. Strengthening safety and security (e.g. disaster mitigation
measures, road safety measures): ¥991.2 billion
4. Advancing low-carbon revolution: ¥66.4 billion
5.Implementing employment measures and creating new jobs:
¥500 million
2-3. Investments and Possible Effects
Example.
1. Realizing the potential of the economy and Infrastructure development to
deal with challenges of the 21st century
① Constructing "missing links" on 3 major loop roads in Tokyo
Total 520 km
Only 40% of the total
length constructed now
<Effect of three loop roads in Tokyo>
Reduction of travel time incase of emergency
Road safety will be ensured.
Travel time between inside and
outside the loop road areas will
be shortened → emergency
rescue activities will be
operated smoothely.
Present
Future
② Improving airports, ports and harbors
Turning Haneda Airport to be an international airport
Expansion of C-runaway of 3000 m to 3350 m to facilitate large aircraft landing and takeoff.
The airport is undergoing new runway construction → from 303 thous. to 407 thous.
landings & takeoffs
N
B-runaway: 2500m
走路
B滑
東京湾
川
多摩
第1旅客
ターミナル
A滑走路
3,000m
第2旅客
ターミナル
国際線地区
A-runaway: 3000m
00m
2,5
C滑走路
C-runaway:
3,000m
3000m → 3350m
3,350
m
連絡誘導路
New: D-runaway:
2500m
00m
,5
2
路
新設滑走
Ref. MLIT
3. Strengthening safety and security
① Flood and water disaster mitigation measures
Hard measures- flood control facilities.
Conventional Levee
Super Levee
Ref. Aralawa-Karyu River Office, MLIT
① Flood and water-related disasters mitigation measures
Soft measures – high-precision precipitation radar and observation systems.
C-band radar
observes large
areas
Dual-wavelength
radar (X-band)
measures drop size due
to high resolution and
high frequency
Ref. MLIT
4. Advancing Low-Carbon Revolution
Promoting clean energy generation, eco-friendly vehicles
Eco-friendly public housing
Support programs to promote the
introduction of low-emission vehicles
Green roofing
Wind-power generation
Compressed natural
gas vehicle
Hybrid vehicle
Green parking lots
Ref. MLIT
Solar-power
generation
Rainwater
recycling
Electric car
2-4. New Evaluation of Projects
Criticism of public works projects…
(1) Cost reduction, (2) Quantitative evaluations of projects, and
(3) Inclusion of outside experts' opinions
Example: Yonabaru Bypass Road (4.2 km)
Ref. Okinawa General Bureau
Reponses to criticism of public works projects…
Ex. Yonabaru Bypass Road in Okinawa
(1) Cost reduction (C): ¥ 58 billion → ¥ 47 billion
(2) Quantitative analysis
Direct benefits (B1): shorter travel time, less travel costs, less road
accidents
Indirect benefits (B2): more access to medical facilities, less CO2
emissions
only B1 measured
B1+ B2 measured
B/C: 1.13
B/C: 2.02
(3) Project Evaluation Committees around the country.
Chair: a college professor.
Conclusion
Investments in public works projects
■ Boosted economic recovery and growth in the 1990s.
More jobs and higher macroeconomic growth
■ Shrank to half of '95.
Affected by change in social values, increase in government bonds outstanding
and criticism
After the Lehman Shock- - the Gov. planned to pump ¥ 9.4 trillion into public works including
supplementary in the beginning of 2009.
■ invest the supplementary ¥2.3 trillion into public works
■ invest strategically, considering public opinions.
■ Improve the evaluation method of public works.
New Democratic Party Cabinet launched
on Sept. 16, 2009
Pledged to trim wasteful budget spending for public
works projects and reviewed the FY2009 supplementary
budget of ¥2.3 trillion.
*About ¥1 trillion may be trimmed.
*Almost of all the major projects in the above discussion
will be implemented.
Future remains unclear…
Thank you very much.