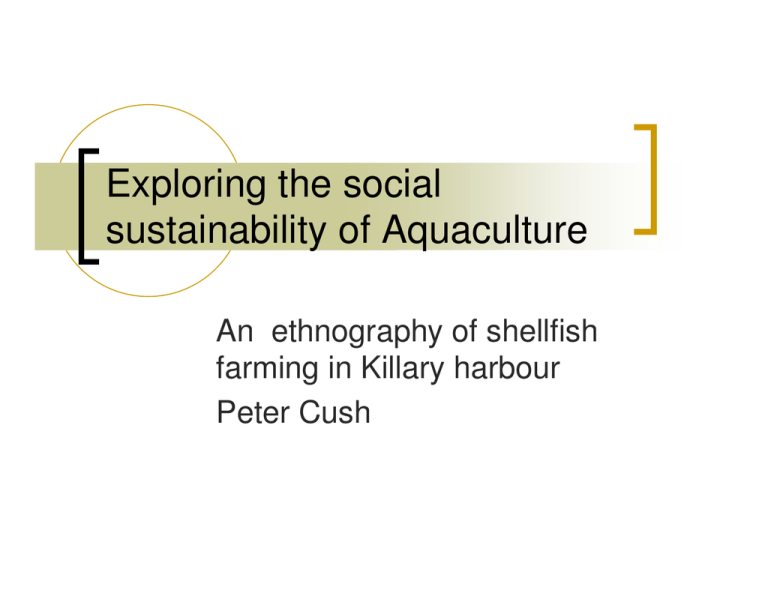 Exploring the social
sustainability of Aquaculture
An ethnography of shellfish
farming in Killary harbour
Peter Cush
A Sociology of Aquaculture
Aquaculture is of the only long term
employment alternatives outside of
agriculture for the coastal communities in
the west of Ireland. (Phyne 1996)
Aquaculture requires qualitative research on
two critical factors – Resource management
and the Oligopolistic market.
Research Questions
Can rational actors manage common pool resources through
the collective action process? Under what circumstances is
collective action possible? What prevents it from happening?
What does collective action look like? Can it illustrate trends
on new forms of local governance?
What is the role of the state in this process?
Research Questions
What are the effects of an oligopolistic
market on small scale producers?
How do they manage to up-skill to
meet the demands of price, quality and
environmental concerns that have
dominated the aquaculture industry?
What effect has this on the social
organisation of small scale producers?
Methodology/ Work Schedule
Research to be done through an
ethnographic analysis of Shellfish farming in
Killary Harbour North Connemara
Methods will include observation,
unstructured interviewing, participant
observation and document analysis.
Next year will centralise on developing the
empirical aspect of the research.