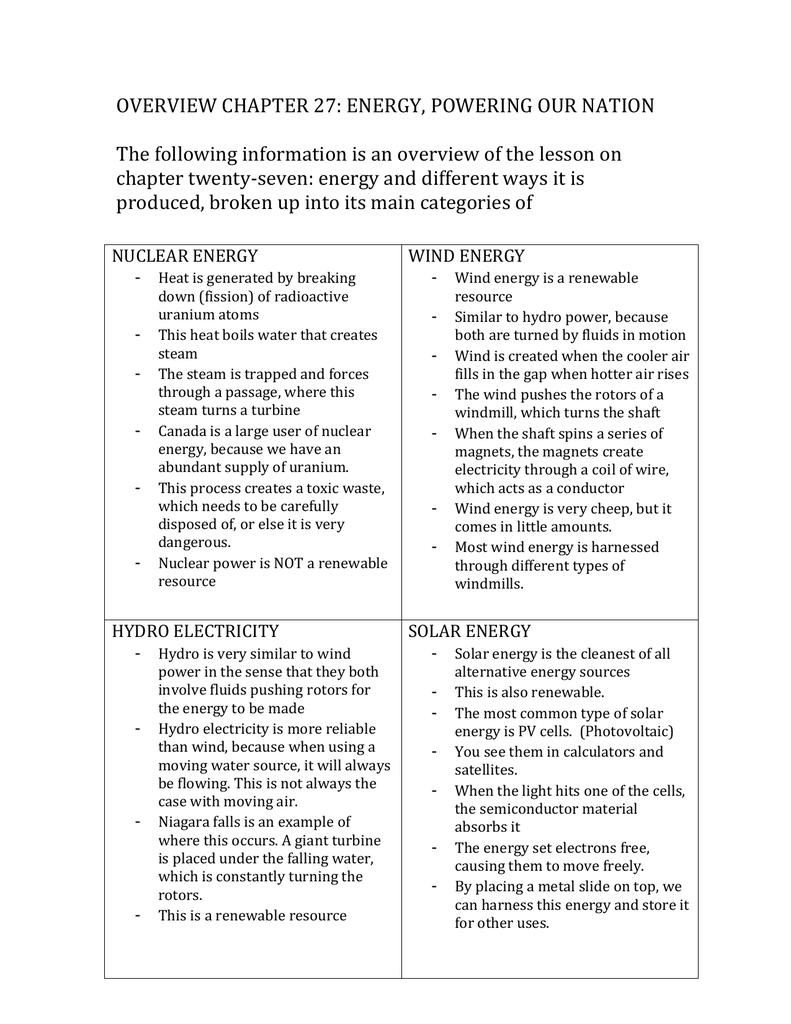 OVERVIEW CHAPTER 27: ENERGY, POWERING OUR NATION
The following information is an overview of the lesson on
chapter twenty-seven: energy and different ways it is
produced, broken up into its main categories of
NUCLEAR ENERGY
- Heat is generated by breaking
-
-
down (fission) of radioactive
uranium atoms
This heat boils water that creates
steam
The steam is trapped and forces
through a passage, where this
steam turns a turbine
Canada is a large user of nuclear
energy, because we have an
abundant supply of uranium.
This process creates a toxic waste,
which needs to be carefully
disposed of, or else it is very
dangerous.
Nuclear power is NOT a renewable
resource
HYDRO ELECTRICITY
- Hydro is very similar to wind
-
-
-
power in the sense that they both
involve fluids pushing rotors for
the energy to be made
Hydro electricity is more reliable
than wind, because when using a
moving water source, it will always
be flowing. This is not always the
case with moving air.
Niagara falls is an example of
where this occurs. A giant turbine
is placed under the falling water,
which is constantly turning the
rotors.
This is a renewable resource
WIND ENERGY
- Wind energy is a renewable
-
-
resource
Similar to hydro power, because
both are turned by fluids in motion
Wind is created when the cooler air
fills in the gap when hotter air rises
The wind pushes the rotors of a
windmill, which turns the shaft
When the shaft spins a series of
magnets, the magnets create
electricity through a coil of wire,
which acts as a conductor
Wind energy is very cheep, but it
comes in little amounts.
Most wind energy is harnessed
through different types of
windmills.
SOLAR ENERGY
- Solar energy is the cleanest of all
-
alternative energy sources
This is also renewable.
The most common type of solar
energy is PV cells. (Photovoltaic)
You see them in calculators and
satellites.
When the light hits one of the cells,
the semiconductor material
absorbs it
The energy set electrons free,
causing them to move freely.
By placing a metal slide on top, we
can harness this energy and store it
for other uses.