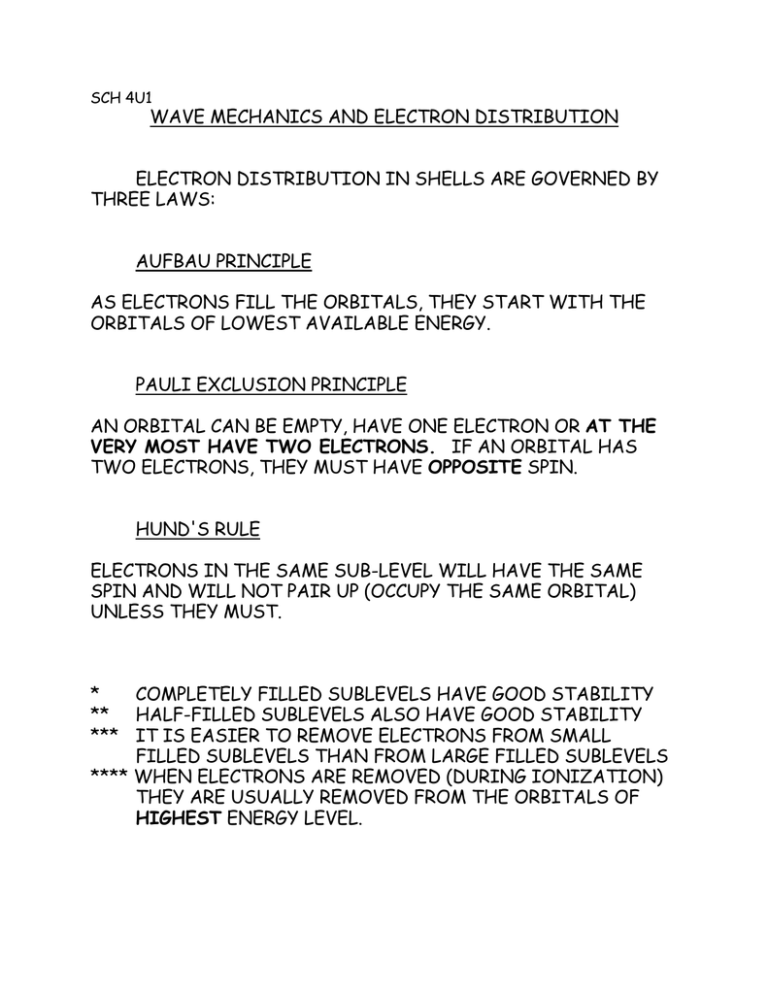 SCH 4U1
WAVE MECHANICS AND ELECTRON DISTRIBUTION
ELECTRON DISTRIBUTION IN SHELLS ARE GOVERNED BY
THREE LAWS:
AUFBAU PRINCIPLE
AS ELECTRONS FILL THE ORBITALS, THEY START WITH THE
ORBITALS OF LOWEST AVAILABLE ENERGY.
PAULI EXCLUSION PRINCIPLE
AN ORBITAL CAN BE EMPTY, HAVE ONE ELECTRON OR AT THE
VERY MOST HAVE TWO ELECTRONS. IF AN ORBITAL HAS
TWO ELECTRONS, THEY MUST HAVE OPPOSITE SPIN.
HUND'S RULE
ELECTRONS IN THE SAME SUB-LEVEL WILL HAVE THE SAME
SPIN AND WILL NOT PAIR UP (OCCUPY THE SAME ORBITAL)
UNLESS THEY MUST.
*
COMPLETELY FILLED SUBLEVELS HAVE GOOD STABILITY
** HALF-FILLED SUBLEVELS ALSO HAVE GOOD STABILITY
*** IT IS EASIER TO REMOVE ELECTRONS FROM SMALL
FILLED SUBLEVELS THAN FROM LARGE FILLED SUBLEVELS
**** WHEN ELECTRONS ARE REMOVED (DURING IONIZATION)
THEY ARE USUALLY REMOVED FROM THE ORBITALS OF
HIGHEST ENERGY LEVEL.