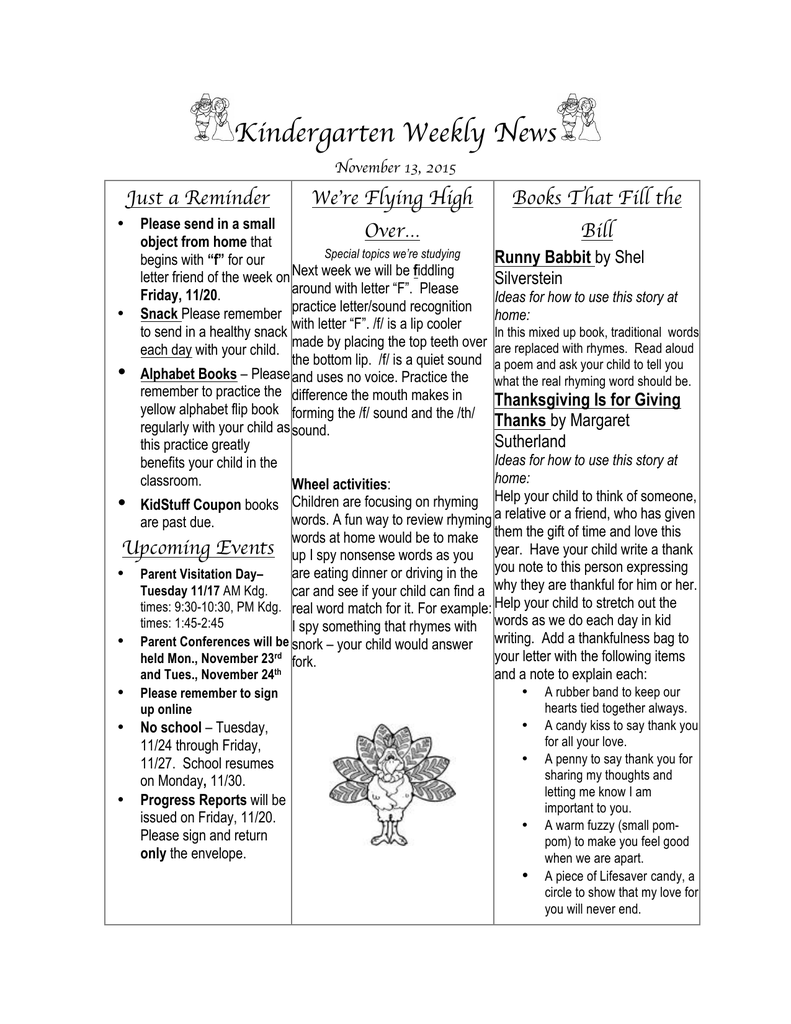 Kindergarten Weekly News
November 13, 2015
Just a Reminder
We're Flying High
Books That Fill the
Please send in a small
Over…
Bill
object from home that
Special topics we're studying
Runny Babbit by Shel
begins with "f" for our
Next
week
we
will
be
fiddling
letter friend of the week on
Silverstein
around
with
letter
"F".
Please
Friday, 11/20.
Ideas for how to use this story at
• Snack Please remember practice letter/sound recognition home:
with letter "F". /f/ is a lip cooler
In this mixed up book, traditional words
to send in a healthy snack
each day with your child. made by placing the top teeth over are replaced with rhymes. Read aloud
the bottom lip. /f/ is a quiet sound poem and ask your child to tell you
• Alphabet Books – Please and uses no voice. Practice the awhat
the real rhyming word should be.
remember to practice the difference the mouth makes in
Thanksgiving Is for Giving
yellow alphabet flip book forming the /f/ sound and the /th/
Thanks by Margaret
regularly with your child as sound.
Sutherland
this practice greatly
Ideas for how to use this story at
benefits your child in the
home:
classroom.
Wheel activities:
your child to think of someone,
• KidStuff Coupon books Children are focusing on rhyming Help
words. A fun way to review rhyming a relative or a friend, who has given
are past due.
words at home would be to make them the gift of time and love this
Upcoming Events up I spy nonsense words as you year. Have your child write a thank
are eating dinner or driving in the you note to this person expressing
• Parent Visitation Day–
Tuesday 11/17 AM Kdg.
car and see if your child can find a why they are thankful for him or her.
times: 9:30-10:30, PM Kdg. real word match for it. For example: Help your child to stretch out the
times: 1:45-2:45
I spy something that rhymes with words as we do each day in kid
• Parent Conferences will be snork – your child would answer writing. Add a thankfulness bag to
your letter with the following items
held Mon., November 23rd fork.
th
and Tues., November 24
and a note to explain each:
• A rubber band to keep our
• Please remember to sign
•
up online
•
•
No school – Tuesday,
11/24 through Friday,
11/27. School resumes
on Monday, 11/30.
Progress Reports will be
issued on Friday, 11/20.
Please sign and return
only the envelope.
•
•
•
•
hearts tied together always.
A candy kiss to say thank you
for all your love.
A penny to say thank you for
sharing my thoughts and
letting me know I am
important to you.
A warm fuzzy (small pompom) to make you feel good
when we are apart.
A piece of Lifesaver candy, a
circle to show that my love for
you will never end.