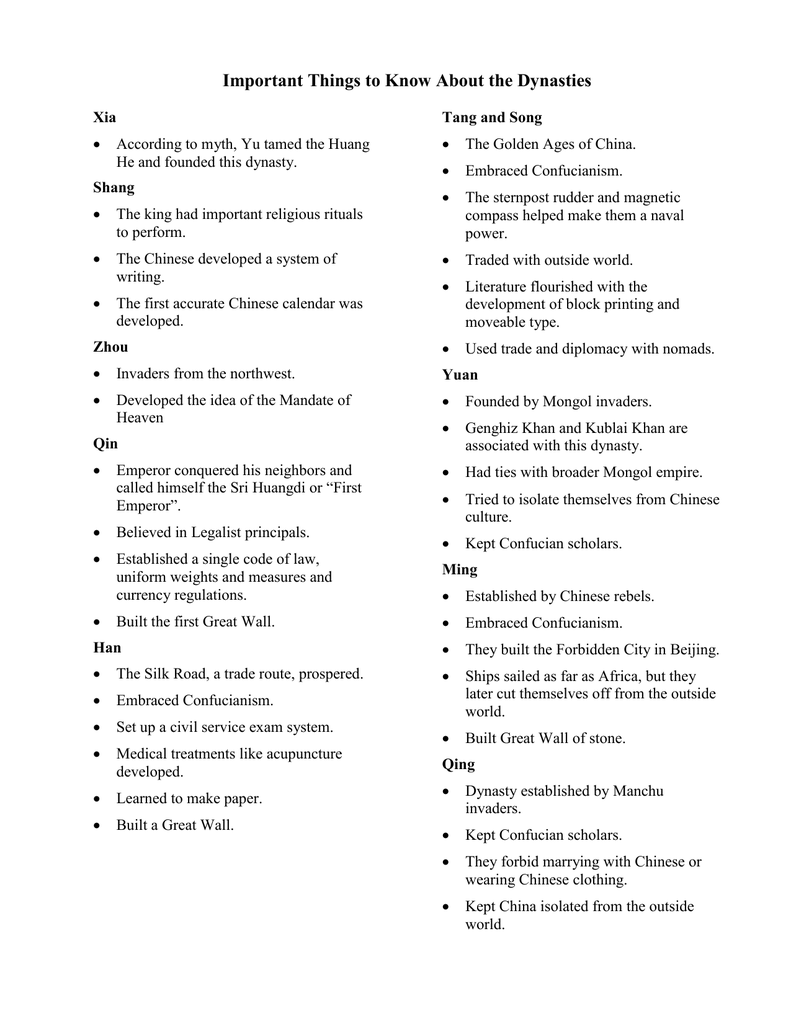 Important Things to Know About the Dynasties
Xia
Tang and Song


The Golden Ages of China.

Embraced Confucianism.

The sternpost rudder and magnetic
compass helped make them a naval
power.

Traded with outside world.

Literature flourished with the
development of block printing and
moveable type.
Zhou

Used trade and diplomacy with nomads.

Invaders from the northwest.
Yuan

Developed the idea of the Mandate of
Heaven

Founded by Mongol invaders.

Genghiz Khan and Kublai Khan are
associated with this dynasty.
Emperor conquered his neighbors and
called himself the Sri Huangdi or "First
Emperor".

Had ties with broader Mongol empire.


Tried to isolate themselves from Chinese
culture.
Believed in Legalist principals.


Kept Confucian scholars.
Established a single code of law,
uniform weights and measures and
currency regulations.
Ming

Established by Chinese rebels.
Built the first Great Wall.

Embraced Confucianism.
Han

They built the Forbidden City in Beijing.

The Silk Road, a trade route, prospered.


Embraced Confucianism.

Ships sailed as far as Africa, but they
later cut themselves off from the outside
world.
Set up a civil service exam system.


Built Great Wall of stone.
Medical treatments like acupuncture
developed.

Learned to make paper.

Built a Great Wall.
According to myth, Yu tamed the Huang
He and founded this dynasty.
Shang

The king had important religious rituals
to perform.

The Chinese developed a system of
writing.

The first accurate Chinese calendar was
developed.
Qin


Qing

Dynasty established by Manchu
invaders.

Kept Confucian scholars.

They forbid marrying with Chinese or
wearing Chinese clothing.

Kept China isolated from the outside
world.