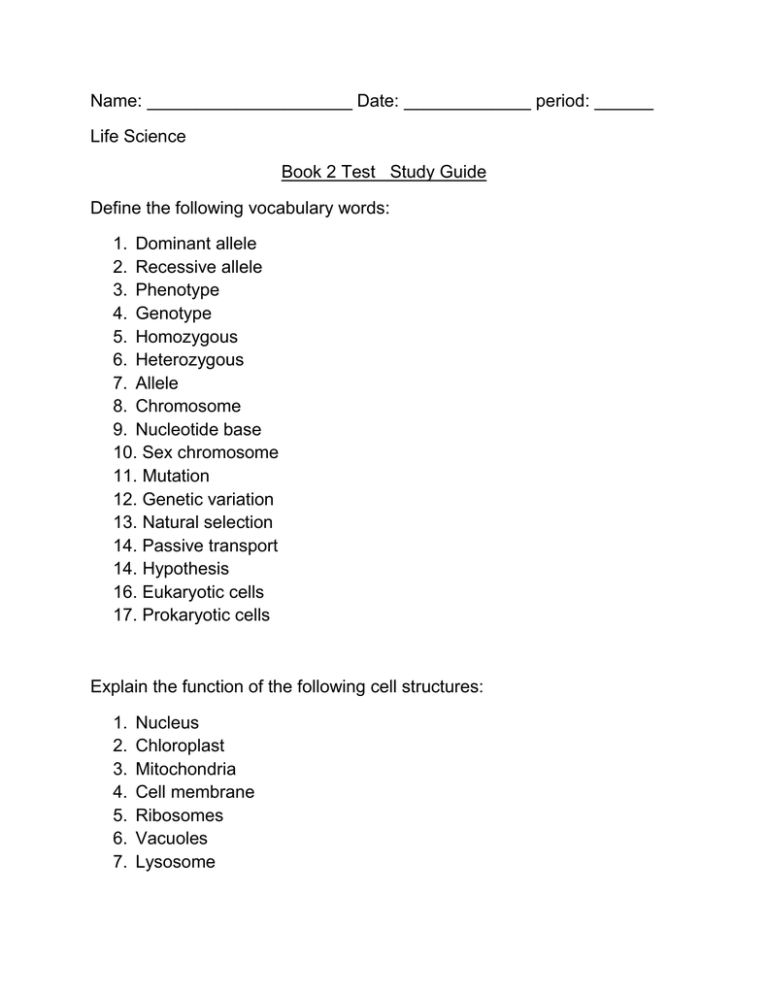 Name: _____________________ Date: _____________ period: ______
Life Science
Book 2 Test Study Guide
Define the following vocabulary words:
1. Dominant allele
2. Recessive allele
3. Phenotype
4. Genotype
5. Homozygous
6. Heterozygous
7. Allele
8. Chromosome
9. Nucleotide base
10. Sex chromosome
11. Mutation
12. Genetic variation
13. Natural selection
14. Passive transport
14. Hypothesis
16. Eukaryotic cells
17. Prokaryotic cells
Explain the function of the following cell structures:
1.
2.
3.
4.
5.
6.
7.
Nucleus
Chloroplast
Mitochondria
Cell membrane
Ribosomes
Vacuoles
Lysosome
1. Which is the correct gene combination for the parents shown in the
diagram?
2. The table below shows the traits and allele for cats. Two cats were bred
(their genotypes are below); which one of the following choices is true of
the phenotypes of the offspring?
a.
b.
c.
d.
All of the offspring will have black fur
All of the offspring will have white fur
All of the offspring will have long- haired fur
All of the offspring will have short-haired fur
3. The above sequence of DNA is part of a gene. What is the complimentary
strand, or other half, of the DNA that pairs to this sequence?
4. The type of mutation show to the right is:
a.
b.
c.
d.
an addition
a substitution
a deletion
none of the above
5. Based on the beaks of these four birds how many different food sources
do you think are on the island? Use evidence to support your reasoning
6. What was Rosalind Franklin's contribution to the discovery of DNA?