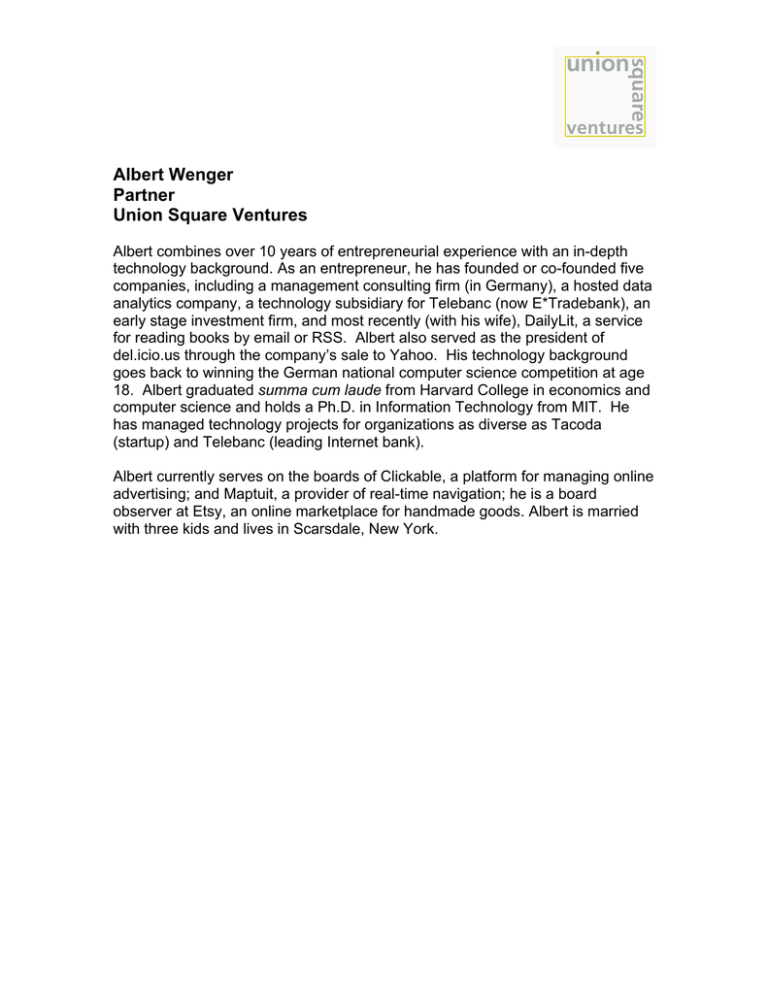 Albert Wenger
Partner
Union Square Ventures
Albert combines over 10 years of entrepreneurial experience with an in-depth
technology background. As an entrepreneur, he has founded or co-founded five
companies, including a management consulting firm (in Germany), a hosted data
analytics company, a technology subsidiary for Telebanc (now E*Tradebank), an
early stage investment firm, and most recently (with his wife), DailyLit, a service
for reading books by email or RSS. Albert also served as the president of
del.icio.us through the company s sale to Yahoo. His technology background
goes back to winning the German national computer science competition at age
18. Albert graduated summa cum laude from Harvard College in economics and
computer science and holds a Ph.D. in Information Technology from MIT. He
has managed technology projects for organizations as diverse as Tacoda
(startup) and Telebanc (leading Internet bank).
Albert currently serves on the boards of Clickable, a platform for managing online
advertising; and Maptuit, a provider of real-time navigation; he is a board
observer at Etsy, an online marketplace for handmade goods. Albert is married
with three kids and lives in Scarsdale, New York.