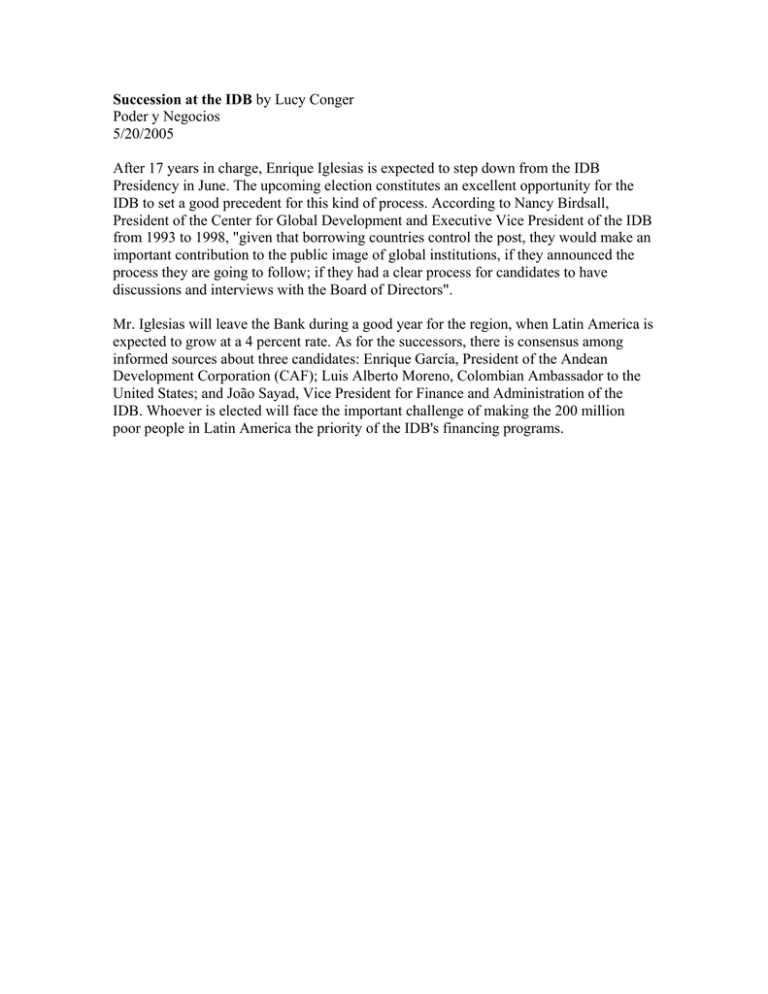 Succession at the IDB by Lucy Conger
Poder y Negocios
5/20/2005
After 17 years in charge, Enrique Iglesias is expected to step down from the IDB
Presidency in June. The upcoming election constitutes an excellent opportunity for the
IDB to set a good precedent for this kind of process. According to Nancy Birdsall,
President of the Center for Global Development and Executive Vice President of the IDB
from 1993 to 1998, "given that borrowing countries control the post, they would make an
important contribution to the public image of global institutions, if they announced the
process they are going to follow; if they had a clear process for candidates to have
discussions and interviews with the Board of Directors".
Mr. Iglesias will leave the Bank during a good year for the region, when Latin America is
expected to grow at a 4 percent rate. As for the successors, there is consensus among
informed sources about three candidates: Enrique García, President of the Andean
Development Corporation (CAF); Luis Alberto Moreno, Colombian Ambassador to the
United States; and João Sayad, Vice President for Finance and Administration of the
IDB. Whoever is elected will face the important challenge of making the 200 million
poor people in Latin America the priority of the IDB's financing programs.