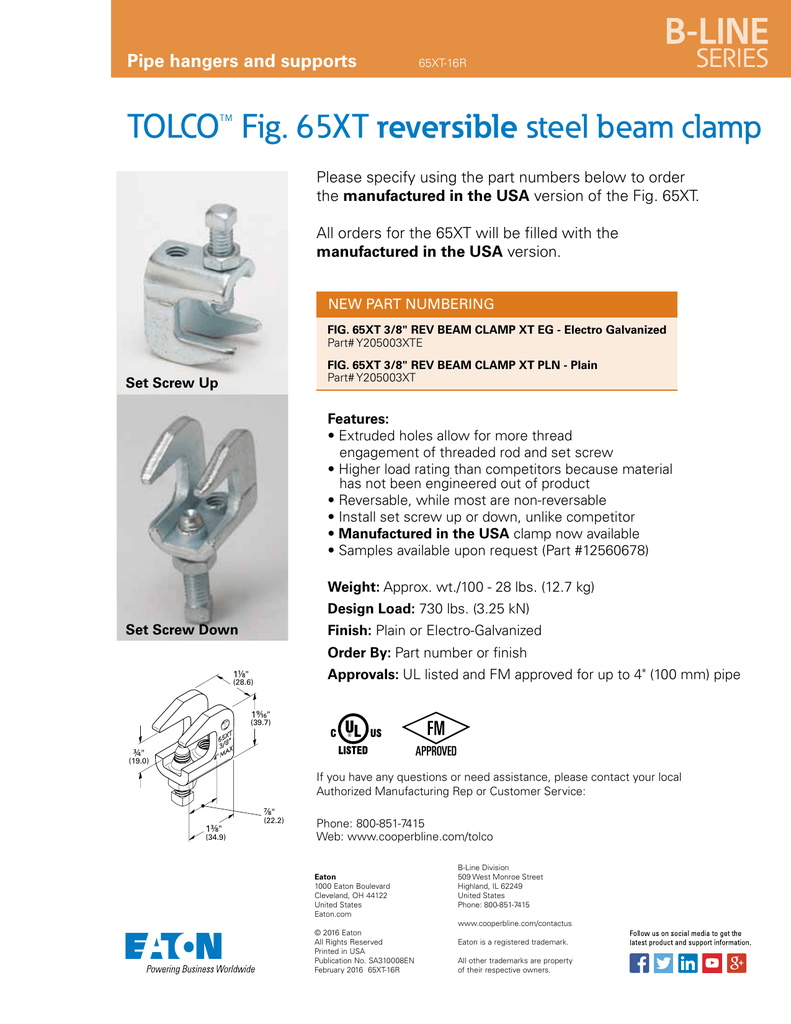 Pipe hangers and supports
65XT-16R
TOLCO™ Fig. 65XT reversible steel beam clamp
Please specify using the part numbers below to order
the manufactured in the USA version of the Fig. 65XT.
All orders for the 65XT will be filled with the
manufactured in the USA version.
NEW PART NUMBERING
FIG. 65XT 3/8" REV BEAM CLAMP XT EG - Electro Galvanized
Part# Y205003XTE
FIG. 65XT 3/8" REV BEAM CLAMP XT PLN - Plain
Part# Y205003XT
Set Screw Up
Features:
• Extruded holes allow for more thread
engagement of threaded rod and set screw
• Higher load rating than competitors because material
has not been engineered out of product
• Reversable, while most are non-reversable
• Install set screw up or down, unlike competitor
• Manufactured in the USA clamp now available
• Samples available upon request (Part #12560678)
Weight: Approx. wt./100 - 28 lbs. (12.7 kg)
Design Load: 730 lbs. (3.25 kN)
Set Screw Down
Finish: Plain or Electro-Galvanized
Order By: Part number or finish
Approvals: UL listed and FM approved for up to 4" (100 mm) pipe
11⁄8"
(28.6)
19⁄16"
(39.7)
¾"
(19.0)
If you have any questions or need assistance, please contact your local
Authorized Manufacturing Rep or Customer Service:
7⁄8"
13⁄8"
(34.9)
(22.2)
Phone: 800-851-7415
Web: www.cooperbline.com/tolco
Eaton
1000 Eaton Boulevard
Cleveland, OH 44122
United States
Eaton.com
© 2016 Eaton
All Rights Reserved
Printed in USA
Publication No. SA310008EN
February 2016 65XT-16R
B-Line Division
509 West Monroe Street
Highland, IL 62249
United States
Phone: 800-851-7415
www.cooperbline.com/contactus
Eaton is a registered trademark.
All other trademarks are property
of their respective owners.