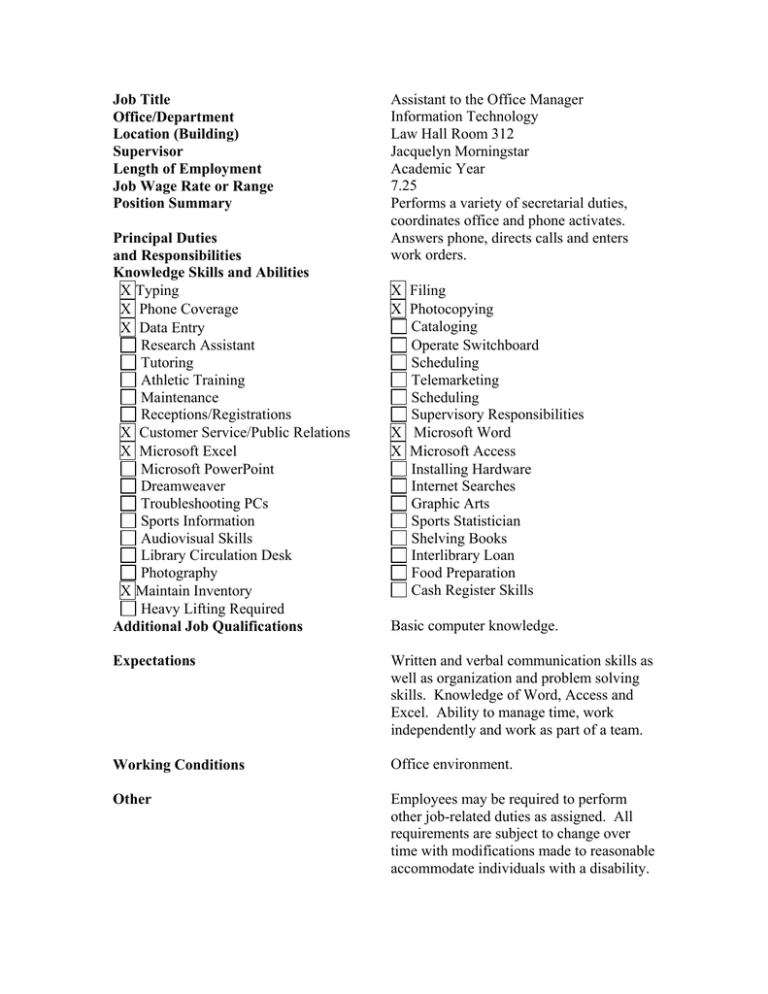 Job Title
Office/Department
Location (Building)
Supervisor
Length of Employment
Job Wage Rate or Range
Position Summary
Principal Duties
and Responsibilities
Knowledge Skills and Abilities
X Typing
X Phone Coverage
X Data Entry
Research Assistant
Tutoring
Athletic Training
Maintenance
Receptions/Registrations
X Customer Service/Public Relations
X Microsoft Excel
Microsoft PowerPoint
Dreamweaver
Troubleshooting PCs
Sports Information
Audiovisual Skills
Library Circulation Desk
Photography
X Maintain Inventory
Heavy Lifting Required
Additional Job Qualifications
Assistant to the Office Manager
Information Technology
Law Hall Room 312
Jacquelyn Morningstar
Academic Year
7.25
Performs a variety of secretarial duties,
coordinates office and phone activates.
Answers phone, directs calls and enters
work orders.
X Filing
X Photocopying
Cataloging
Operate Switchboard
Scheduling
Telemarketing
Scheduling
Supervisory Responsibilities
X Microsoft Word
X Microsoft Access
Installing Hardware
Internet Searches
Graphic Arts
Sports Statistician
Shelving Books
Interlibrary Loan
Food Preparation
Cash Register Skills
Basic computer knowledge.
Expectations
Written and verbal communication skills as
well as organization and problem solving
skills. Knowledge of Word, Access and
Excel. Ability to manage time, work
independently and work as part of a team.
Working Conditions
Office environment.
Other
Employees may be required to perform
other job-related duties as assigned. All
requirements are subject to change over
time with modifications made to reasonable
accommodate individuals with a disability.