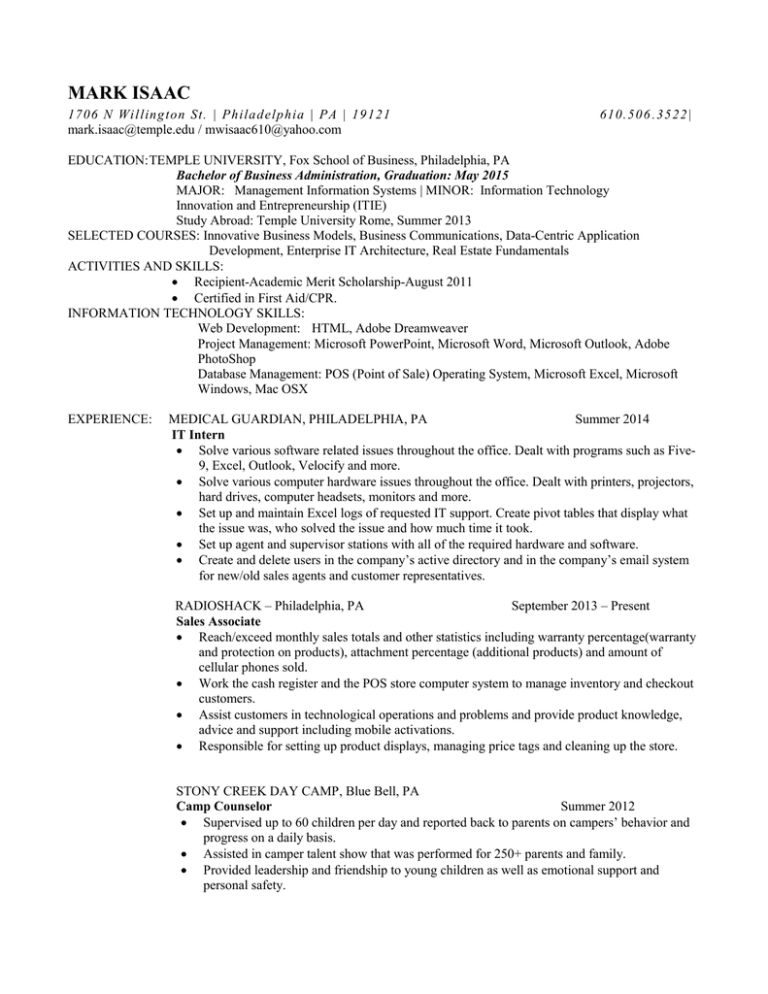 MARK ISAAC
1706 N Willing ton St. | Phila delp hia | PA | 19 121
[email protected] / [email protected]
610.50 6 .35 22|
EDUCATION: TEMPLE UNIVERSITY, Fox School of Business, Philadelphia, PA
Bachelor of Business Administration, Graduation: May 2015
MAJOR: Management Information Systems | MINOR: Information Technology
Innovation and Entrepreneurship (ITIE)
Study Abroad: Temple University Rome, Summer 2013
SELECTED COURSES: Innovative Business Models, Business Communications, Data-Centric Application
Development, Enterprise IT Architecture, Real Estate Fundamentals
ACTIVITIES AND SKILLS:
 Recipient-Academic Merit Scholarship-August 2011
 Certified in First Aid/CPR.
INFORMATION TECHNOLOGY SKILLS:
Web Development: HTML, Adobe Dreamweaver
Project Management: Microsoft PowerPoint, Microsoft Word, Microsoft Outlook, Adobe
PhotoShop
Database Management: POS (Point of Sale) Operating System, Microsoft Excel, Microsoft
Windows, Mac OSX
EXPERIENCE:
MEDICAL GUARDIAN, PHILADELPHIA, PA
Summer 2014
IT Intern
 Solve various software related issues throughout the office. Dealt with programs such as Five9, Excel, Outlook, Velocify and more.
 Solve various computer hardware issues throughout the office. Dealt with printers, projectors,
hard drives, computer headsets, monitors and more.
 Set up and maintain Excel logs of requested IT support. Create pivot tables that display what
the issue was, who solved the issue and how much time it took.
 Set up agent and supervisor stations with all of the required hardware and software.
 Create and delete users in the company's active directory and in the company's email system
for new/old sales agents and customer representatives.
RADIOSHACK – Philadelphia, PA
September 2013 – Present
Sales Associate
 Reach/exceed monthly sales totals and other statistics including warranty percentage(warranty
and protection on products), attachment percentage (additional products) and amount of
cellular phones sold.
 Work the cash register and the POS store computer system to manage inventory and checkout
customers.
 Assist customers in technological operations and problems and provide product knowledge,
advice and support including mobile activations.
 Responsible for setting up product displays, managing price tags and cleaning up the store.
STONY CREEK DAY CAMP, Blue Bell, PA
Camp Counselor
Summer 2012
 Supervised up to 60 children per day and reported back to parents on campers' behavior and
progress on a daily basis.
 Assisted in camper talent show that was performed for 250+ parents and family.
 Provided leadership and friendship to young children as well as emotional support and
personal safety.