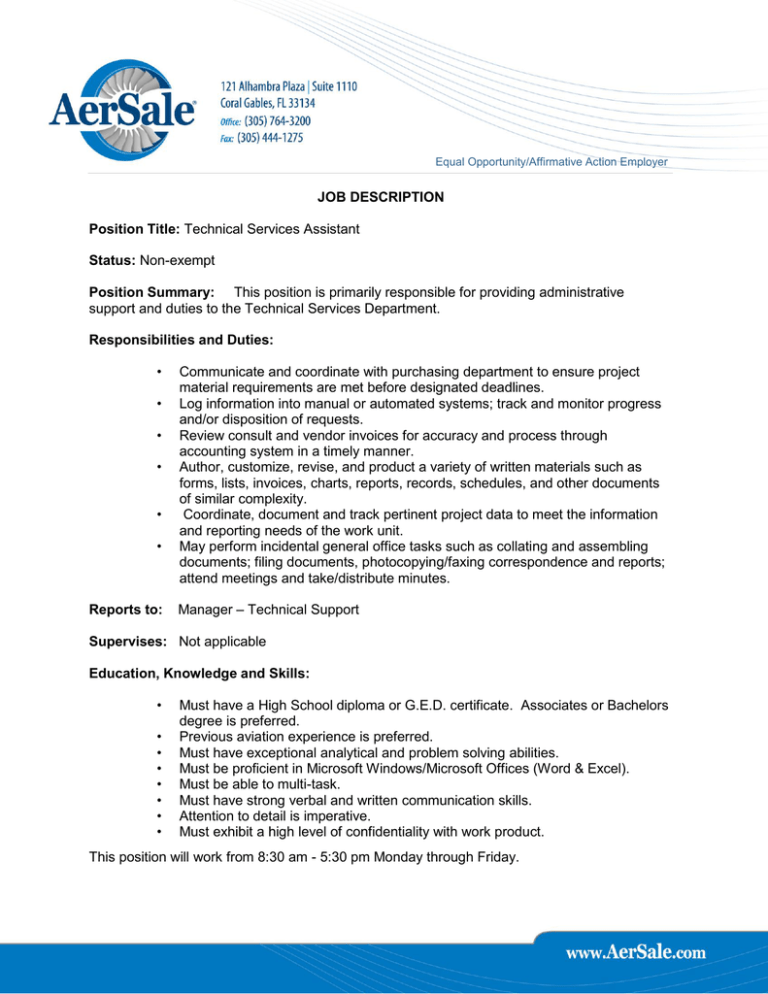 Equal Opportunity/Affirmative Action Employer
JOB DESCRIPTION
Position Title: Technical Services Assistant
Status: Non-exempt
Position Summary: This position is primarily responsible for providing administrative
support and duties to the Technical Services Department.
Responsibilities and Duties:
•
•
•
•
•
•
Reports to:
Communicate and coordinate with purchasing department to ensure project
material requirements are met before designated deadlines.
Log information into manual or automated systems; track and monitor progress
and/or disposition of requests.
Review consult and vendor invoices for accuracy and process through
accounting system in a timely manner.
Author, customize, revise, and product a variety of written materials such as
forms, lists, invoices, charts, reports, records, schedules, and other documents
of similar complexity.
Coordinate, document and track pertinent project data to meet the information
and reporting needs of the work unit.
May perform incidental general office tasks such as collating and assembling
documents; filing documents, photocopying/faxing correspondence and reports;
attend meetings and take/distribute minutes.
Manager – Technical Support
Supervises: Not applicable
Education, Knowledge and Skills:
•
•
•
•
•
•
•
•
Must have a High School diploma or G.E.D. certificate. Associates or Bachelors
degree is preferred.
Previous aviation experience is preferred.
Must have exceptional analytical and problem solving abilities.
Must be proficient in Microsoft Windows/Microsoft Offices (Word & Excel).
Must be able to multi-task.
Must have strong verbal and written communication skills.
Attention to detail is imperative.
Must exhibit a high level of confidentiality with work product.
This position will work from 8:30 am - 5:30 pm Monday through Friday.