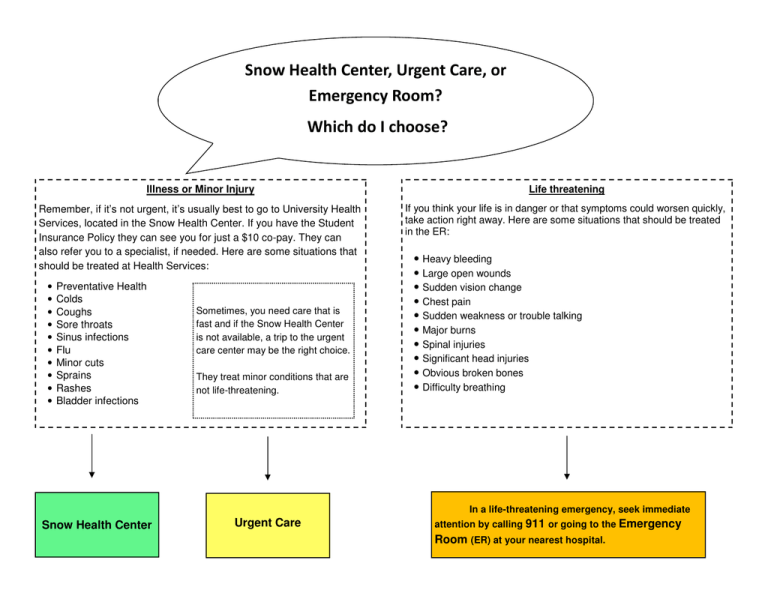 Snow Health Center, Urgent Care, or
Emergency Room?
Which do I choose?
Illness or Minor Injury
Life threatening
Remember, if it's not urgent, it's usually best to go to University Health
Services, located in the Snow Health Center. If you have the Student
Insurance Policy they can see you for just a $10 co-pay. They can
also refer you to a specialist, if needed. Here are some situations that
should be treated at Health Services:
If you think your life is in danger or that symptoms could worsen quickly,
take action right away. Here are some situations that should be treated
in the ER:
•
•
•
•
•
•
•
•
•
•
Preventative Health
Colds
Coughs
Sore throats
Sinus infections
Flu
Minor cuts
Sprains
Rashes
Bladder infections
Sometimes, you need care that is
fast and if the Snow Health Center
is not available, a trip to the urgent
care center may be the right choice.
They treat minor conditions that are
not life-threatening.
• Heavy bleeding
• Large open wounds
• Sudden vision change
• Chest pain
• Sudden weakness or trouble talking
• Major burns
• Spinal injuries
• Significant head injuries
• Obvious broken bones
• Difficulty breathing
In a life-threatening emergency, seek immediate
Snow Health Center
Urgent Care
attention by calling 911 or going to the Emergency
Room (ER) at your nearest hospital.