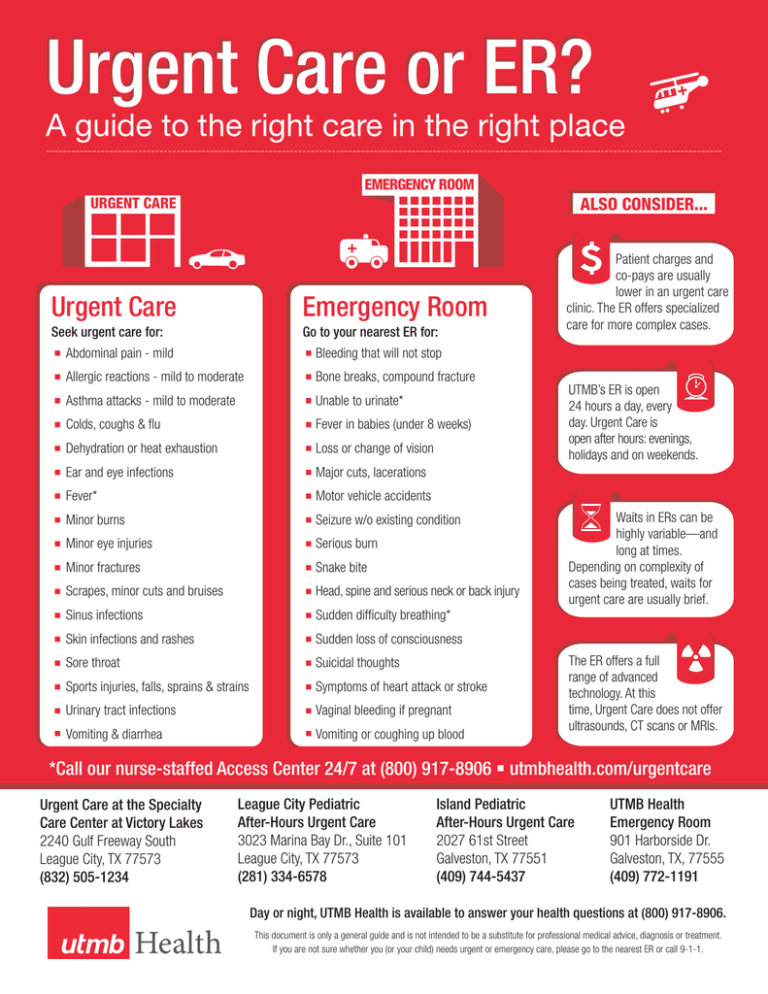 Urgent Care or ER?
A guide to the right care in the right place
EMERGENCY ROOM
ALSO CONSIDER...
URGENT CARE
Urgent Care
Emergency Room
Seek urgent care for:
Go to your nearest ER for:
Abdominal pain - mild
Bleeding that will not stop
Allergic reactions - mild to moderate
Bone breaks, compound fracture
Asthma attacks - mild to moderate
Unable to urinate*
Colds, coughs & flu
Fever in babies (under 8 weeks)
Dehydration or heat exhaustion
Loss or change of vision
Ear and eye infections
Major cuts, lacerations
Fever*
Motor vehicle accidents
Minor burns
Seizure w/o existing condition
Minor eye injuries
Serious burn
Minor fractures
Snake bite
Scrapes, minor cuts and bruises
Head, spine and serious neck or back injury
Sinus infections
Sudden difficulty breathing*
Skin infections and rashes
Sudden loss of consciousness
Sore throat
Suicidal thoughts
Sports injuries, falls, sprains & strains
Symptoms of heart attack or stroke
Urinary tract infections
Vaginal bleeding if pregnant
Vomiting & diarrhea
Vomiting or coughing up blood
Patient charges and
co-pays are usually
lower in an urgent care
clinic. The ER offers specialized
care for more complex cases.
UTMB's ER is open
24 hours a day, every
day. Urgent Care is
open after hours: evenings,
holidays and on weekends.
Waits in ERs can be
highly variable—and
long at times.
Depending on complexity of
cases being treated, waits for
urgent care are usually brief.
The ER offers a full
range of advanced
technology. At this
time, Urgent Care does not offer
ultrasounds, CT scans or MRIs.
*Call our nurse-staffed Access Center 24/7 at (800) 917-8906 utmbhealth.com/urgentcare
Urgent Care at the Specialty
Care Center at Victory Lakes
2240 Gulf Freeway South
League City, TX 77573
(832) 505-1234
League City Pediatric
After-Hours Urgent Care
3023 Marina Bay Dr., Suite 101
League City, TX 77573
(281) 334-6578
Island Pediatric
After-Hours Urgent Care
2027 61st Street
Galveston, TX 77551
(409) 744-5437
UTMB Health
Emergency Room
901 Harborside Dr.
Galveston, TX, 77555
(409) 772-1191
Day or night, UTMB Health is available to answer your health questions at (800) 917-8906.
This document is only a general guide and is not intended to be a substitute for professional medical advice, diagnosis or treatment.
If you are not sure whether you (or your child) needs urgent or emergency care, please go to the nearest ER or call 9-1-1.