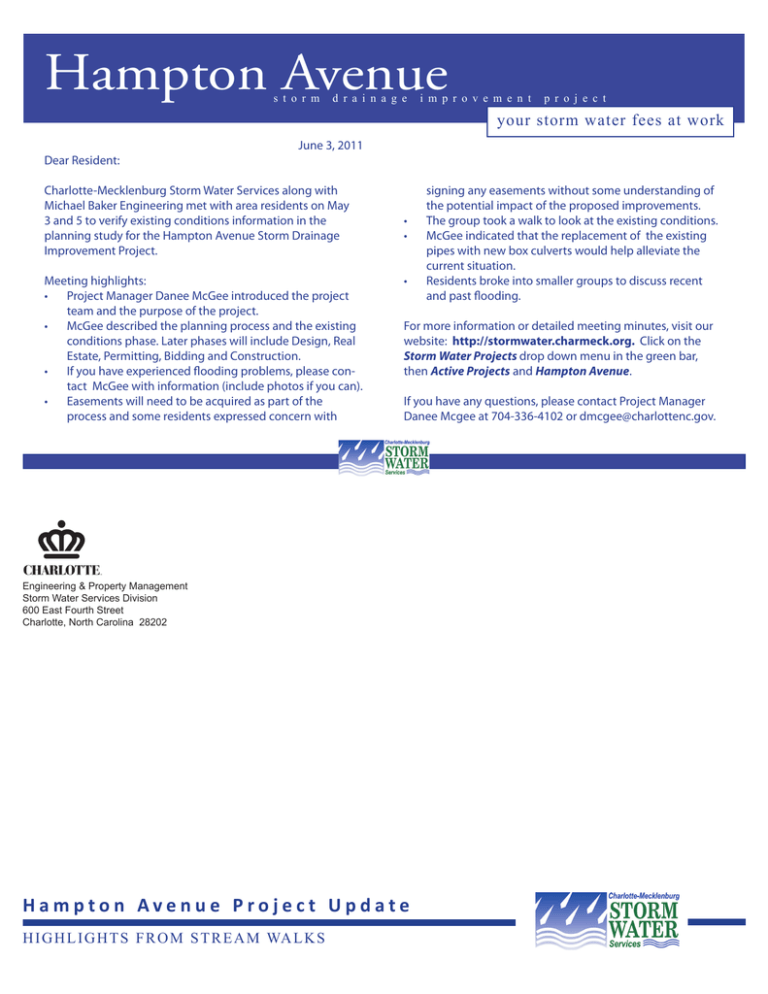 Hampton Avenue
s t o r m
d r a i n a g e
i m p r o v e m e n t
p r o j e c t
your storm water fees at work
Dear Resident:
June 3, 2011
Charlotte-Mecklenburg Storm Water Services along with
Michael Baker Engineering met with area residents on May
3 and 5 to verify existing conditions information in the
planning study for the Hampton Avenue Storm Drainage
Improvement Project.
Meeting highlights:
• Project Manager Danee McGee introduced the project
team and the purpose of the project.
• McGee described the planning process and the existing
conditions phase. Later phases will include Design, Real
Estate, Permitting, Bidding and Construction.
• If you have experienced flooding problems, please contact McGee with information (include photos if you can).
• Easements will need to be acquired as part of the
process and some residents expressed concern with
•
•
•
For more information or detailed meeting minutes, visit our
website: http://stormwater.charmeck.org. Click on the
Storm Water Projects drop down menu in the green bar,
then Active Projects and Hampton Avenue.
If you have any questions, please contact Project Manager
Danee Mcgee at 704-336-4102 or dmcgee@charlottenc.gov.
Engineering & Property Management
Storm Water Services Division
600 East Fourth Street
Charlotte, North Carolina 28202
Hampton Avenue Project Update
H I G H L I G H T S F R O M S T R E A M WA L K S
signing any easements without some understanding of
the potential impact of the proposed improvements.
The group took a walk to look at the existing conditions.
McGee indicated that the replacement of the existing
pipes with new box culverts would help alleviate the
current situation.
Residents broke into smaller groups to discuss recent
and past flooding.