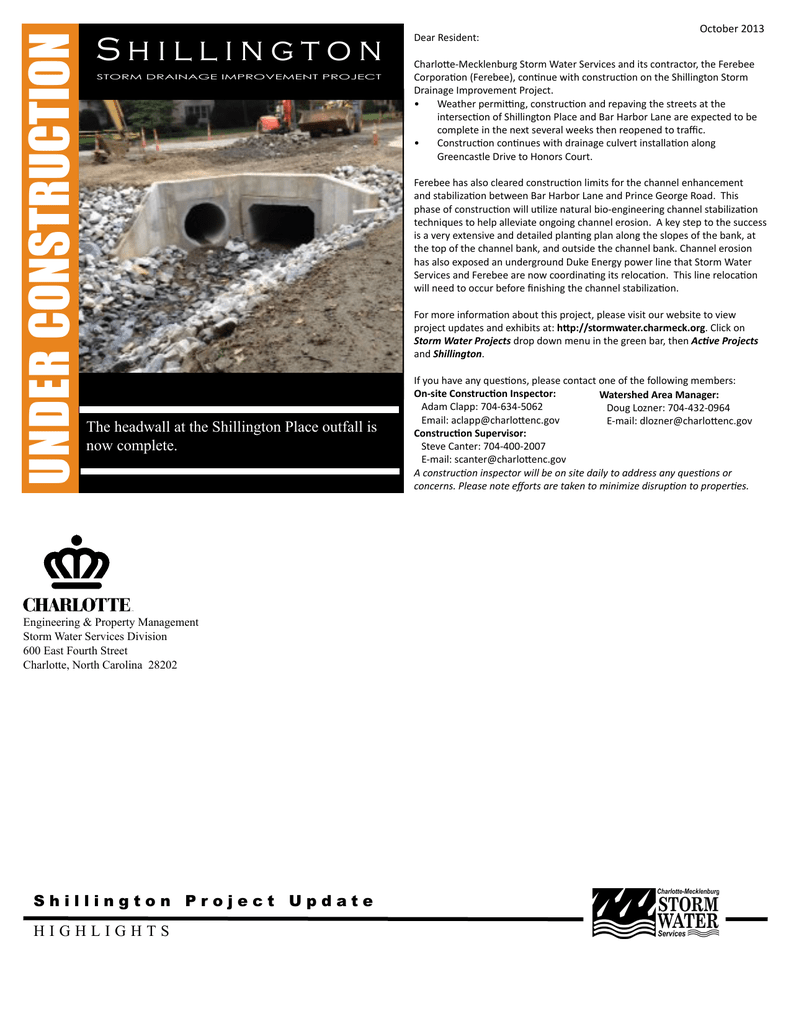 UNDER CONSTRUCTION
Shillington
STORM DRAINAGE IMPROVEMENT PROJECT
Dear Resident:
October 2013
Charlotte-Mecklenburg Storm Water Services and its contractor, the Ferebee
Corporation (Ferebee), continue with construction on the Shillington Storm
Drainage Improvement Project.
• Weather permitting, construction and repaving the streets at the
intersection of Shillington Place and Bar Harbor Lane are expected to be
complete in the next several weeks then reopened to traffic.
• Construction continues with drainage culvert installation along
Greencastle Drive to Honors Court.
Ferebee has also cleared construction limits for the channel enhancement
and stabilization between Bar Harbor Lane and Prince George Road. This
phase of construction will utilize natural bio-engineering channel stabilization
techniques to help alleviate ongoing channel erosion. A key step to the success
is a very extensive and detailed planting plan along the slopes of the bank, at
the top of the channel bank, and outside the channel bank. Channel erosion
has also exposed an underground Duke Energy power line that Storm Water
Services and Ferebee are now coordinating its relocation. This line relocation
will need to occur before finishing the channel stabilization.
For more information about this project, please visit our website to view
project updates and exhibits at: http://stormwater.charmeck.org. Click on
Storm Water Projects drop down menu in the green bar, then Active Projects
and Shillington.
The headwall at the Shillington Place outfall is
now complete.
Engineering & Property Management
Storm Water Services Division
600 East Fourth Street
Charlotte, North Carolina 28202
Shillington Project Update
HIGHLIGHTS
If you have any questions, please contact one of the following members:
On-site Construction Inspector:
Watershed Area Manager:
Adam Clapp: 704-634-5062
Doug Lozner: 704-432-0964
Email: [email protected]
E-mail: [email protected]
Construction Supervisor:
Steve Canter: 704-400-2007
E-mail: [email protected]
A construction inspector will be on site daily to address any questions or
concerns. Please note efforts are taken to minimize disruption to properties.