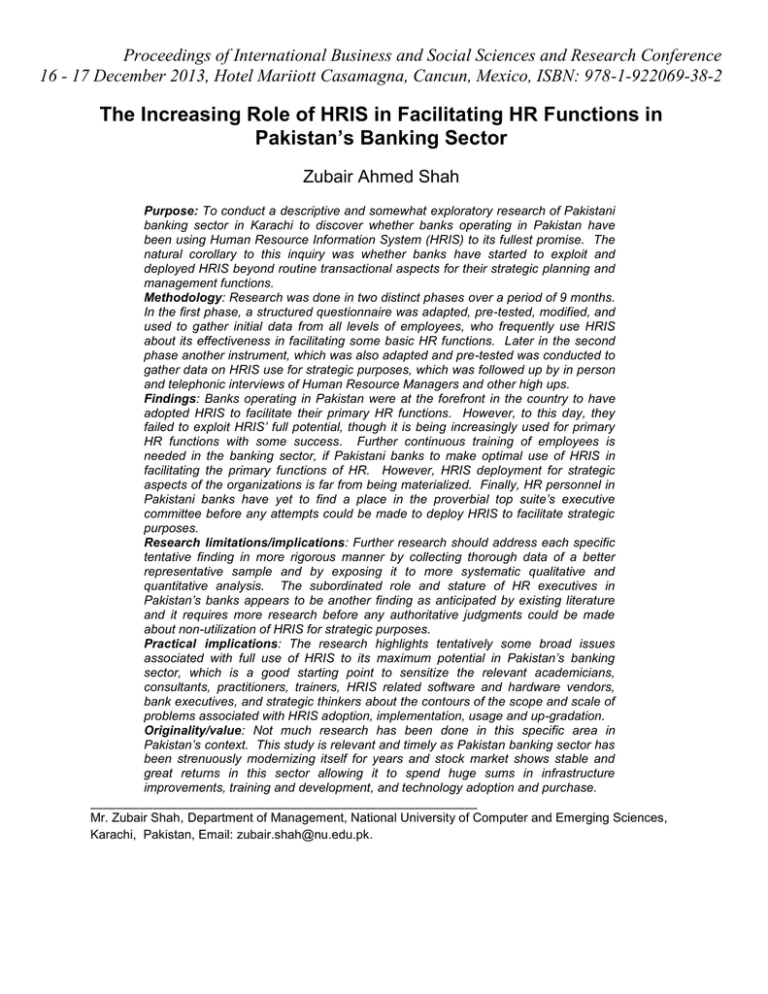 Proceedings of International Business and Social Sciences and Research Conference
16 - 17 December 2013, Hotel Mariiott Casamagna, Cancun, Mexico, ISBN: 978-1-922069-38-2
The Increasing Role of HRIS in Facilitating HR Functions in
Pakistan's Banking Sector
Zubair Ahmed Shah
Purpose: To conduct a descriptive and somewhat exploratory research of Pakistani
banking sector in Karachi to discover whether banks operating in Pakistan have
been using Human Resource Information System (HRIS) to its fullest promise. The
natural corollary to this inquiry was whether banks have started to exploit and
deployed HRIS beyond routine transactional aspects for their strategic planning and
management functions.
Methodology: Research was done in two distinct phases over a period of 9 months.
In the first phase, a structured questionnaire was adapted, pre-tested, modified, and
used to gather initial data from all levels of employees, who frequently use HRIS
about its effectiveness in facilitating some basic HR functions. Later in the second
phase another instrument, which was also adapted and pre-tested was conducted to
gather data on HRIS use for strategic purposes, which was followed up by in person
and telephonic interviews of Human Resource Managers and other high ups.
Findings: Banks operating in Pakistan were at the forefront in the country to have
adopted HRIS to facilitate their primary HR functions. However, to this day, they
failed to exploit HRIS' full potential, though it is being increasingly used for primary
HR functions with some success. Further continuous training of employees is
needed in the banking sector, if Pakistani banks to make optimal use of HRIS in
facilitating the primary functions of HR. However, HRIS deployment for strategic
aspects of the organizations is far from being materialized. Finally, HR personnel in
Pakistani banks have yet to find a place in the proverbial top suite's executive
committee before any attempts could be made to deploy HRIS to facilitate strategic
purposes.
Research limitations/implications: Further research should address each specific
tentative finding in more rigorous manner by collecting thorough data of a better
representative sample and by exposing it to more systematic qualitative and
quantitative analysis. The subordinated role and stature of HR executives in
Pakistan's banks appears to be another finding as anticipated by existing literature
and it requires more research before any authoritative judgments could be made
about non-utilization of HRIS for strategic purposes.
Practical implications: The research highlights tentatively some broad issues
associated with full use of HRIS to its maximum potential in Pakistan's banking
sector, which is a good starting point to sensitize the relevant academicians,
consultants, practitioners, trainers, HRIS related software and hardware vendors,
bank executives, and strategic thinkers about the contours of the scope and scale of
problems associated with HRIS adoption, implementation, usage and up-gradation.
Originality/value: Not much research has been done in this specific area in
Pakistan's context. This study is relevant and timely as Pakistan banking sector has
been strenuously modernizing itself for years and stock market shows stable and
great returns in this sector allowing it to spend huge sums in infrastructure
improvements, training and development, and technology adoption and purchase.
______________________________________________________________
Mr. Zubair Shah, Department of Management, National University of Computer and Emerging Sciences,
Karachi, Pakistan, Email: zubair.shah@nu.edu.pk.