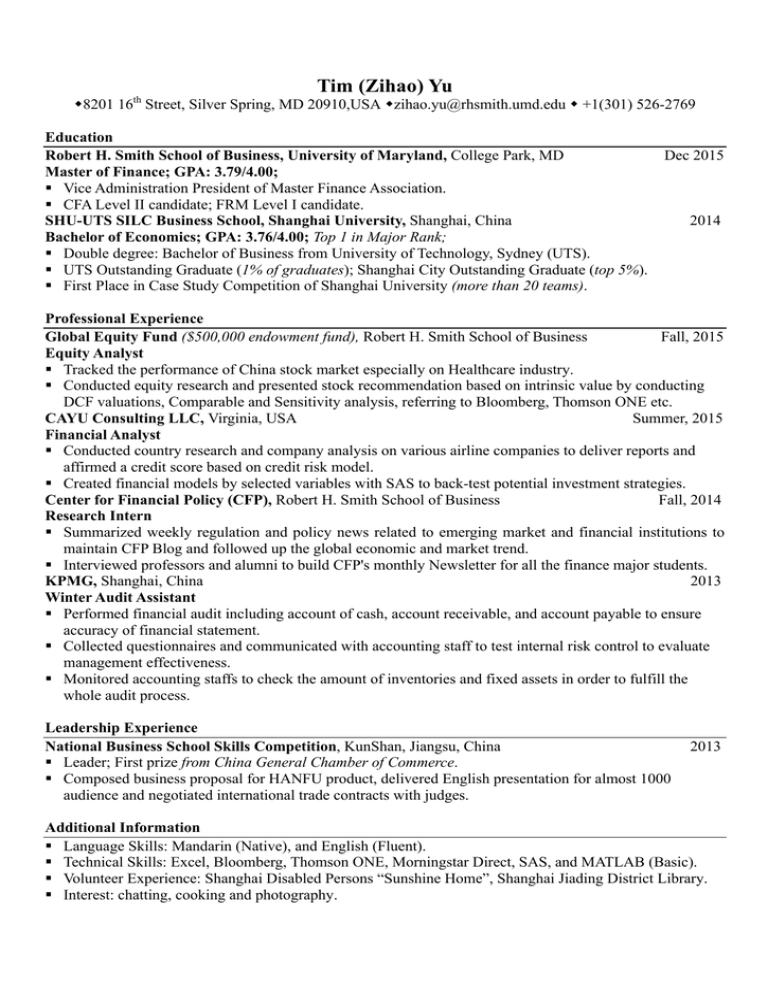 th
Tim (Zihao) Yu
w8201 16 Street, Silver Spring, MD 20910,USA wzihao.yu@rhsmith.umd.edu w +1(301) 526-2769
Education
Robert H. Smith School of Business, University of Maryland, College Park, MD
Master of Finance; GPA: 3.79/4.00;
§ Vice Administration President of Master Finance Association.
§ CFA Level II candidate; FRM Level I candidate.
SHU-UTS SILC Business School, Shanghai University, Shanghai, China
Bachelor of Economics; GPA: 3.76/4.00; Top 1 in Major Rank;
§ Double degree: Bachelor of Business from University of Technology, Sydney (UTS).
§ UTS Outstanding Graduate (1% of graduates); Shanghai City Outstanding Graduate (top 5%).
§ First Place in Case Study Competition of Shanghai University (more than 20 teams).
Dec 2015
2014
Professional Experience
Global Equity Fund ($500,000 endowment fund), Robert H. Smith School of Business
Fall, 2015
Equity Analyst
§ Tracked the performance of China stock market especially on Healthcare industry.
§ Conducted equity research and presented stock recommendation based on intrinsic value by conducting
DCF valuations, Comparable and Sensitivity analysis, referring to Bloomberg, Thomson ONE etc.
CAYU Consulting LLC, Virginia, USA
Summer, 2015
Financial Analyst
§ Conducted country research and company analysis on various airline companies to deliver reports and
affirmed a credit score based on credit risk model.
§ Created financial models by selected variables with SAS to back-test potential investment strategies.
Center for Financial Policy (CFP), Robert H. Smith School of Business
Fall, 2014
Research Intern
§ Summarized weekly regulation and policy news related to emerging market and financial institutions to
maintain CFP Blog and followed up the global economic and market trend.
§ Interviewed professors and alumni to build CFP's monthly Newsletter for all the finance major students.
KPMG, Shanghai, China
2013
Winter Audit Assistant
§ Performed financial audit including account of cash, account receivable, and account payable to ensure
accuracy of financial statement.
§ Collected questionnaires and communicated with accounting staff to test internal risk control to evaluate
management effectiveness.
§ Monitored accounting staffs to check the amount of inventories and fixed assets in order to fulfill the
whole audit process.
Leadership Experience
National Business School Skills Competition, KunShan, Jiangsu, China
§ Leader; First prize from China General Chamber of Commerce.
§ Composed business proposal for HANFU product, delivered English presentation for almost 1000
audience and negotiated international trade contracts with judges.
2013
Additional Information
§ Language Skills: Mandarin (Native), and English (Fluent).
§ Technical Skills: Excel, Bloomberg, Thomson ONE, Morningstar Direct, SAS, and MATLAB (Basic).
§ Volunteer Experience: Shanghai Disabled Persons "Sunshine Home", Shanghai Jiading District Library.
§ Interest: chatting, cooking and photography.