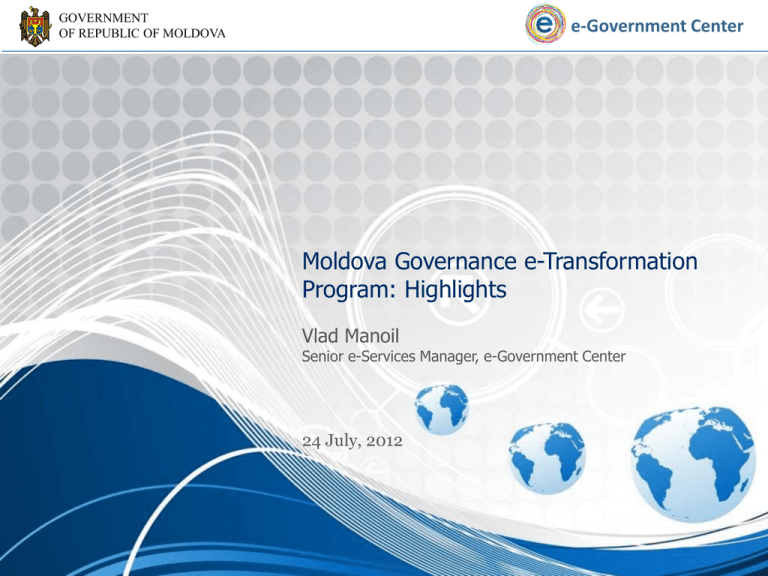 GOVERNMENT
OF REPUBLIC OF MOLDOVA
e-Government Center
Moldova Governance e-Transformation
Program: Highlights
Vlad Manoil
Senior e-Services Manager, e-Government Center
24 July, 2012
Where we want to be
Objective: By 2020, the Government will become
more transparent, more responsive, and will perform
better due to intelligent investments in IT and their
high uptake in the public sector
• The modernization of public services through
digitization and business process reengineering
and the convenient access to information and
services for citizens and businesses
• The optimization of government operations
through interoperability, IT asset consolidation,
and data reuse that will help overcome
departmental silos and enable public institutions
to operate and interact through a shared
technology platform in order to offer high quality
services
Strategic Program, approved Sept 20, 2011
2
e-Government Center
31.07.2012
How we plan to get there
3
e-Government Center
31.07.2012
What we did in 2011
4
e-Government Center
31.07.2012
What we are working on in 2012
1.
Open Government Initiative, www.date.gov.md
Continuous
2.
3.
Launched
Launching in AugustSeptember
5.
Government 4 Citizens Portal, servicii.gov.md
Online application for criminal records, Ministry of Interior
Online business licensing, Ministry of Economy
Online reporting for health insurance house, MoH
Library of Construction Norms and Standards, MoC
Document and Records Management System for Central
Government
M-Cloud Shared Government Technology Platform
6.
Enterprise Architecture Framework, including SOA principles
Planned for December
7.
Mobile e-ID
Launching in September
8.
9.
Electronic Payments Gateway
Interoperability Framework for the Public Sector
Launching in December
Planned for September
10.
Capacity building and training program for civil servant and IT Continuous
managers in the public sector
Developing sectorial strategies (eHealth, eJustice, eEducation In progress
etc.)
Start implementation of new sectorial e-services and
December
digitization of public archives
4.
11.
12.
5
e-Government Center
Launching in November
Launching in October
31.07.2012
Key initiatives: Government Portal and eService Delivery Model
• A one-stop shop for services
developed by you for citizens
and businesses
• Increased usage of your eservices through promotion
mechanisms
• An efficient and sustainable
model for deploying e-services
for government-wide and
sectorial public e-services
6
e-Government Center
31.07.2012
Key initiatives: Mobile e-ID, M-Pass and ePayment Gateway
• Increased access and convenience
for citizens and businesses through
single sign-on solution for all eservices
• Efficient and secure user
management
• Higher uptake of IT system or eservices
7
e-Government Center
31.07.2012
Key Initiatives: Interoperability
• Benefiting from
alignment with other
government initiatives
• IT reources and assets
reuse in the public
sector
8
e-Government Center
31.07.2012
Key Initiatives: M-Cloud and Government
Enterprise Architecture
• Less investments in hardware,
more room for innovation
• Sustainability and security after
project enters into operations
• Invest more in people and
process reingineering, less in
servers and networks
9
e-Government Center
31.07.2012
Thank you for your attention!