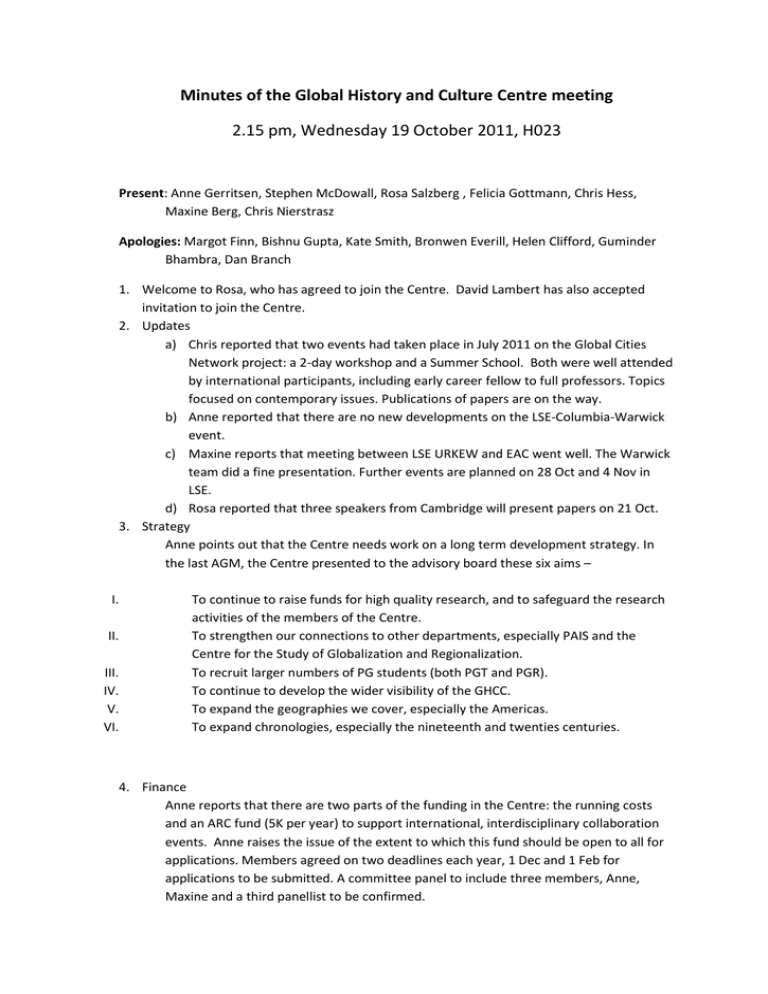 Minutes of the Global History and Culture Centre meeting
2.15 pm, Wednesday 19 October 2011, H023
Present: Anne Gerritsen, Stephen McDowall, Rosa Salzberg , Felicia Gottmann, Chris Hess,
Maxine Berg, Chris Nierstrasz
Apologies: Margot Finn, Bishnu Gupta, Kate Smith, Bronwen Everill, Helen Clifford, Guminder
Bhambra, Dan Branch
1. Welcome to Rosa, who has agreed to join the Centre. David Lambert has also accepted
invitation to join the Centre.
2. Updates
a) Chris reported that two events had taken place in July 2011 on the Global Cities
Network project: a 2-day workshop and a Summer School. Both were well attended
by international participants, including early career fellow to full professors. Topics
focused on contemporary issues. Publications of papers are on the way.
b) Anne reported that there are no new developments on the LSE-Columbia-Warwick
event.
c) Maxine reports that meeting between LSE URKEW and EAC went well. The Warwick
team did a fine presentation. Further events are planned on 28 Oct and 4 Nov in
LSE.
d) Rosa reported that three speakers from Cambridge will present papers on 21 Oct.
3. Strategy
Anne points out that the Centre needs work on a long term development strategy. In
the last AGM, the Centre presented to the advisory board these six aims –
I.
II.
III.
IV.
V.
VI.
To continue to raise funds for high quality research, and to safeguard the research
activities of the members of the Centre.
To strengthen our connections to other departments, especially PAIS and the
Centre for the Study of Globalization and Regionalization.
To recruit larger numbers of PG students (both PGT and PGR).
To continue to develop the wider visibility of the GHCC.
To expand the geographies we cover, especially the Americas.
To expand chronologies, especially the nineteenth and twenties centuries.
4. Finance
Anne reports that there are two parts of the funding in the Centre: the running costs
and an ARC fund (5K per year) to support international, interdisciplinary collaboration
events. Anne raises the issue of the extent to which this fund should be open to all for
applications. Members agreed on two deadlines each year, 1 Dec and 1 Feb for
applications to be submitted. A committee panel to include three members, Anne,
Maxine and a third panellist to be confirmed.
5. Newton applications and other funding plans.
Chris Hess reports that The Japan Foundation is keen to fund schemes that involving
Japanese scholars and participants
6. Centre publicity materials
a) Members agree that there will be two benefits to publicise a 1-page news
letter periodically to the widest Centre mailing list, to announce the
Centre activities in the field and to also keep the contact list updated.
b) The Centre leaflet needs updating. An email has been sent out for all members
to update their research area/projects etc.
c) Members agree that a professionally made conference folder is a good way of
raising the Centre profile and agree to order 1000 to start with.
7. Next AGM
24 May, provisionally
Next Centre meeting is 1-2pm on 11 Jan 2012.