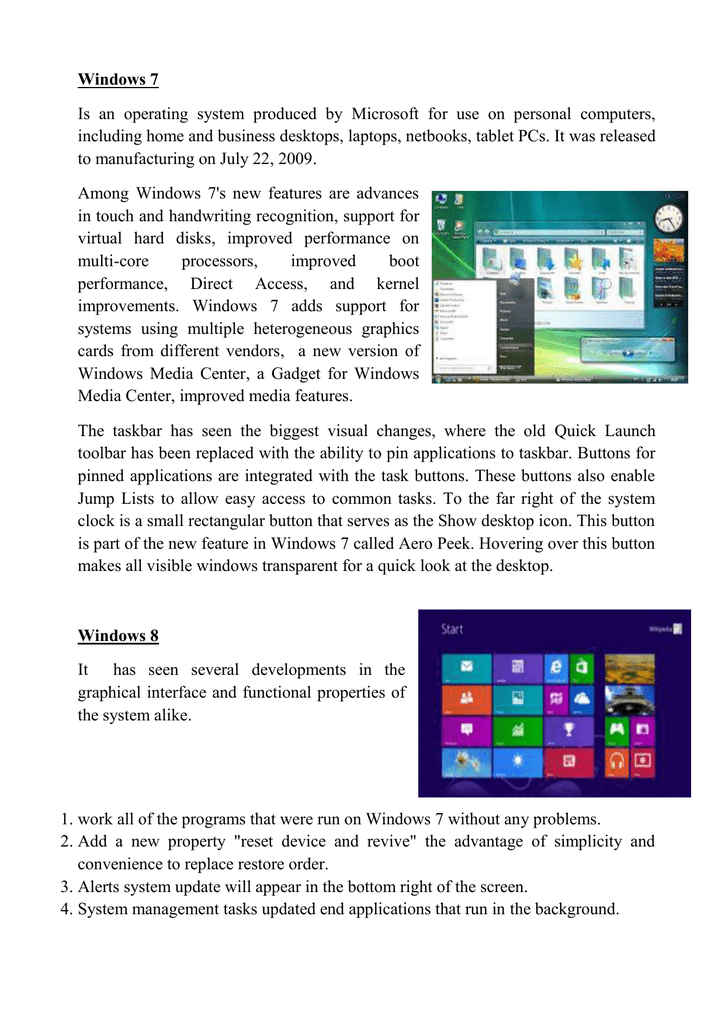 Windows 7
Is an operating system produced by Microsoft for use on personal computers,
including home and business desktops, laptops, netbooks, tablet PCs. It was released
to manufacturing on July 22, 2009.
Among Windows 7's new features are advances
in touch and handwriting recognition, support for
virtual hard disks, improved performance on
multi-core
processors,
improved
boot
performance, Direct Access, and kernel
improvements. Windows 7 adds support for
systems using multiple heterogeneous graphics
cards from different vendors, a new version of
Windows Media Center, a Gadget for Windows
Media Center, improved media features.
The taskbar has seen the biggest visual changes, where the old Quick Launch
toolbar has been replaced with the ability to pin applications to taskbar. Buttons for
pinned applications are integrated with the task buttons. These buttons also enable
Jump Lists to allow easy access to common tasks. To the far right of the system
clock is a small rectangular button that serves as the Show desktop icon. This button
is part of the new feature in Windows 7 called Aero Peek. Hovering over this button
makes all visible windows transparent for a quick look at the desktop.
Windows 8
It has seen several developments in the
graphical interface and functional properties of
the system alike.
1. work all of the programs that were run on Windows 7 without any problems.
2. Add a new property "reset device and revive" the advantage of simplicity and
convenience to replace restore order.
3. Alerts system update will appear in the bottom right of the screen.
4. System management tasks updated end applications that run in the background.
5. Multi-monitor support allows the possibility of a background and one of the two
screens as well as the taskbar for each screen separately.
6. Improving property zoom.
7. Feature writing on a keyboard with two fingers Optionally available.
8. The possibility of synchronization between all devices and Windows 8, which is
owned by the user.
9. Updated interface log on to support in addition to the password and PIN system by
clicking on the custom image.
10.
System will include a built-in anti viruses.
11.
Some of the limitations will stay themselves like(CTRL+C ,CTRL+V , CTRL+Z).
windows 8.1
Windows 8.1 (formerly it was called Blue)
is a free update for Windows 8, which was
officially launched on October 17, 2013,
this update will restore the Start button
famous on the desktop of Windows, in
addition to the new features browser
Internet Explorer 11 apps installed new,
the user will note that himself if you
upgrade to the new version (8.1).
You don't have to reinstall your desktop applications or your Windows Store apps,
and all your files are still there (as are libraries and the icons pinned to your taskbar.