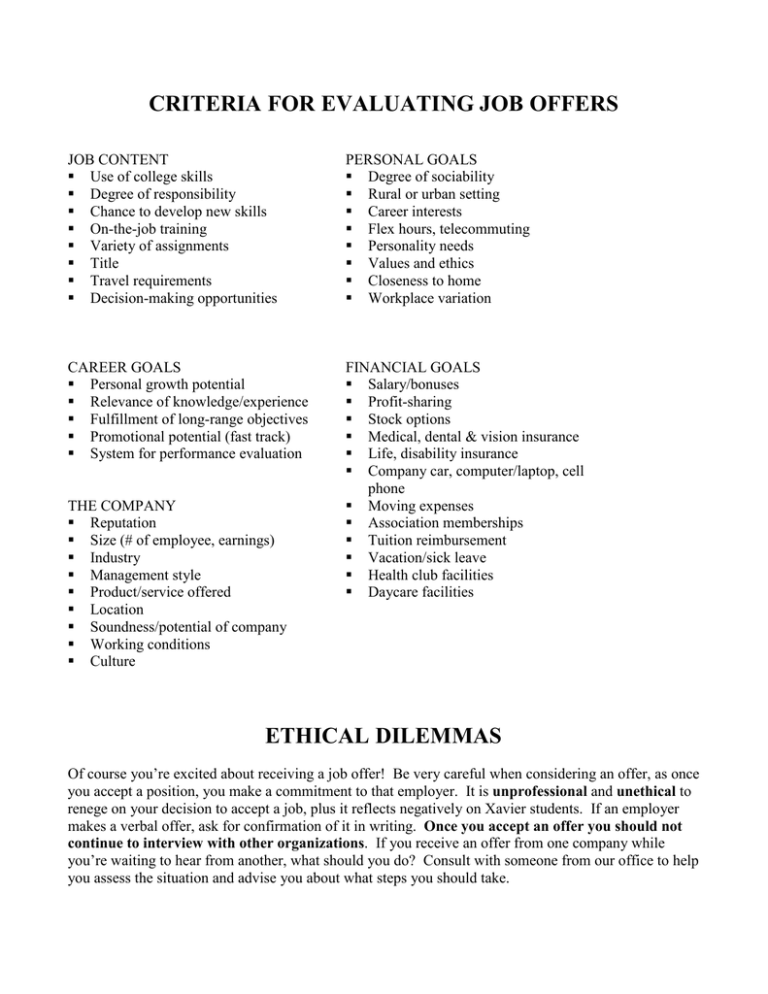 CRITERIA FOR EVALUATING JOB OFFERS
JOB CONTENT
Use of college skills
Degree of responsibility
Chance to develop new skills
On-the-job training
Variety of assignments
Title
Travel requirements
Decision-making opportunities
PERSONAL GOALS
Degree of sociability
Rural or urban setting
Career interests
Flex hours, telecommuting
Personality needs
Values and ethics
Closeness to home
Workplace variation
CAREER GOALS
Personal growth potential
Relevance of knowledge/experience
Fulfillment of long-range objectives
Promotional potential (fast track)
System for performance evaluation
FINANCIAL GOALS
Salary/bonuses
Profit-sharing
Stock options
Medical, dental & vision insurance
Life, disability insurance
Company car, computer/laptop, cell
phone
Moving expenses
Association memberships
Tuition reimbursement
Vacation/sick leave
Health club facilities
Daycare facilities
THE COMPANY
Reputation
Size (# of employee, earnings)
Industry
Management style
Product/service offered
Location
Soundness/potential of company
Working conditions
Culture
ETHICAL DILEMMAS
Of course you're excited about receiving a job offer! Be very careful when considering an offer, as once
you accept a position, you make a commitment to that employer. It is unprofessional and unethical to
renege on your decision to accept a job, plus it reflects negatively on Xavier students. If an employer
makes a verbal offer, ask for confirmation of it in writing. Once you accept an offer you should not
continue to interview with other organizations. If you receive an offer from one company while
you're waiting to hear from another, what should you do? Consult with someone from our office to help
you assess the situation and advise you about what steps you should take.