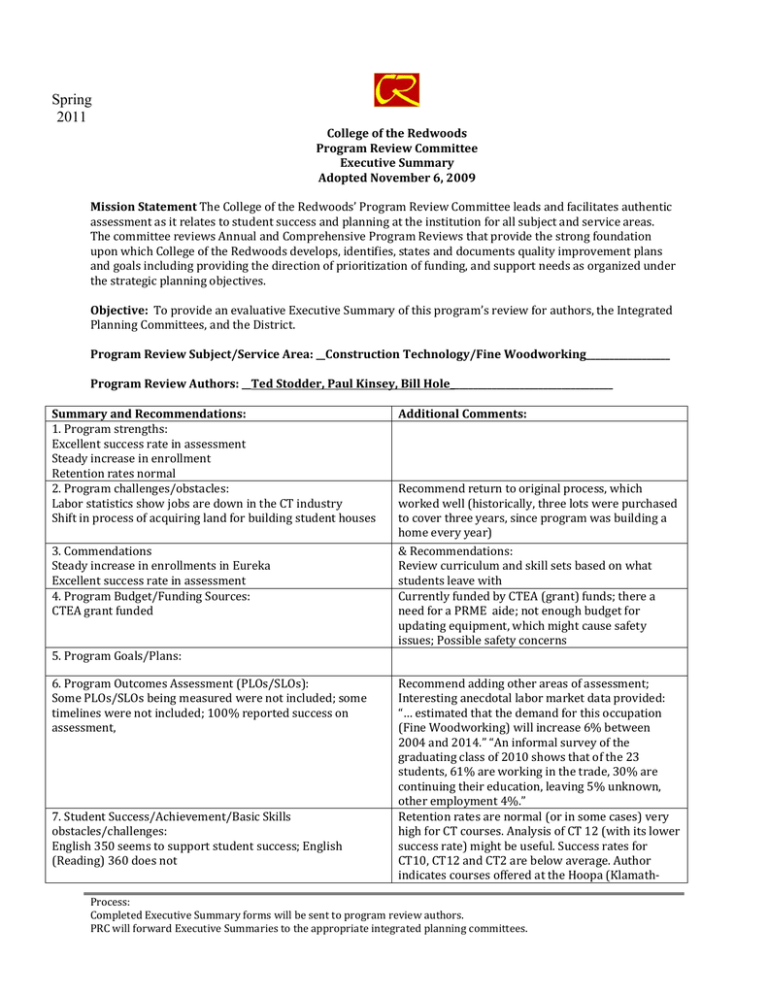 Spring
2011
College of the Redwoods Program Review Committee Executive Summary Adopted November 6, 2009 Mission Statement The College of the Redwoods' Program Review Committee leads and facilitates authentic assessment as it relates to student success and planning at the institution for all subject and service areas. The committee reviews Annual and Comprehensive Program Reviews that provide the strong foundation upon which College of the Redwoods develops, identifies, states and documents quality improvement plans and goals including providing the direction of prioritization of funding, and support needs as organized under the strategic planning objectives. Objective: To provide an evaluative Executive Summary of this program's review for authors, the Integrated Planning Committees, and the District. Program Review Subject/Service Area: __Construction Technology/Fine Woodworking__________________ Program Review Authors: __Ted Stodder, Paul Kinsey, Bill Hole___________________________________ Summary and Recommendations: Additional Comments: 1. Program strengths: Excellent success rate in assessment Steady increase in enrollment Retention rates normal 2. Program challenges/obstacles: Recommend return to original process, which Labor statistics show jobs are down in the CT industry worked well (historically, three lots were purchased Shift in process of acquiring land for building student houses to cover three years, since program was building a home every year) 3. Commendations & Recommendations: Steady increase in enrollments in Eureka Review curriculum and skill sets based on what Excellent success rate in assessment students leave with 4. Program Budget/Funding Sources: Currently funded by CTEA (grant) funds; there a CTEA grant funded need for a PRME aide; not enough budget for updating equipment, which might cause safety issues; Possible safety concerns 5. Program Goals/Plans: 6. Program Outcomes Assessment (PLOs/SLOs): Some PLOs/SLOs being measured were not included; some timelines were not included; 100% reported success on assessment, 7. Student Success/Achievement/Basic Skills obstacles/challenges: English 350 seems to support student success; English (Reading) 360 does not Recommend adding other areas of assessment; Interesting anecdotal labor market data provided: "… estimated that the demand for this occupation (Fine Woodworking) will increase 6% between 2004 and 2014." "An informal survey of the graduating class of 2010 shows that of the 23 students, 61% are working in the trade, 30% are continuing their education, leaving 5% unknown, other employment 4%." Retention rates are normal (or in some cases) very high for CT courses. Analysis of CT 12 (with its lower success rate) might be useful. Success rates for CT10, CT12 and CT2 are below average. Author indicates courses offered at the Hoopa (Klamath‐
Process: Completed Executive Summary forms will be sent to program review authors. PRC will forward Executive Summaries to the appropriate integrated planning committees. Trinity) site have skewed the numbers negatively. Eureka success rates are pretty normal at an average of 81% PRC Recommendation: 1) All programs would benefit from a formalized, institution‐led follow‐up system/tracking of our graduates. 2) Clarification/development of process from grant funded programs/positions to district funding. 3) District‐wide plan for technology and equipment maintenance and replacement.
Process: Completed Executive Summary forms will be sent to program review authors. PRC will forward Executive Summaries to the appropriate integrated planning committees.