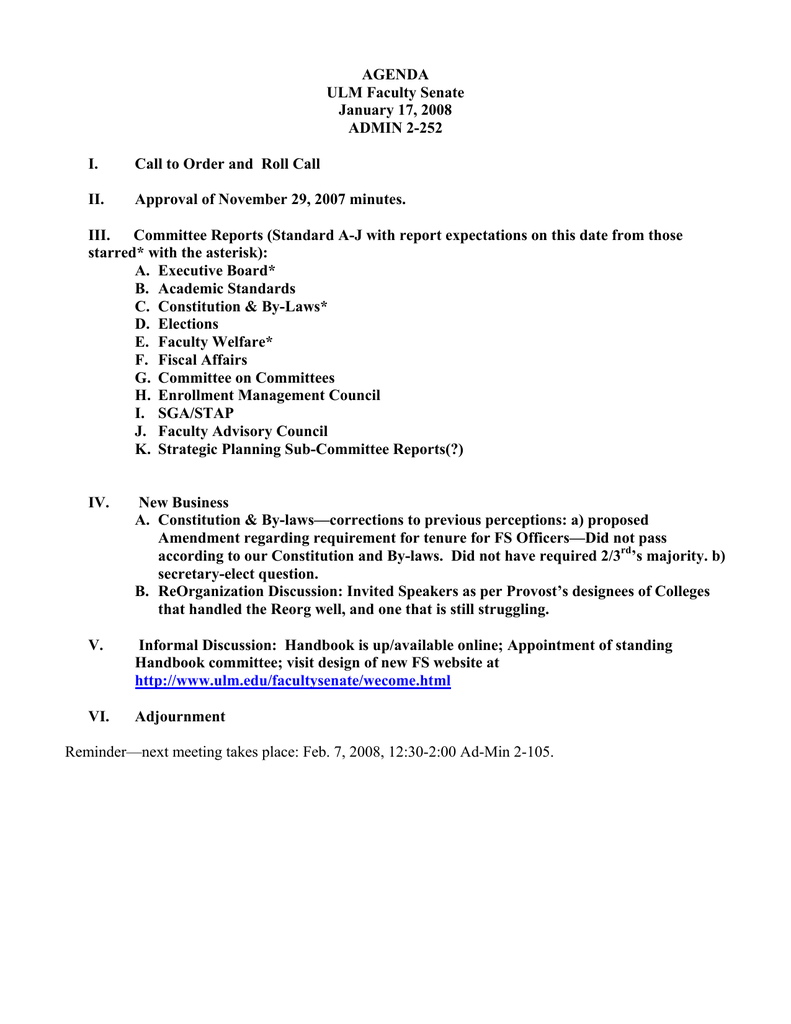 AGENDA
ULM Faculty Senate
January 17, 2008
ADMIN 2-252
I.
Call to Order and Roll Call
II.
Approval of November 29, 2007 minutes.
III.
Committee Reports (Standard A-J with report expectations on this date from those
starred* with the asterisk):
A. Executive Board*
B. Academic Standards
C. Constitution & By-Laws*
D. Elections
E. Faculty Welfare*
F. Fiscal Affairs
G. Committee on Committees
H. Enrollment Management Council
I. SGA/STAP
J. Faculty Advisory Council
K. Strategic Planning Sub-Committee Reports(?)
IV.
New Business
A. Constitution & By-laws—corrections to previous perceptions: a) proposed
Amendment regarding requirement for tenure for FS Officers—Did not pass
according to our Constitution and By-laws. Did not have required 2/3rd's majority. b)
secretary-elect question.
B. ReOrganization Discussion: Invited Speakers as per Provost's designees of Colleges
that handled the Reorg well, and one that is still struggling.
V.
Informal Discussion: Handbook is up/available online; Appointment of standing
Handbook committee; visit design of new FS website at
http://www.ulm.edu/facultysenate/wecome.html
VI.
Adjournment
Reminder—next meeting takes place: Feb. 7, 2008, 12:30-2:00 Ad-Min 2-105.