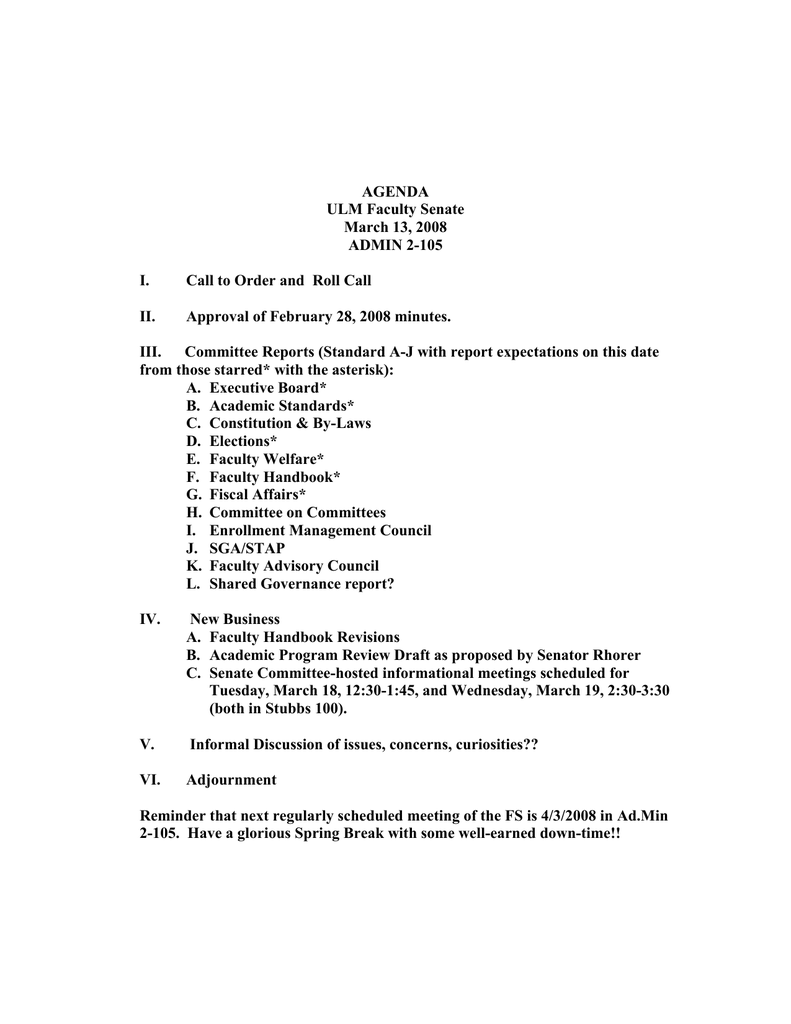 AGENDA
ULM Faculty Senate
March 13, 2008
ADMIN 2-105
I.
Call to Order and Roll Call
II.
Approval of February 28, 2008 minutes.
III.
Committee Reports (Standard A-J with report expectations on this date
from those starred* with the asterisk):
A. Executive Board*
B. Academic Standards*
C. Constitution & By-Laws
D. Elections*
E. Faculty Welfare*
F. Faculty Handbook*
G. Fiscal Affairs*
H. Committee on Committees
I. Enrollment Management Council
J. SGA/STAP
K. Faculty Advisory Council
L. Shared Governance report?
IV.
New Business
A. Faculty Handbook Revisions
B. Academic Program Review Draft as proposed by Senator Rhorer
C. Senate Committee-hosted informational meetings scheduled for
Tuesday, March 18, 12:30-1:45, and Wednesday, March 19, 2:30-3:30
(both in Stubbs 100).
V.
Informal Discussion of issues, concerns, curiosities??
VI.
Adjournment
Reminder that next regularly scheduled meeting of the FS is 4/3/2008 in Ad.Min
2-105. Have a glorious Spring Break with some well-earned down-time!!