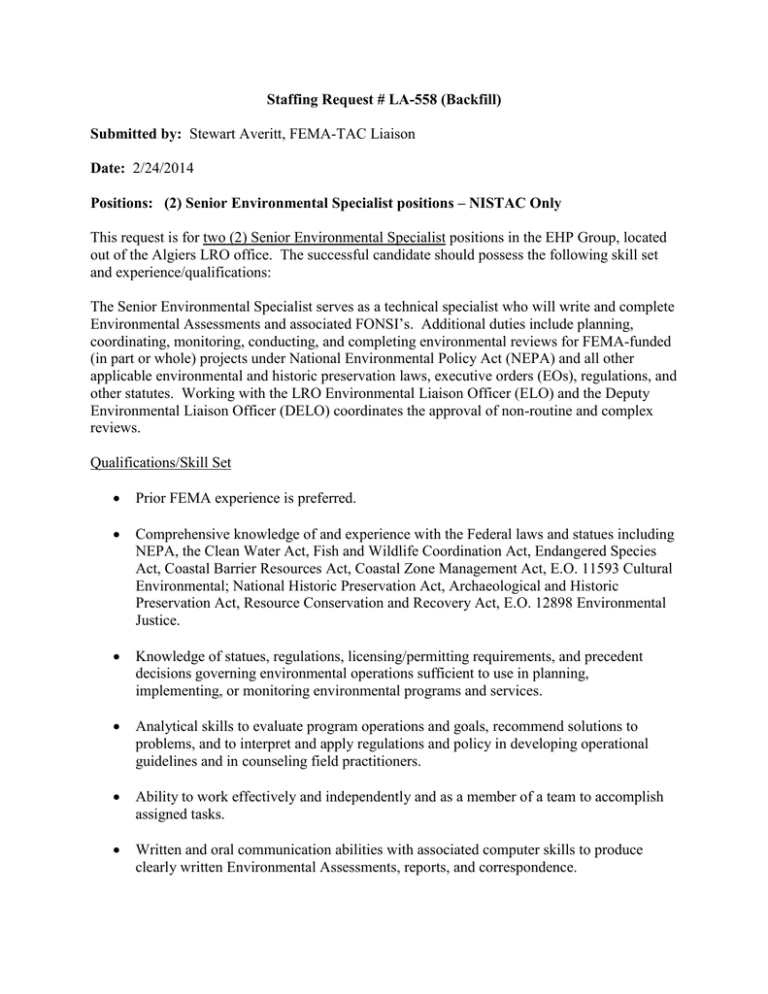 Staffing Request # LA-558 (Backfill)
Submitted by: Stewart Averitt, FEMA-TAC Liaison
Date: 2/24/2014
Positions: (2) Senior Environmental Specialist positions – NISTAC Only
This request is for two (2) Senior Environmental Specialist positions in the EHP Group, located
out of the Algiers LRO office. The successful candidate should possess the following skill set
and experience/qualifications:
The Senior Environmental Specialist serves as a technical specialist who will write and complete
Environmental Assessments and associated FONSI's. Additional duties include planning,
coordinating, monitoring, conducting, and completing environmental reviews for FEMA-funded
(in part or whole) projects under National Environmental Policy Act (NEPA) and all other
applicable environmental and historic preservation laws, executive orders (EOs), regulations, and
other statutes. Working with the LRO Environmental Liaison Officer (ELO) and the Deputy
Environmental Liaison Officer (DELO) coordinates the approval of non-routine and complex
reviews.
Qualifications/Skill Set

Prior FEMA experience is preferred.

Comprehensive knowledge of and experience with the Federal laws and statues including
NEPA, the Clean Water Act, Fish and Wildlife Coordination Act, Endangered Species
Act, Coastal Barrier Resources Act, Coastal Zone Management Act, E.O. 11593 Cultural
Environmental; National Historic Preservation Act, Archaeological and Historic
Preservation Act, Resource Conservation and Recovery Act, E.O. 12898 Environmental
Justice.

Knowledge of statues, regulations, licensing/permitting requirements, and precedent
decisions governing environmental operations sufficient to use in planning,
implementing, or monitoring environmental programs and services.

Analytical skills to evaluate program operations and goals, recommend solutions to
problems, and to interpret and apply regulations and policy in developing operational
guidelines and in counseling field practitioners.

Ability to work effectively and independently and as a member of a team to accomplish
assigned tasks.

Written and oral communication abilities with associated computer skills to produce
clearly written Environmental Assessments, reports, and correspondence.
This should be a minimum of a 90 day deployment, with option of extending for longer
depending on operational need.
Please forward notice if you can provide a candidate that matches the skill set identified in this
staff request.