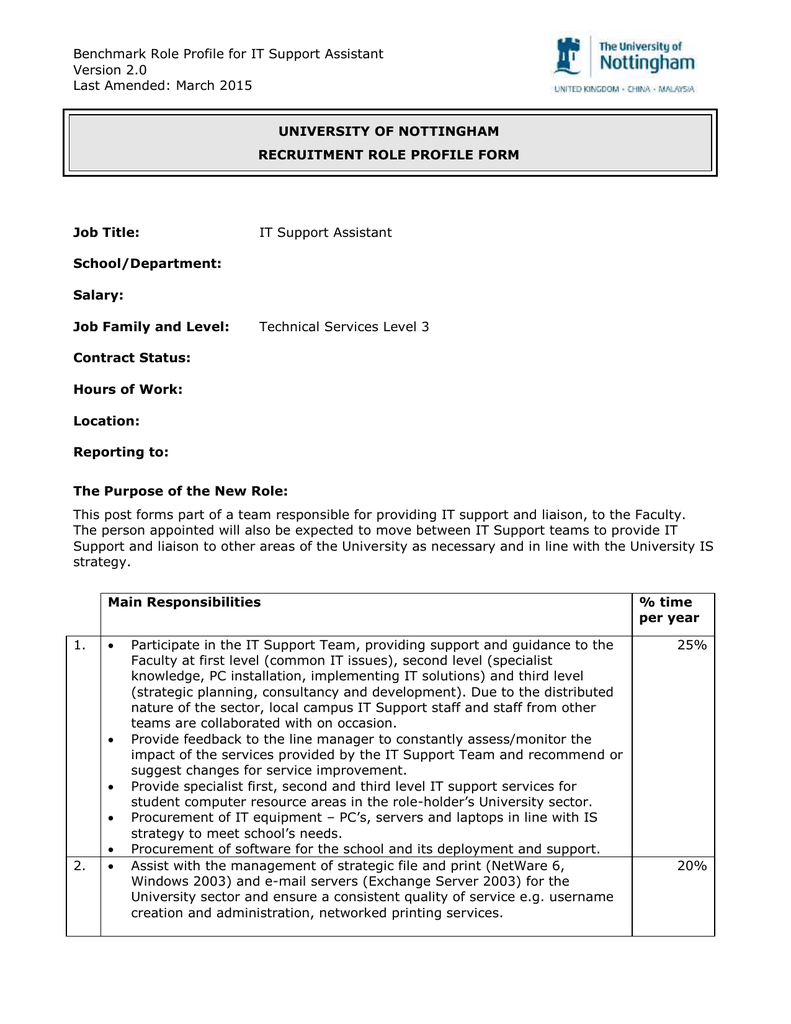 Benchmark Role Profile for IT Support Assistant
Version 2.0
Last Amended: March 2015
UNIVERSITY OF NOTTINGHAM
RECRUITMENT ROLE PROFILE FORM
Job Title:
IT Support Assistant
School/Department:
Salary:
Job Family and Level:
Technical Services Level 3
Contract Status:
Hours of Work:
Location:
Reporting to:
The Purpose of the New Role:
This post forms part of a team responsible for providing IT support and liaison, to the Faculty.
The person appointed will also be expected to move between IT Support teams to provide IT
Support and liaison to other areas of the University as necessary and in line with the University IS
strategy.
Main Responsibilities
1.




2.


Participate in the IT Support Team, providing support and guidance to the
Faculty at first level (common IT issues), second level (specialist
knowledge, PC installation, implementing IT solutions) and third level
(strategic planning, consultancy and development). Due to the distributed
nature of the sector, local campus IT Support staff and staff from other
teams are collaborated with on occasion.
Provide feedback to the line manager to constantly assess/monitor the
impact of the services provided by the IT Support Team and recommend or
suggest changes for service improvement.
Provide specialist first, second and third level IT support services for
student computer resource areas in the role-holder's University sector.
Procurement of IT equipment – PC's, servers and laptops in line with IS
strategy to meet school's needs.
Procurement of software for the school and its deployment and support.
Assist with the management of strategic file and print (NetWare 6,
Windows 2003) and e-mail servers (Exchange Server 2003) for the
University sector and ensure a consistent quality of service e.g. username
creation and administration, networked printing services.
% time
per year
25%
20%
Benchmark Role Profile for IT Support Assistant
Version 2.0
Last Amended: March 2015
3.



4.





5.

6.


7.


8.

Liaise with and discuss current issues with other IT Support Teams, both
within IS and Schools, to ensure and share best practice and to contribute
to policy and planning.
Regular team meetings with IS team to discuss current IT issues and their
resolution.
Assist other Information Services IT Support Assistants and provide cover
when necessary to ensure a consistent quality of service across the
University.
IT liaison between the University sector and specialist sections within
Information Services.
Assist with the provision of specialist third level IT support (strategic
planning, consultancy and development) to my University sector e.g. PC
purchasing, liaison with outside parties such as IT/maintenance vendors.
Liaising with IS teams and suppliers on technical issues, e.g. specification
of lab PC's.
Procurement of software and its installation both locally and via the
network.
IS and supplier/technical support liaison for software issues e.g. installation
of software in a NetWare environment.
Develop a particular area of expertise and develop personal technical skills.
Maintain a broad knowledge of all developments in the rapidly changing
discipline of IT through study and experimentation. Contribute to the
development of leading edge technologies.
Ensure accurate completion of documentation, records and reports (e.g.
Support-Works, inventory) to ensure quality information provision.
To maintain the schools inventory and also act as software license
coordinator for campus based agreements as well as assist in other
software licensing throughout the school.
To produce instructions and guides for staff and students.
Provide tailored IT skills training to staff and students. Produce various
guides/instructions for staff and students on how to complete tasks e.g.
accessing email, how Windows users can connect to Unix systems from
their PC in the correct manner. Provide training sessions on specific areas
of work sometimes using guides produced as a basis for this.
Any other duties appropriate to the role and level.
20%
20%
5%
5%
5%
Benchmark Role Profile for IT Support Assistant
Version 2.0
Last Amended: March 2015
Knowledge, Skills, Qualifications & Experience
Qualifications/
Education
Knowledge/
Skills/Training
Experience
Essential
 HND, or equivalent in IT or allied
subjects and work experience in a
relevant role.
 OR
 Proven track record in a similar
role.
 Troubleshooting and problem
resolution skills developed in a
work place environment - minimum
50 networked PCs/users including:
 Microsoft Office Suite.
 Windows desktop operating
systems.
 Use of WWW.
 Client/server email systems.
 PC/network/server connectivity.
Desirable
 Any industry standard
qualifications including MCSE,
Comptia A+ etc.













Other








Use, support and deployment of:
Microsoft Office applications.
Other PC based applications.
E-mail/e-messaging systems.
Internet applications.
PC hardware.
Other IT hardware and peripherals.
Software installation and delivery
tools.
Providing face-to-face support to a
wide range of users and abilities
across all levels and areas of an
organisation.
Excellent team working skills.
Excellent oral and written
communication skills.
Excellent organisational skills and
the ability to prioritise work under
pressure.
Ability to communicate with people
at all levels.
An ability to rapidly gain new
technical IT skills quickly in a
rapidly changing environment.
Positive approach to customer care.
Ability to effectively manage own
time and work on own initiative.
Excellent telephone manner.






Troubleshooting and problem
resolution skills in:
Outlook/Exchange Server 2003.
Windows server 2k series.
Active Directory.
Non-Windows operating systems
(e.g. Linux/Unix/Macintosh
OSX)
Knowledge of the principles of
ITIL or work in an environment
where ITIL has been adopted.



Server support/admin.
Virus detecting software.
Data Protection Issues.
Electrical safety checking
procedures.
Imaging and cloning of PCs.
Health and Safety issues.
IT Security issues.



Flexible approach to duties.
Broad interest in IT.
Presentation skills.
Benchmark Role Profile for IT Support Assistant
Version 2.0
Last Amended: March 2015
Decision Making
i) taken independently by the role holder;
 Day-to-day decisions for constant improvement of work practices and procedures in own work
area.
 Prioritise requests from my University sector for IT support.
 Assign work to other members of the team or School IT support teams.
 Advising University staff on specifications for new PCs or IT equipment.
 Proactively offer IT/IS advice and support to the University sector.
 Project development decisions relating to IT solutions in the University sector.
 Discretionary technical decisions for local IT solutions and interpretation of the University IS
Strategy, however this is not standard practice and due to the diverse nature of IT delivery it
is preferred to work in collaboration with others.
 Purchases of equipment that is the current standard and for which a budget has been
allocated.
ii) taken in collaboration with others;
In emergencies, and in the absence of key colleagues, take decisions about making changes to
resolve problems that are having a major impact on services, involving actions that in turn may,
themselves, have a major impact. This is the standard practice since taking decisions
independently is often counter-productive to a coherent IT service.
iii) referred to the appropriate line manager by the role holder.
 Decisions with financial or political consequences to the University.
 Complex or critical IT support issues.
 Cases of IT/Network abuse.
 Strategic advice to my University sector.
 Local technical IT solutions that may have wider resource implications for Information Services
or elsewhere in the University.
Additional Information:
The IT Support Section provides a distributed technical IT support service for the University
community, on all campuses, in line with the University IS Strategy. The section defines the
University IT support policies and processes to provide a University-wide IT support service. Staff
in the section liaise between Schools and specialist sections within IS, discuss and agree with
senior School management their own IT strategy and its implementation, and agree wide-reaching
technical solutions to IT requirements in Schools.
The University of Nottingham strongly endorses Athena SWAN principles,
with commitment from all levels of the organisation in furthering women's
careers. It is our mission to ensure equal opportunity, best working
practices and fair policies for all.