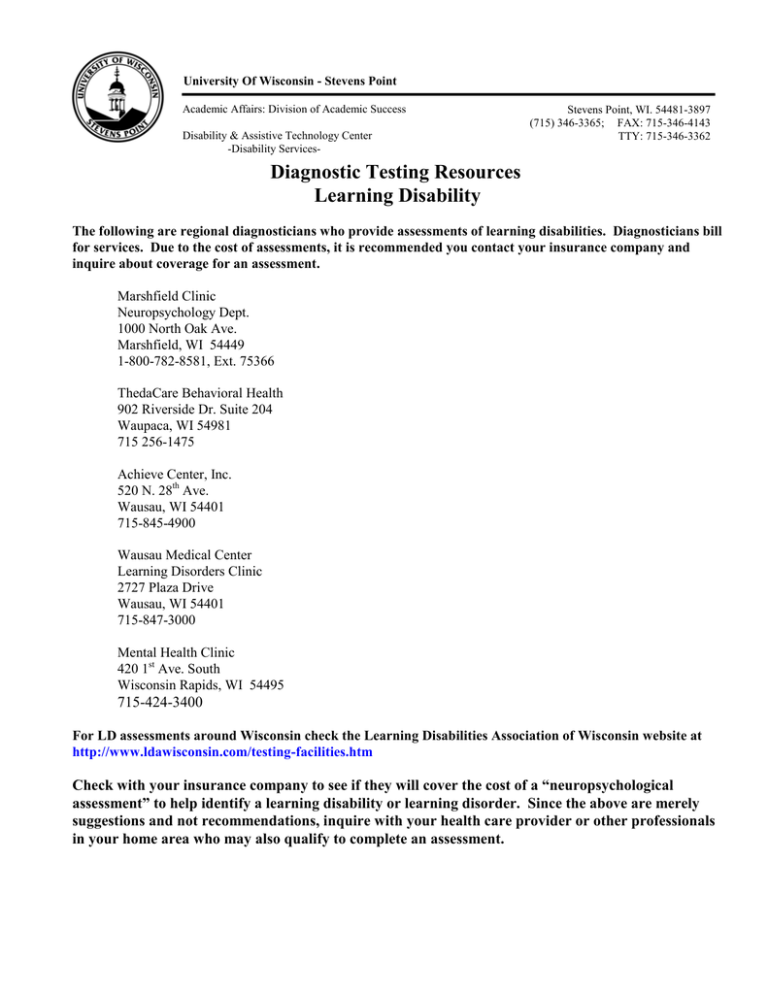 University Of Wisconsin - Stevens Point
Academic Affairs: Division of Academic Success
Disability & Assistive Technology Center
-Disability Services-
Stevens Point, WI. 54481-3897
(715) 346-3365; FAX: 715-346-4143
TTY: 715-346-3362
Diagnostic Testing Resources
Learning Disability
The following are regional diagnosticians who provide assessments of learning disabilities. Diagnosticians bill
for services. Due to the cost of assessments, it is recommended you contact your insurance company and
inquire about coverage for an assessment.
Marshfield Clinic
Neuropsychology Dept.
1000 North Oak Ave.
Marshfield, WI 54449
1-800-782-8581, Ext. 75366
ThedaCare Behavioral Health
902 Riverside Dr. Suite 204
Waupaca, WI 54981
715 256-1475
Achieve Center, Inc.
520 N. 28th Ave.
Wausau, WI 54401
715-845-4900
Wausau Medical Center
Learning Disorders Clinic
2727 Plaza Drive
Wausau, WI 54401
715-847-3000
Mental Health Clinic
420 1st Ave. South
Wisconsin Rapids, WI 54495
715-424-3400
For LD assessments around Wisconsin check the Learning Disabilities Association of Wisconsin website at
http://www.ldawisconsin.com/testing-facilities.htm
Check with your insurance company to see if they will cover the cost of a "neuropsychological
assessment" to help identify a learning disability or learning disorder. Since the above are merely
suggestions and not recommendations, inquire with your health care provider or other professionals
in your home area who may also qualify to complete an assessment.