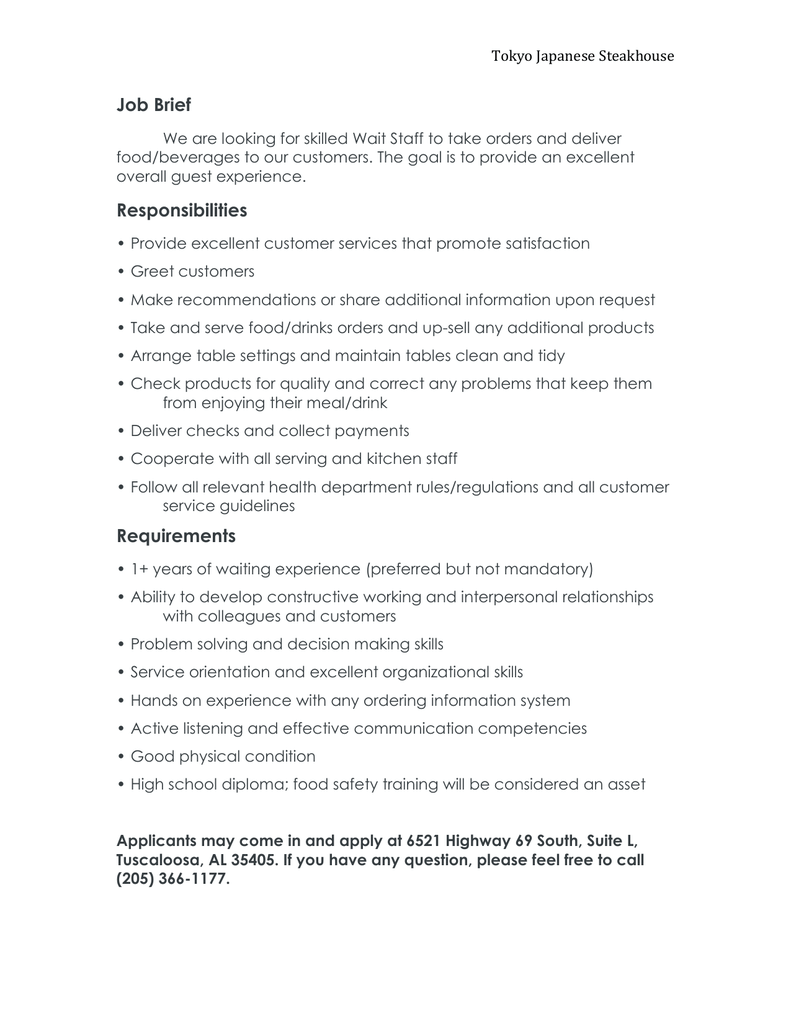 Tokyo Japanese Steakhouse
Job Brief
We are looking for skilled Wait Staff to take orders and deliver
food/beverages to our customers. The goal is to provide an excellent
overall guest experience.
Responsibilities
• Provide excellent customer services that promote satisfaction
• Greet customers
• Make recommendations or share additional information upon request
• Take and serve food/drinks orders and up-sell any additional products
• Arrange table settings and maintain tables clean and tidy
• Check products for quality and correct any problems that keep them
from enjoying their meal/drink
• Deliver checks and collect payments
• Cooperate with all serving and kitchen staff
• Follow all relevant health department rules/regulations and all customer
service guidelines
Requirements
• 1+ years of waiting experience (preferred but not mandatory)
• Ability to develop constructive working and interpersonal relationships
with colleagues and customers
• Problem solving and decision making skills
• Service orientation and excellent organizational skills
• Hands on experience with any ordering information system
• Active listening and effective communication competencies
• Good physical condition
• High school diploma; food safety training will be considered an asset
Applicants may come in and apply at 6521 Highway 69 South, Suite L,
Tuscaloosa, AL 35405. If you have any question, please feel free to call
(205) 366-1177.