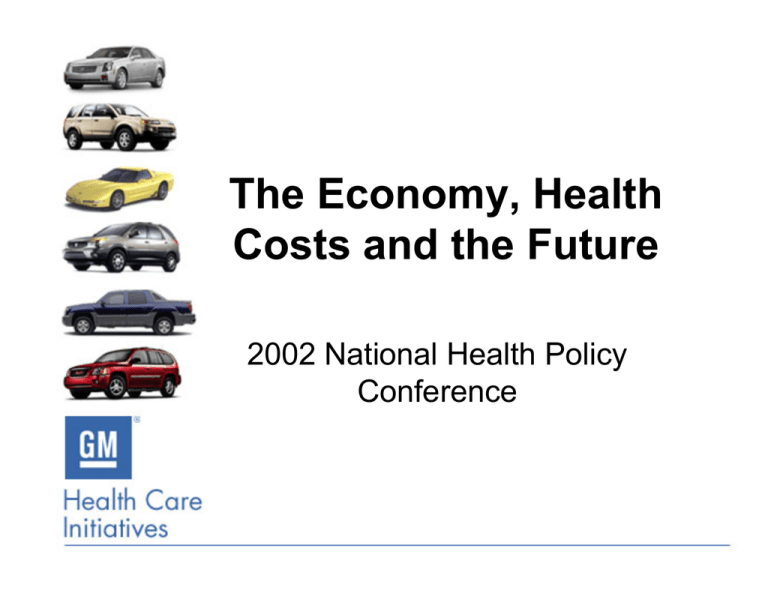 The Economy, Health Costs and the Future
2002 National Health Policy Conference
General Motors
2001 Health Care
1.2 million plan members
➣500,000 employees & family
➣700,000 retirees & family ■ $4.2 billion spend
g 200 health plans (134 HMOs)
g 30 million transactions
➣4,300 hospitals
➣36,000 pharmacies
➣241,000 physicians
■
Why Do Purchasers Care About Health Care?
Inflation
Index
(1987 = 100)
U.S. Medical Costs
135
125
Direct & Indirect Costs
115
X % GAP
105
95
Global Sales Price
20
00
19
98
19
96
19
94
19
92
19
90
19
88
85
Evolution of Employersí Management
Community Health
of Health Plans
Employee Health
Quality Leadership
Value Purchasing
Selection / Negotiation
Pay Premiums
GMís Key Health Care Initiatives
Quality & Cost Drivers
LifeSteps
Managed Care
Benefit
Design
Public
Policy
Value
Purchasing
Managed
Indemnity
Community Initiatives
Process Improvement Workshops
Safety Initiatives
Prescription
Drugs
Delivery
System
Member
Behavior
& Health
Disease
Management
Integrated
Corporate
Health
Carrier
Performance
GMís Big Issues
Driving patient safety and quality improvement efforts
➣ public disclosure/informed consumers
g Reducing waste and inappropriate care in the delivery system
➣ decision support
g Encouraging the appropriate use of prescription drugs
g
Preventable Deaths ì Personalizedî
g
Preventable deaths per year: 98,000
g
U.S. Population:
g
GM covered lives: 1,210,000
g
Preventable deaths per 100,000 per 250,000,000
year: 39
g
General Motors preventable deaths
➣
per year:
468
➣
per day:
1.3!
Low High
Degree of Management
and Integration
Managed Care Continuum
Direct Contracting w/ delivery systems
Group/Staff HMO
Highly Integrated IPA (Benchmark plans)
IPA HMO
Managed PPO
PPO
Managed Indemnity
Unmanaged Indemnity
Low value
High
Managed Care
g
Quality initiatives reward performance
➣ influencing market share
ñ Quality Report Card
ñ financial incentives
➣ public recognition
ñ benchmark status
➣ sharing best practices with top HMOs
ñ disease management
ñ Rx management
ñ patient safety
ñ referral process/service
Managed CareÖ The Next Generation
g
Direct contracting with Integrated Health Systems
➣
g
Aligns quality and financial incentives
Activecare
physician led plan
➣ organized, integrated delivery system
➣ offers broad access of Indemnity Plan with low cost sharing of HMO option
➣ in and out-of-network benefits
➣ consumer, purchaser, provider financial incentives align with best practices
➣ pilots in SE Michigan and Dayton, OH
➣
Prescription Drug Challenge
GM spends $1billion+ on Rx drugs
g Fastest growing cost component with 18-20% cost increases --no end in sight!
g
➣ demographics, new drugs, DTC, high U.S. prices, inappropriate prescribing
➣ Do that many people need the purple pill?
Prescription Drugs
g
GM initiatives
pharmacy network
➣ generic vs. brand ➣ working with drug manufacturers
➣ educate enrollees and physicians
➣ dosing optimization
➣ cost sharing/plan design
➣ move to mail order ➣ internet-interactive voice system
➣ three auto company initiatives
➣ Rx legislation
➣ interactive point-of-care technology
➣
Community Initiatives
g
Joint GM-UAW Community Initiatives
➣
g
launched in 1995
Expectations/objectives
➣
➣
➣
➣
➣
➣
improve quality of outcomes 0 leads to enhanced cost effectiveness
reduce duplicate services
increase collaboration/cooperation
address variation in provider practice patterns ó
driving toward best practices that generate the best clinical outcomes
resist unnecessary capacity expansion
identify best providers and encourage enrollees to select them
Legislative Issues
Medicare + Choice
➣ CMS must reward good performers
➣ resurrect CPAC
➣ reduce plan reporting burden
➣ flexibility for the group market
g Medicare Rx
➣ universal
➣ quality measures and reporting
➣ benefit design, $$ limits
➣ equitable financing
g
Legislative Issues
Prescription Drugs
➣ continuing market exclusivity
➣ stifling generic competition
➣ DTC advertising
➣ U.S. pricing vs. other countries
➣ detailing practices
g Flex Spending Accounts
➣ repeal ìuse-it-or-lose-itî rule
➣ allow non-taxed balance rollovers
➣ establish portability / allow purchase
g
Public/Private Partnerships
QuIC
➣ Federal
➣ State opportunities
g NHCPI
g National Quality Forum
g Leapfrog
g NCQA / HEDIS
g FACCT g CMS / APME
g Federal Employees Health Benefits Plan
g
Summary
"
GM believes the way to reduce health care cost is to improve qualityÖ i.e. preventing over use, under use and misuse of the health care system and provide people with the information on quality to make smart health care choices.
In other words, get the WASTE out so the dollars can be put to better use!