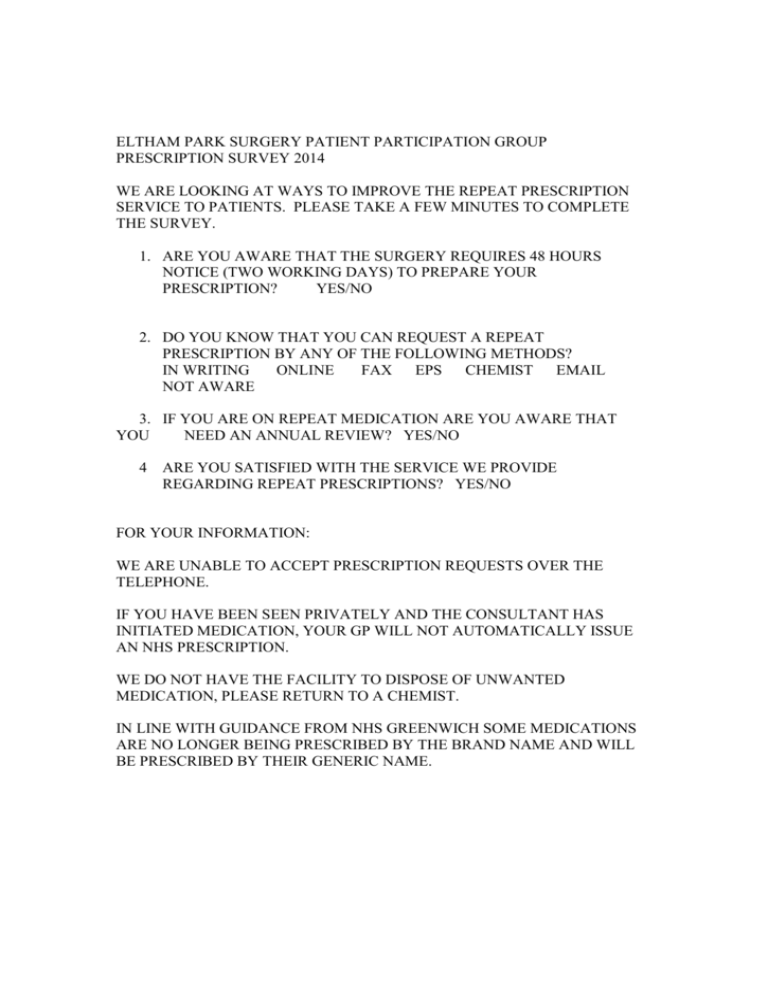 ELTHAM PARK SURGERY PATIENT PARTICIPATION GROUP
PRESCRIPTION SURVEY 2014
WE ARE LOOKING AT WAYS TO IMPROVE THE REPEAT PRESCRIPTION
SERVICE TO PATIENTS. PLEASE TAKE A FEW MINUTES TO COMPLETE
THE SURVEY.
1. ARE YOU AWARE THAT THE SURGERY REQUIRES 48 HOURS
NOTICE (TWO WORKING DAYS) TO PREPARE YOUR
PRESCRIPTION?
YES/NO
2. DO YOU KNOW THAT YOU CAN REQUEST A REPEAT
PRESCRIPTION BY ANY OF THE FOLLOWING METHODS?
IN WRITING
ONLINE
FAX EPS
CHEMIST
EMAIL
NOT AWARE
3. IF YOU ARE ON REPEAT MEDICATION ARE YOU AWARE THAT
YOU
NEED AN ANNUAL REVIEW? YES/NO
4
ARE YOU SATISFIED WITH THE SERVICE WE PROVIDE
REGARDING REPEAT PRESCRIPTIONS? YES/NO
FOR YOUR INFORMATION:
WE ARE UNABLE TO ACCEPT PRESCRIPTION REQUESTS OVER THE
TELEPHONE.
IF YOU HAVE BEEN SEEN PRIVATELY AND THE CONSULTANT HAS
INITIATED MEDICATION, YOUR GP WILL NOT AUTOMATICALLY ISSUE
AN NHS PRESCRIPTION.
WE DO NOT HAVE THE FACILITY TO DISPOSE OF UNWANTED
MEDICATION, PLEASE RETURN TO A CHEMIST.
IN LINE WITH GUIDANCE FROM NHS GREENWICH SOME MEDICATIONS
ARE NO LONGER BEING PRESCRIBED BY THE BRAND NAME AND WILL
BE PRESCRIBED BY THEIR GENERIC NAME.