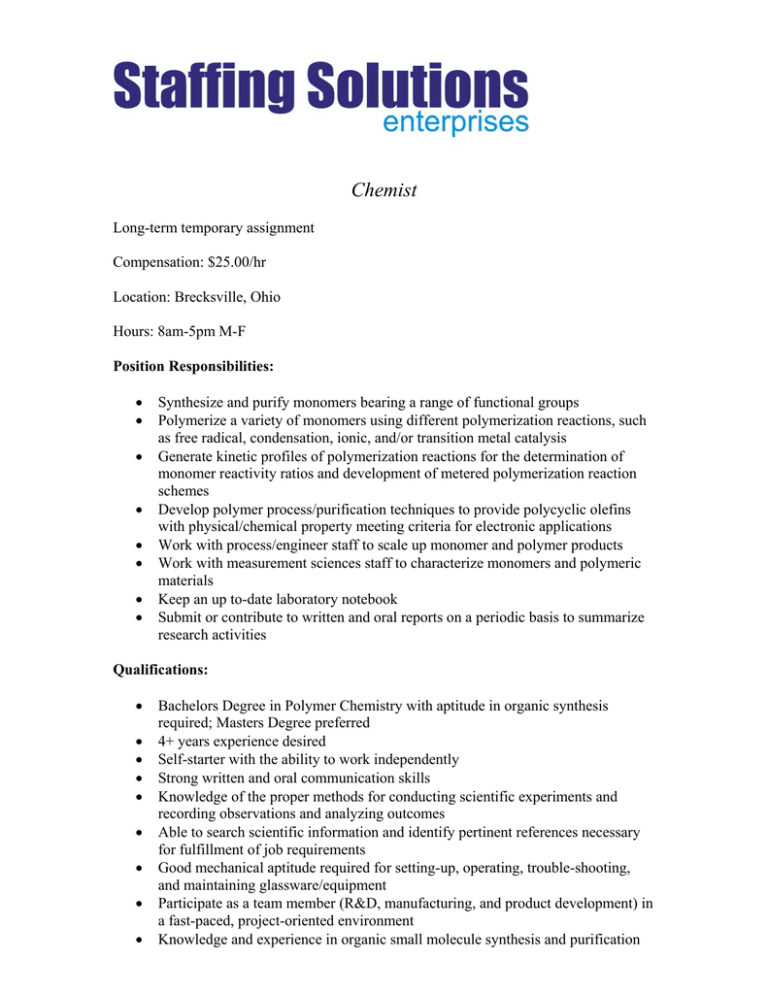 Chemist
Long-term temporary assignment
Compensation: $25.00/hr
Location: Brecksville, Ohio
Hours: 8am-5pm M-F
Position Responsibilities:
•
•
•
•
•
•
•
•
Synthesize and purify monomers bearing a range of functional groups
Polymerize a variety of monomers using different polymerization reactions, such
as free radical, condensation, ionic, and/or transition metal catalysis
Generate kinetic profiles of polymerization reactions for the determination of
monomer reactivity ratios and development of metered polymerization reaction
schemes
Develop polymer process/purification techniques to provide polycyclic olefins
with physical/chemical property meeting criteria for electronic applications
Work with process/engineer staff to scale up monomer and polymer products
Work with measurement sciences staff to characterize monomers and polymeric
materials
Keep an up to-date laboratory notebook
Submit or contribute to written and oral reports on a periodic basis to summarize
research activities
Qualifications:
•
•
•
•
•
•
•
•
•
Bachelors Degree in Polymer Chemistry with aptitude in organic synthesis
required; Masters Degree preferred
4+ years experience desired
Self-starter with the ability to work independently
Strong written and oral communication skills
Knowledge of the proper methods for conducting scientific experiments and
recording observations and analyzing outcomes
Able to search scientific information and identify pertinent references necessary
for fulfillment of job requirements
Good mechanical aptitude required for setting-up, operating, trouble-shooting,
and maintaining glassware/equipment
Participate as a team member (R&D, manufacturing, and product development) in
a fast-paced, project-oriented environment
Knowledge and experience in organic small molecule synthesis and purification
•
•
•
•
•
•
•
•
•
•
•
Experience in air-sensitive solution polymerization (3L scale) and polymer
isolation
Ability to work with air-sensitive and pyrophoric materials using syringe, Schlenk
line, and dry box techniques
Experience in transferring research laboratory information to aid scale-up of
reactions to pilot plant
Knowledgeable in the characterization of chemicals and materials by capillary
GC, DSC, DMA, TGA, GPC, HPLC, IR and NMR spectroscopies
Hands-on experience in photopolymer development, formulation, and end-use
application
Must be willing and able to wear and utilize personal protective clothing, i.e.,
safety glasses with shields, safety shoes, hand protection, uniform, and
equipment, including a full or partial facial mask with respirator, when necessary
Visual ability required for observing tests and processes in order to record results
Manual dexterity required to use syringes, and sophisticated glassware and to
operate instruments, repair machinery, as necessary, and exchange parts
Must be physically able to input data into a personal computer
Must be able to lift 20 lbs up to 4 times a day
Computer skills including: Word, Excel, ChemDraw, PowerPoint, Internet,
Outlook and appropriate search engines such as SciFinder
To apply, please submit resumes to recruiter1@staffsol.com.
Thank you!
For more information on Staffing Solutions Enterprises, please feel free to visit
staffingsolutionsent.com.