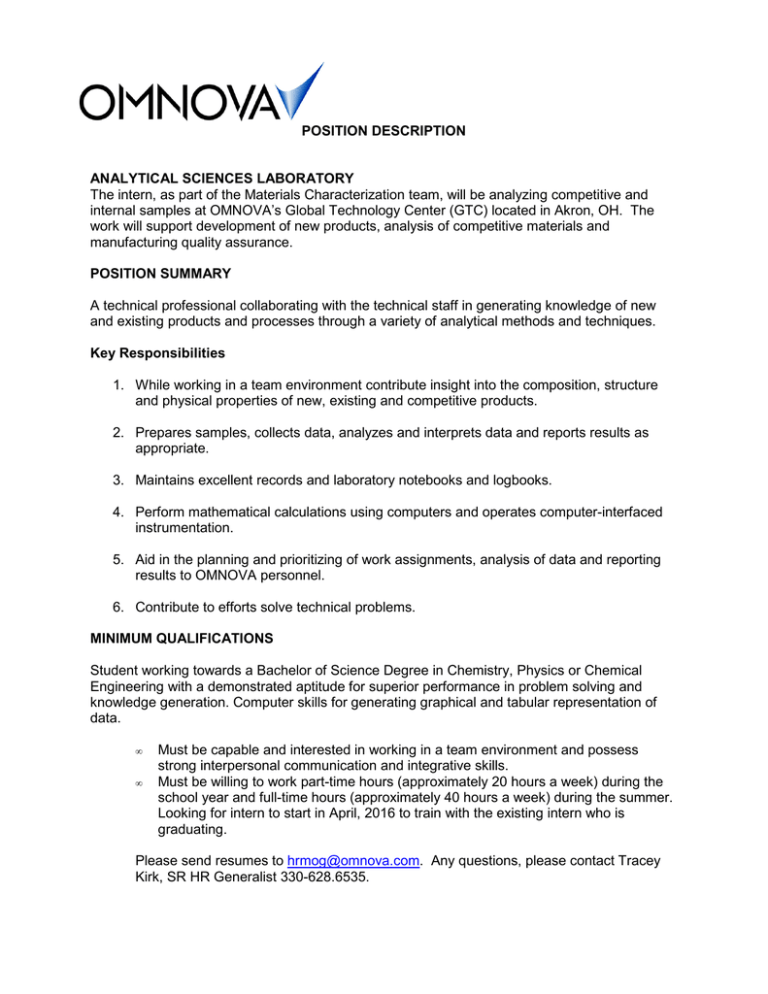 POSITION DESCRIPTION
ANALYTICAL SCIENCES LABORATORY
The intern, as part of the Materials Characterization team, will be analyzing competitive and
internal samples at OMNOVA's Global Technology Center (GTC) located in Akron, OH. The
work will support development of new products, analysis of competitive materials and
manufacturing quality assurance.
POSITION SUMMARY
A technical professional collaborating with the technical staff in generating knowledge of new
and existing products and processes through a variety of analytical methods and techniques.
Key Responsibilities
1. While working in a team environment contribute insight into the composition, structure
and physical properties of new, existing and competitive products.
2. Prepares samples, collects data, analyzes and interprets data and reports results as
appropriate.
3. Maintains excellent records and laboratory notebooks and logbooks.
4. Perform mathematical calculations using computers and operates computer-interfaced
instrumentation.
5. Aid in the planning and prioritizing of work assignments, analysis of data and reporting
results to OMNOVA personnel.
6. Contribute to efforts solve technical problems.
MINIMUM QUALIFICATIONS
Student working towards a Bachelor of Science Degree in Chemistry, Physics or Chemical
Engineering with a demonstrated aptitude for superior performance in problem solving and
knowledge generation. Computer skills for generating graphical and tabular representation of
data.
•
•
Must be capable and interested in working in a team environment and possess
strong interpersonal communication and integrative skills.
Must be willing to work part-time hours (approximately 20 hours a week) during the
school year and full-time hours (approximately 40 hours a week) during the summer.
Looking for intern to start in April, 2016 to train with the existing intern who is
graduating.
Please send resumes to hrmog@omnova.com. Any questions, please contact Tracey
Kirk, SR HR Generalist 330-628.6535.