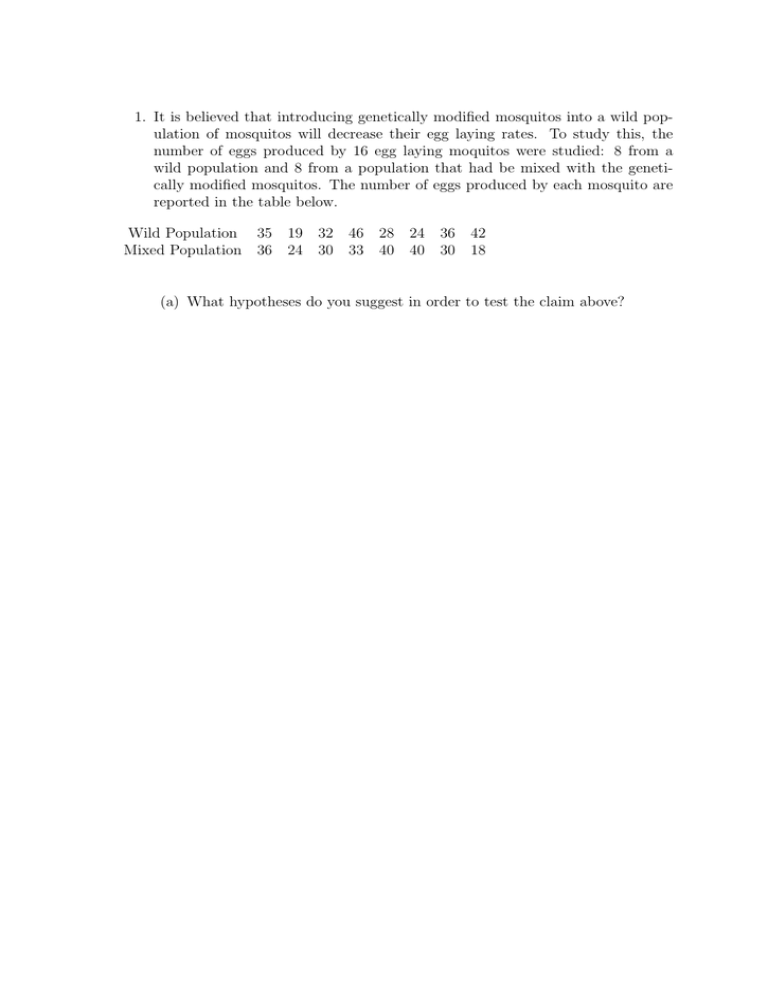 1. It is believed that introducing genetically modified mosquitos into a wild population of mosquitos will decrease their egg laying rates. To study this, the
number of eggs produced by 16 egg laying moquitos were studied: 8 from a
wild population and 8 from a population that had be mixed with the genetically modified mosquitos. The number of eggs produced by each mosquito are
reported in the table below.
Wild Population 35 19 32 46 28 24 36 42
Mixed Population 36 24 30 33 40 40 30 18
(a) What hypotheses do you suggest in order to test the claim above?
(b) Test these hypotheses at level α = 0.05. Report the test you used, the
value of the test statistic, the p-value of the test, and your interpretation
of the results.
(c) Are the hypotheses of the test you used satisfied by this data set? Defend
your argument.
2. A study was performed to determine if either of two drugs significantly increase
the rate of growth of hair in adult males. Six patients were given a placebo, eight
patients received Treatment 1 (Drug A), and seven patients received Treatment
2 (Drug B). The growth rate of the patients hair was measured, and the results
are reported in the table below.
Observation #
Control
Treatment 1
Treatment 2
1
2
6.97 7.44
7.69 6.12
9.99 10.09
3
7.26
7.13
8.82
4
6.57
8.97
12.10
5
8.88
8.99
10.85
6
7
6.95
6.04 4.13
8.50 10.57
8
7.56
(a) Apply the F –test to this data set to test at level .05 to determine if the
mean growth rate is the same across all 3 treatments.
(b) Investigate all of the assumptions of the one way analysis of variance. Are
they satisfied? Support your answer.
(c) Apply Tukey's Method to the data above to determine simultaneous confidence intervals for the differences between the three different treatment
means. Use these intervals to determine which means if any are significantly different from the others at the .05 level.