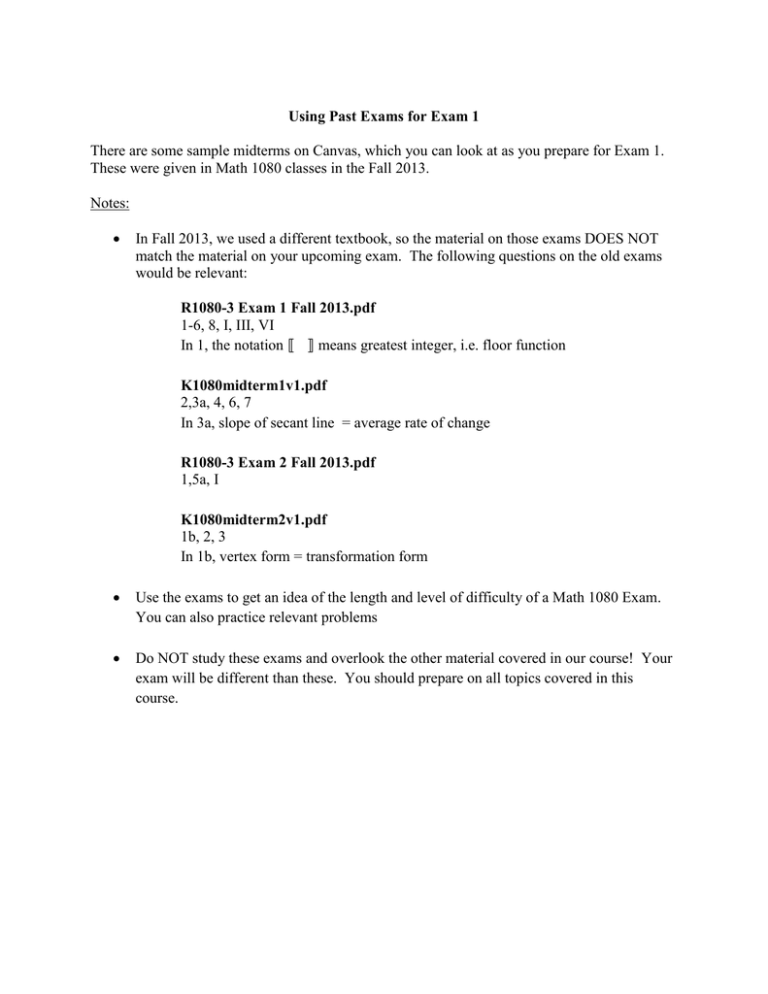 Using Past Exams for Exam 1
There are some sample midterms on Canvas, which you can look at as you prepare for Exam 1.
These were given in Math 1080 classes in the Fall 2013.
Notes:

In Fall 2013, we used a different textbook, so the material on those exams DOES NOT
match the material on your upcoming exam. The following questions on the old exams
would be relevant:
R1080-3 Exam 1 Fall 2013.pdf
1-6, 8, I, III, VI
In 1, the notation ⟦ ⟧ means greatest integer, i.e. floor function
K1080midterm1v1.pdf
2,3a, 4, 6, 7
In 3a, slope of secant line = average rate of change
R1080-3 Exam 2 Fall 2013.pdf
1,5a, I
K1080midterm2v1.pdf
1b, 2, 3
In 1b, vertex form = transformation form

Use the exams to get an idea of the length and level of difficulty of a Math 1080 Exam.
You can also practice relevant problems

Do NOT study these exams and overlook the other material covered in our course! Your
exam will be different than these. You should prepare on all topics covered in this
course.